Ever since we bid farewell to horse and chariot a hundred years ago, we have looked mostly towards Germany and Japan when it comes to superior automobiles. The natural bias is towards these countries because they have produced great cars such as the Audi A5, Genesis G70, and Porsche Panamera. Other major car manufacturing countries like South Korea were mostly geared towards mass-produced economy cars with smaller engines. However, in a rebellious uproar at Kia Motors, the status quo has suddenly been overturned since the introduction of the Kia Stinger!
The Stinger has suddenly attracted a whole lot of attention towards Kia and rightly so! In one clean sweep, Kia has changed its identity from a producer of everyday vehicles to that of an exciting one which you look forward to driving at the end of the workday.
It is loaded with all the right features with a perfectly designed sleek interior that rivals its much established German counterparts. It's also very comfortable and spacious making it a very practical car which you can drive on a daily basis. However, these are not the qualities that bring glory to this newly launched masterpiece by Kia.
The Stinger is Kia's first sports sedan to have a rear-wheel-drive and all-wheel-drive configuration available. Engine choices range from a 2.0l turbo 4 cylinder producing 255hp to a 3.3l v6 churning out 365hp. Both of the engines are mated to a lightning-quick 8-speed transmission making the Stinger capable of managing 0 to 100 in less than 5 seconds. The suspension is rather stiff sometimes but perfectly suited to spirited driving that the Stinger was made for.
In short, the Stinger amazingly looks, feels and drives exactly how it is supposed to. However, there is one let down where things could have been much better, the exhaust sound department! It is a well-known fact that turbocharged cars do not sound as good as naturally aspirated ones and the Stinger has also been bitten by the same bug. The smaller engine, the 2.0l turbo, is a four-cylinder which is the worst offender. With the auditory input for the driver not matching the visual and feel of the car, the driving experience is rather dull. After all, the whole purpose of a sports car is to turn fuel into burning rubber and noise, isn't it?
We looked at what could be done to cover this shortcoming of the Stinger. Thankfully, the solution is pretty simple, widely acceptable and available. Swapping the exhaust system of the Stinger makes it sound like a thunderous monster, matching the acceleration and feel of the car. But that is not all. This swap could even mean a gain in performance numbers but only if the correct specification exhaust system is installed. The wrong ones will make things even worse. This is why we have gone ahead and researched some of the best Kia Stinger exhaust / Kia Stinger GT exhaust options available so that you don't have to.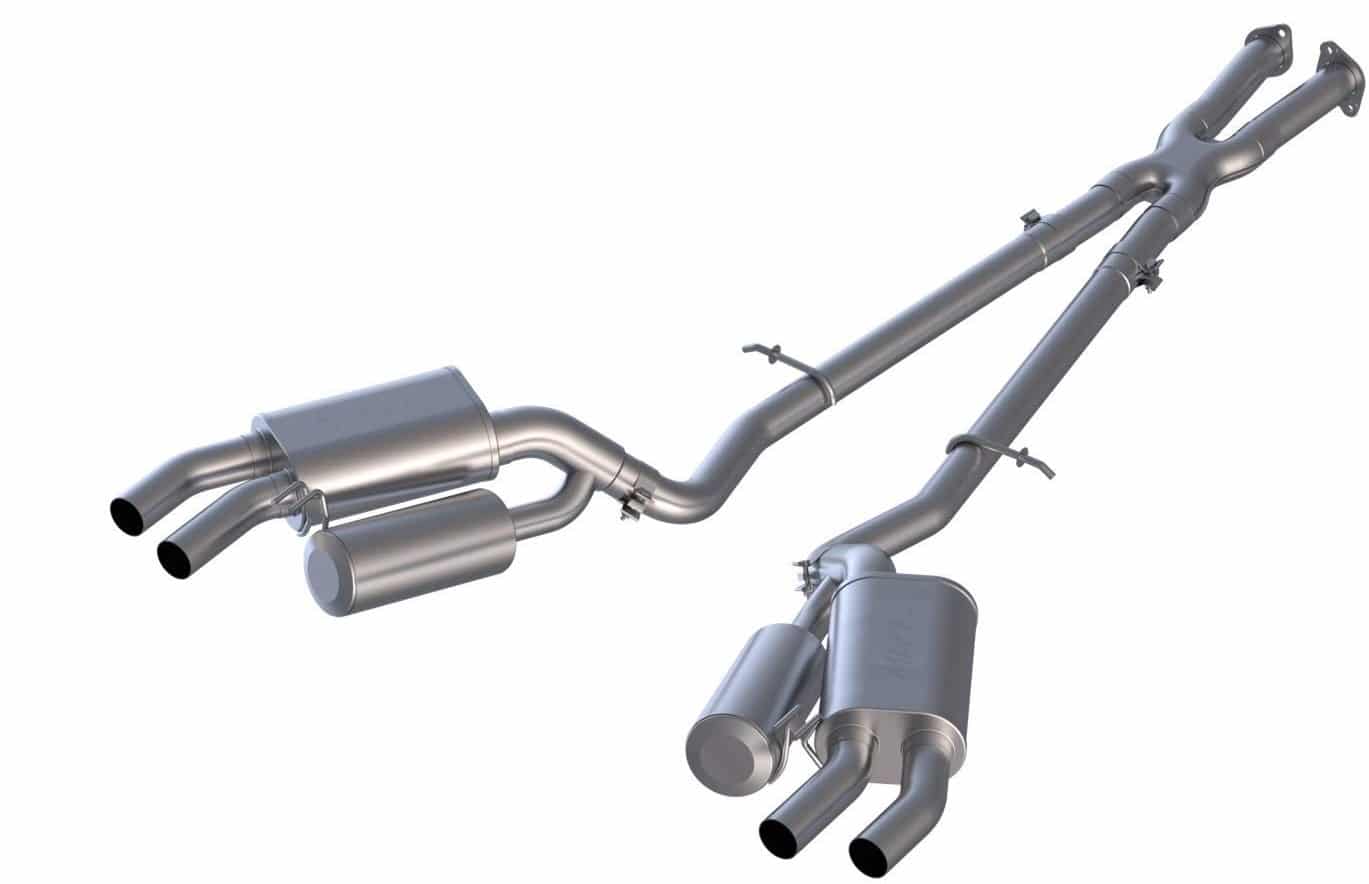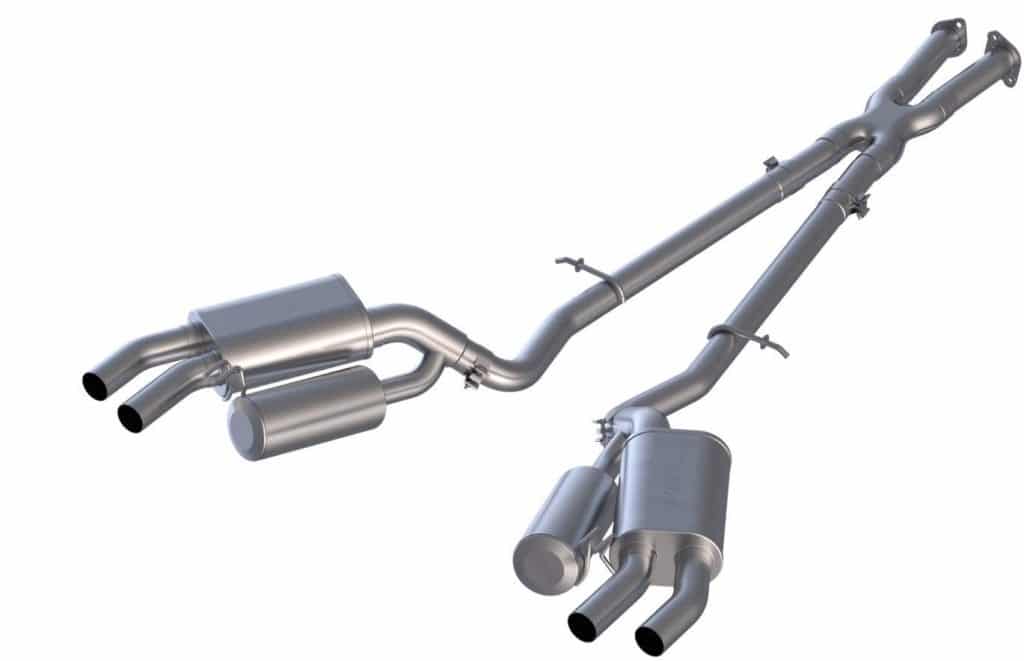 A full exhaust system swap is the best especially if you own the base version of the car. The Stinger GT exhaust is one of the weakest links in the performance and the 2.0l turbo engines need a good upgrade to carry over the weight of the Stinger with grace.
The MBRP cat-back exhaust system is a complete unit with front, medium and dual-tip muffler sections along with complete installation hardware that bolts on directly to stock mounts without any need for alteration. The sound it makes is rather aggressive and matches the persona of the Stinger. Since the complete system is tuned and made to perform at a higher level, the glorious sound will not disappoint you at all. The build material is 100% 16 gauge aluminized steel which ensures peak performance even at the highest operating temperatures, which is what you would expect from a trusted aftermarket parts manufacturer like MBRP.
The main piping diameter is 2.5" which is a 25% gain compared to stock. This results in a perfectly smooth flow of exhaust gases by removing the bottleneck, especially at higher RPMs. Perhaps the only downside of this exhaust system is its weight. At 78lbs, the system is not exactly lightweight. However, it does make up for the extra weight in terms of added performance which you will inevitably notice once you put your foot down to the metal.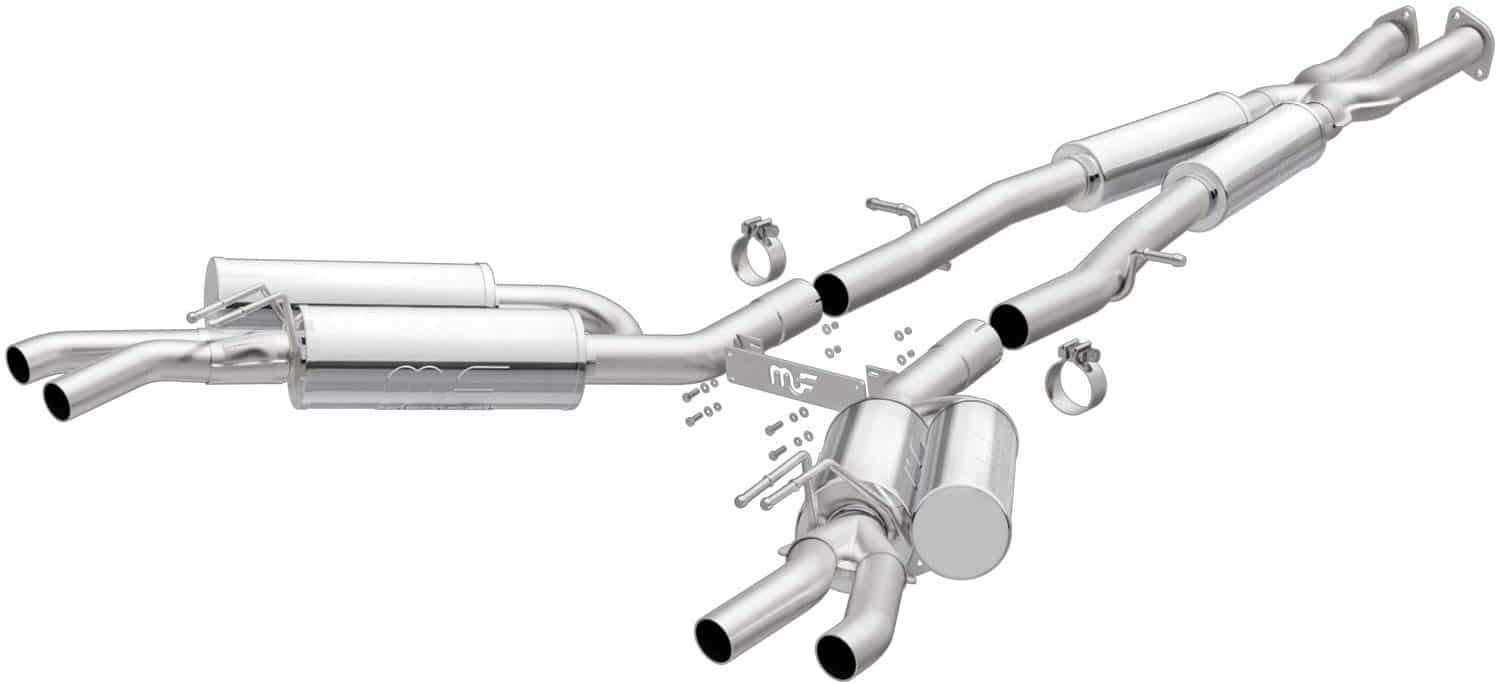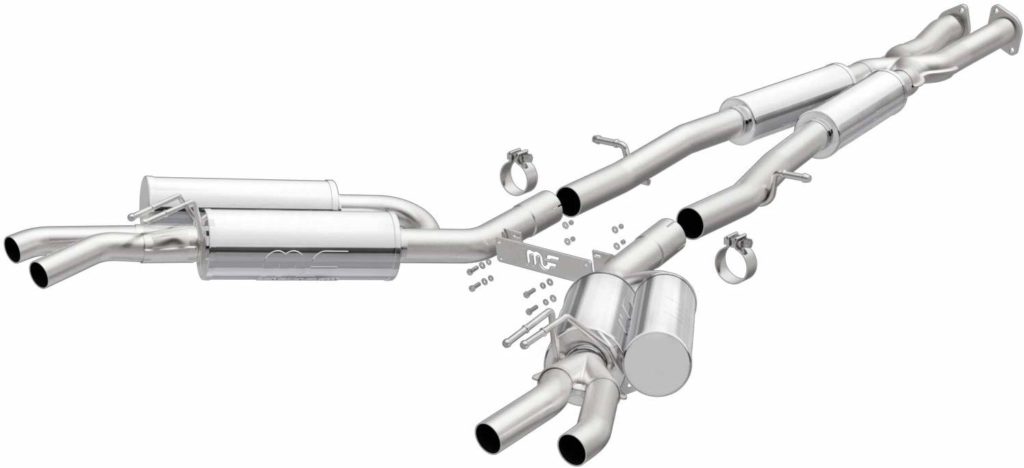 MagnaFlow is by far one of the most widely known manufacturers of exhaust systems in the world. Automobile manufacturers, race car teams and individual car enthusiasts alike trust Magnaflow for all things exhaust. Their competition series cat-back system for your Stinger will make those tunnels shake when you rev hard right through them at high RPMs.
Firstly, as this exhaust system has a polished exterior, it is a piece of art on its own before you even install it in your car. It has beautiful quad tips, mandrel-bent tubing, and mounting accessories which are all polished. But the art does not stop there. The sound this Kia Stinger exhaust makes is music to us car enthusiasts. With more of an aggressive growl aimed at external noise than internal, the exhaust is perfectly suited for the fast sedan that the Stinger is.
400 series stainless steel cut by robotic CNC machines has been used in its construction which ensures steady life-long performance and durability. Fitting requires no modifications to your stock exhaust mounts hence keeping your options open in case you want to put the stock exhaust back or upgrade to a higher output one later on. The performance benefit has been test and proved by dyno runs so you can rest assured that your Stinger will always be ready to sting anytime you go close to the throttle. Since you do not have to remove the catalytic converter to install this exhaust, you have the comfort of knowing that you are not doing any additional harm to the environment and at the same time your car will not have any electrical errors related to the exhaust system. This is a big plus over plain downpipes.
One of the best attributes of this exhaust system is its weight. At only 55lbs, it is much lighter than most other options. This means that as it improves engine output, it also reduces the weight. This two pronged advantage enhances the power to weight ratio of the car by a noticeable amount.
A limited lifetime manufacturer warranty is also available for no added cost.
ARK GRiP Catback Exhaust System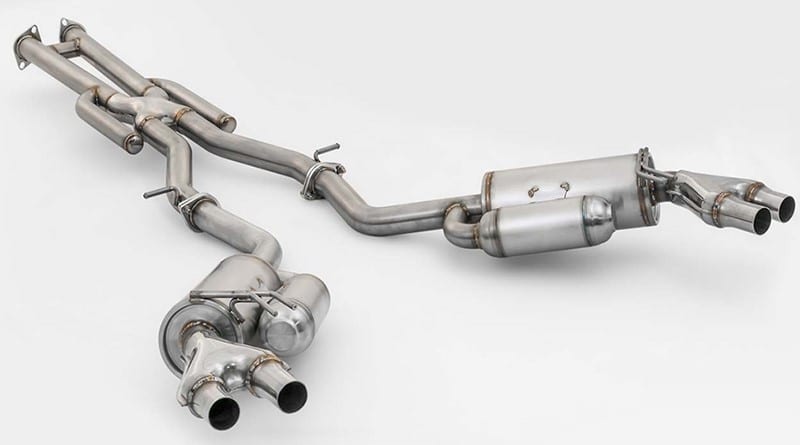 For those of you who want the ultimate Kia Stinger exhaust system, look no further. The ARK GRiP Catback system. The numbers for this system speak for itself.
This masterpiece of excellent craftsmanship is made of T304 advanced metallurgy stainless steel tubing that boasts a 90db (a) audio output which is music to the right ears. The inner diameter is 2.5" and the tubing is mandrel-bent with an X pipe in the middle for the perfect symphony and unrestricted flow. Mufflers with Helmholtz technology further help tune the sound output of the exhaust. Exhaust tips are also included for a complete look.
On the performance side, the ARK GRiP boasts more than 8WHP and 10WTQ gain which in automotive terms is massive. This is achieved by carefully tuned tubing bent at the right angles at the right length. Installation is easy and without any modifications. Once again, since the catalytic converter is left in place, there are no electrical gremlins expected and the environmental activist in you stays happy.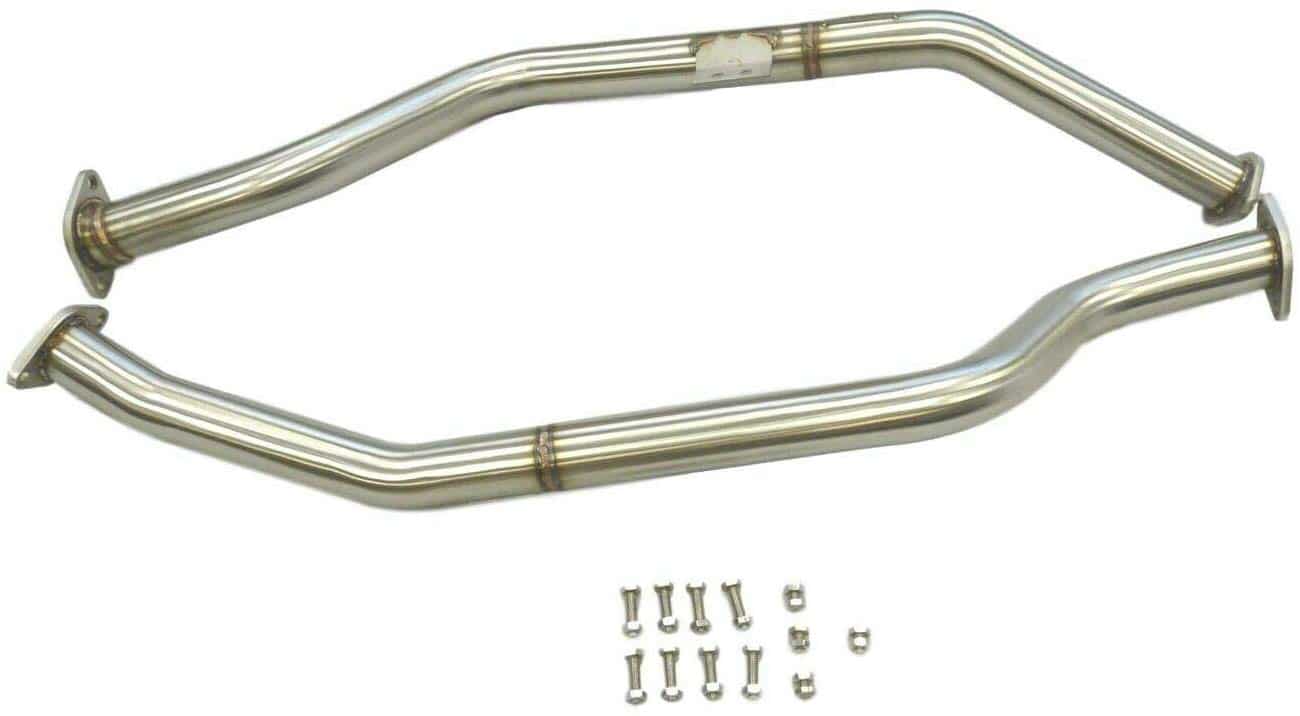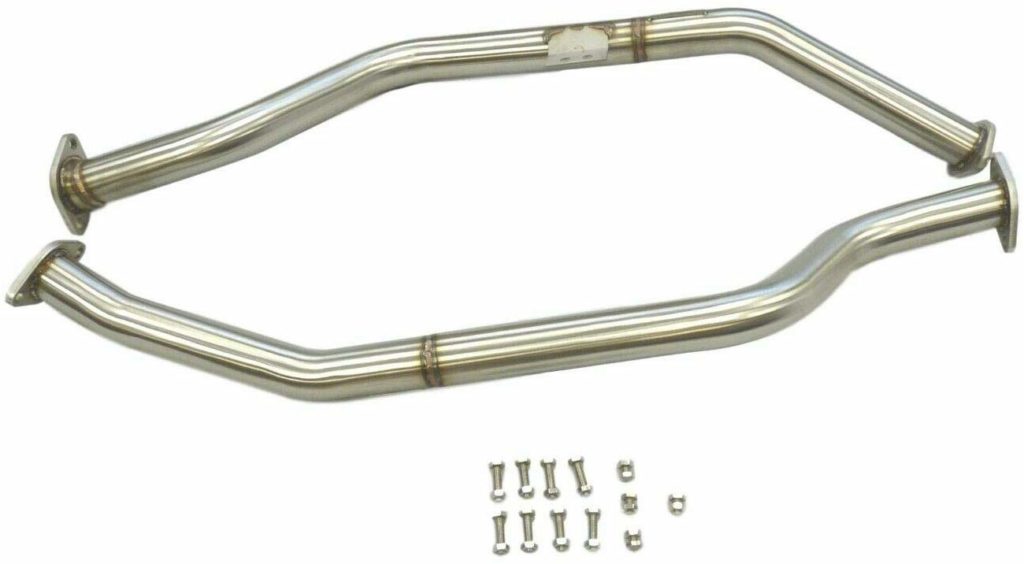 If you want good performance and sound upgrade for your Stinger 3.3l v6 but are not willing to change the entire system and spend a lot on this upgrade, you can simply go for these OBX Racing Sports downpipes.
A quick and simple bolt off bolt-on upgrade with no alteration required, these downpipes are 2.3" wide compared to 2" stock pipes in your Stinger. Due to the additional diameter, exhaust gases can flow unrestricted, causing lesser back pressure and taking some stress off the engine. Since the internal dimension of the pipes is different, the sound produced is throatier and louder. Paired with a full Kia Stinger exhaust system the sound produced by your car will be music to the ears. The downpipes have been tested on dyno for increased torque and horsepower due to 35% better exhaust gas flow. You will feel this difference in your right foot as the throttle response will be sharper and the engine will rev up more freely especially in the higher RPM'S.
The construction of such a component is of utmost importance. After all, this is a part that will always be exposed to hundreds of degrees of temperature, debris, water and snow on the road all year round. Durability and strength are as important as performance which is why the two pieces are high-quality 304-grade stainless precision cut on CNC machine using a computer-guided program and are DUAL-TIG welded for extra strength. The good thing is that even with all this strength, the weight of the pipes is only 25lbs. This is important as you do not want to weight up your car too much.
OBX Racing sports also offers a limited lifetime warranty that covers manufacturing defects. The package also comes with complete installation accessories.