The BMW 3 series is known for its luxury. This class of vehicles contains multiple high-end, well designed BMW cars, including the 335i. Its build has become an iconic indicator of class in the United States as well as around the world. 
While the depreciation for certain BMW cars can be high, customers who invest in 335is find that not only does their vehicle hold up well to harsh road conditions, they also have bought a solid performance car that out of the box is a force to be reckoned with. Under the hood the 335i has a twin-turbo intercooled straight-six N55 engine, bringing power and precision to the driving experience.
Thanks to the twin-turbo setup the N55 in the 335i produces 300 horsepower and 300 lb-ft of torque. Paired up to the N55 you have your choice of an 8-speed automatic or the highly sought after 6-speed manual transmission. All of this means the 335i can do 0 to 60 MPH in 5.3 seconds and 0 to 100 MPH in 13 seconds.
The BMW 335i is already a quality car, however with specific upgrades the vehicle's ability to perform increases drastically. Typically one of the first upgrades people make when building their car is an aftermarket exhaust system. Upgrading and improving your exhaust system leads to better internal functioning for the car and often evokes the quality of power and performance.
Every vehicle has an exhaust system, but the quality of the car's exhaust system makes a noticeable difference in how the vehicle runs. A quality exhaust system helps maintain your fuel mileage and frees up some extra horsepower. And best of all, it allows you to hear the true sound of your 335i.
When it comes to deciding on what BMW 335i exhaust system to purchase for your car you will find its no easy task. That's why we have developed a curated list of the best BMW 335i exhaust systems on the market to aid in your serch for the perfect exhaust system.
Borla S-Type / ATAK Exhaust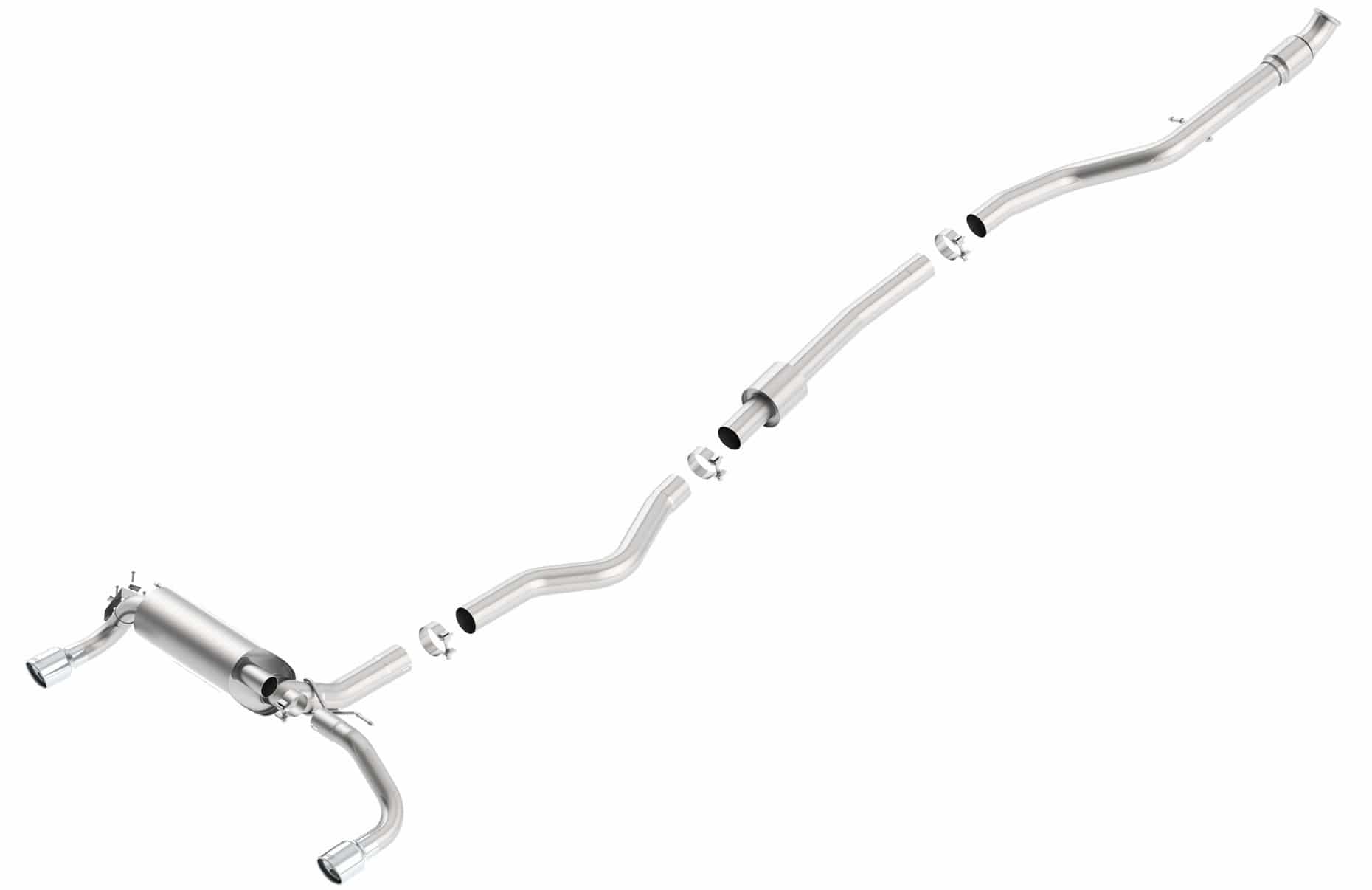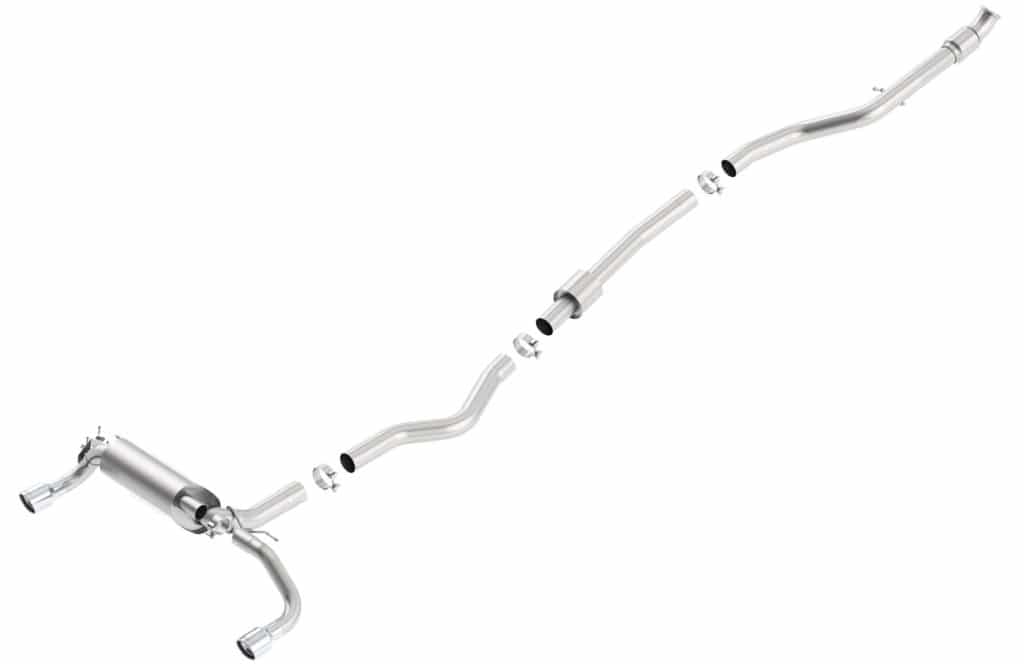 Borla is known in the industry for their quality exhaust systems and the intense rumble their systems produce. There S-type / ATAK 335i exhaust system is compatible with cars manufactured from 2012 to 2016.
Borla has two different BMW 335i exhaust options available, either the S-type or the ATAK. The S-type is the tamer exhaust system of the two as it is sold with a sound level of "aggressive plus". You can expect a deep but not overly loud sound at idle. It won't wake the neighbors but still gives you an aggressive and loud sound while you are banging through the gears. The ATAK, on the other hand, is Borla's all out system. It's labeled as having a "super aggressive" sound that you are going to hear no matter what RPM you at. The ATAK gets its sound from a "combination of varying degrees of solid walls, perforation patterns, and diameters." 
Both exhaust systems are a dual exit design with 3.5″ exhaust tips. The entire system including the exhaust tips are manufactured from high-quality T-304 stainless steel. To ensure maximum flow Borla utilizes 3″ piping to the muffler. From the muffler, it then splits off to dual 2.25″ piping to each exhaust tip.  
Borla exhaust systems are well-known and recognizable due to their powerful sound and distinct quality. Borla stands behind all of their products and that is why they offer their one million mile warranty so you know you are getting a well-built exhaust system.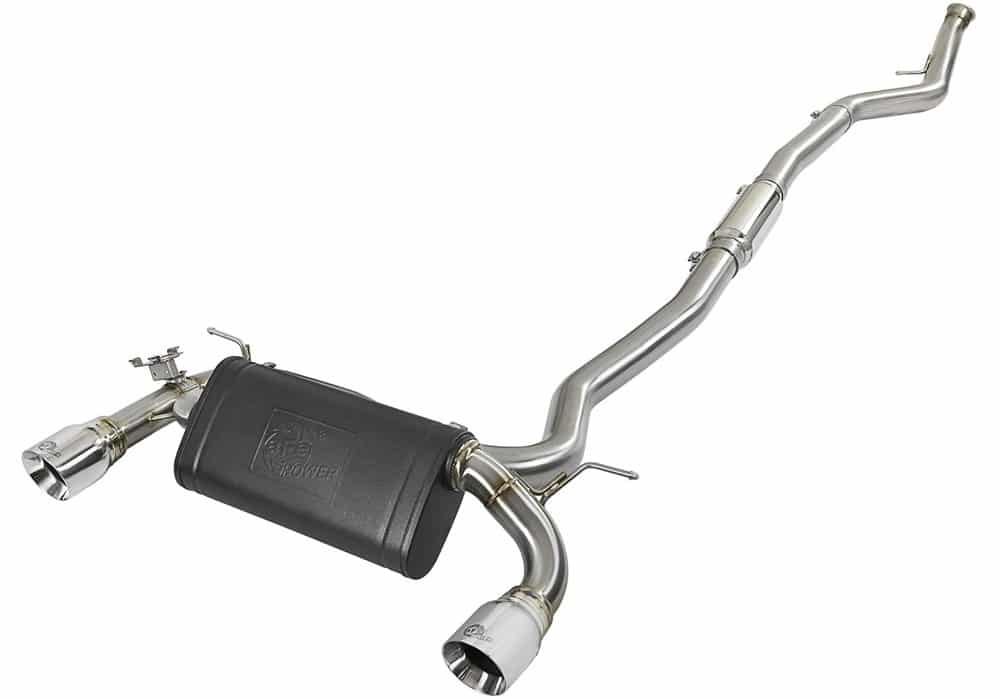 Advanced FLOW engineering (aFe) is a premier designer and manufacture of performance automotive parts. They have a large lineup of products such as intakes, intercoolers, turbochargers, and of course exhaust systems for cars trucks and diesel trucks as well. They were founded in 1999 and over the years they have kept up with the advancement in technology utilizing 3d printing 3d scanning and CAD designing to name a few.
The aFe MACH Force-Xp catback BMW 335i exhaust system is built from high quality 304 stainless steel. 3″ piping is used to the muffler, from the muffler it then splits off to dual 2.5″ piping to dual 4″ exhaust tips. The exhaust tips are available in either polished stainless steel or gloss black. aFe also has the entire system assembled only using tig welding so you get those shiny colorful welds.
Afe understands that if you are installing a performance exhaust system you want more horsepower and torque. Thanks to their in house dyno testing you can expect to see a gain of around 12 horsepower and 10 lb-ft of torque. The system also fully incorporates the factory exhaust valve to help regulate the control of exhaust gases. This is done dependant on the performance mode the car is in or the throttle position.
The system produces a deep sound at idle and when you get on the throttle the exhaust comes alive with an excellent loud and raspy sound that is sure to turn heads.
Akrapovič Stainless Evolution Line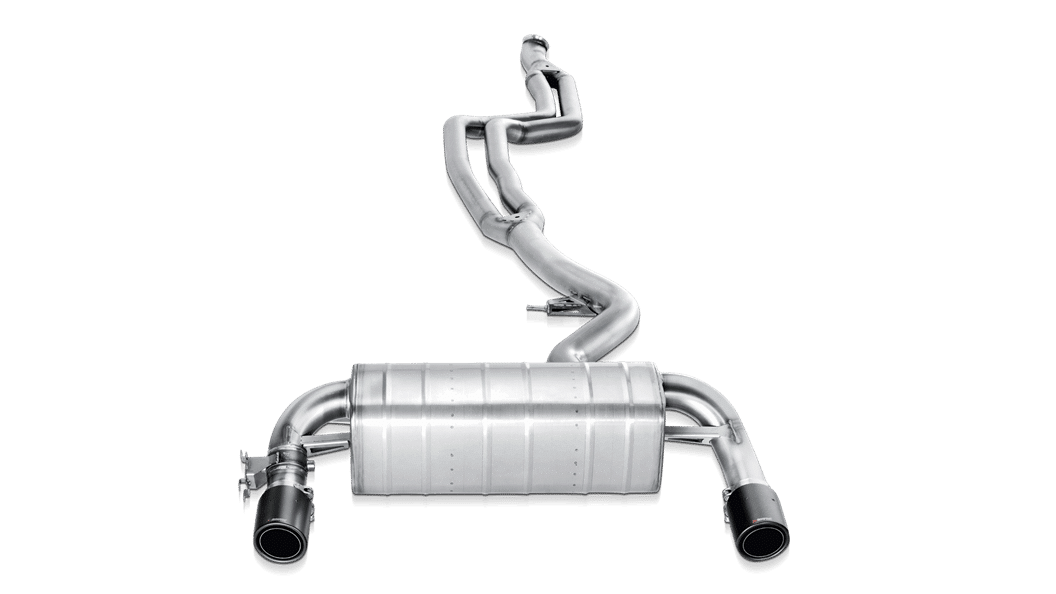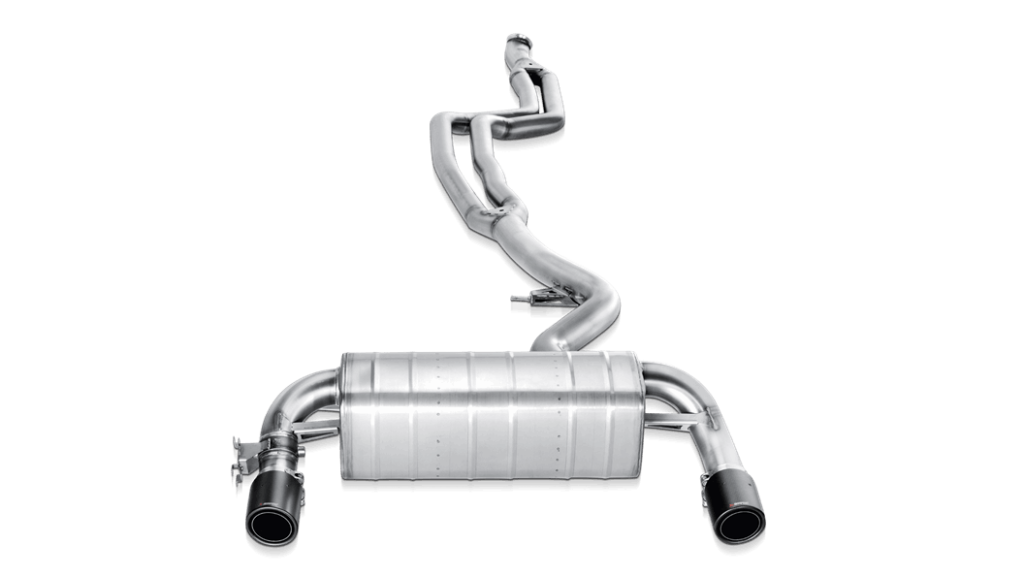 Founded in 1991 Akrapovič is a manufacturer of high-performance award-winning motorcycle exhaust systems. Recently they have expanded into the high-end car exhaust world building exhaust systems for brands such as Ferrari, Lamborghini, Mclaren, and of course BMW. Akrapovič wants to ensure that their exhaust systems are the best of the best not only in sound and performance but quality as well. That's why 95% of the parts used for their exhaust systems are manufactured in house.
Formed from premium austenitic stainless steel, the new Evolution line catback system has an improved pipe layout, with the original single stock pipe being replaced by dual central pipes. This Evolution exhaust system also features carbon fiber tailpipes and an improved muffler design.
The biggest thing Akrapovič is knowen for is sound this couldn't be more true with their BMW 335i exhaust system. Thanks to their extensive testing and weight reduction this is one of the best sounding BMW 335i exhaust systems on the market.
When it comes to performance Akrapovič has you covered. With this system installed you should see a horsepower gain of around 7 horsepower and a gain of 8 lb-ft of torque.
Loud, powerful, and clean, the Akrapovic Stainless Evolution Line Catback Exhaust system is a standout amongst the crowd, providing the luxurious quality the car world has come to expect from Akrapovic. Time after time, Akrapovic systems dominate the market due to their functional designs and high style expectations.