Arguably one of the most sought-after cars to ever come out of Japan the Mark IV Toyota Supra was a true JDM monster competing with other cars of the era such as the Nissan 300ZX, Honda NSX and the Mazda RX-7 the '90s were truly the pinnacle of JDM styling and performance. In modern-day, the vast majority of these car manufactures moved onto the next generation of the previous cars mentioned except Toyota. Until January of 2019 at the North American International Auto Show when Toyota revealed the 2020 A90 mark V Supra.
Initially, the Mark V Supra had a mixed reception from the automotive world mostly focusing on the fact that the car was built in conjunction with BMW. Coming equipped with the same engine, transmission, and suspension as the BMW Z4 M40I. The Mark V was simply referred to as a rebadged BMW. The 2020 Supra was equipped with a 3.0L turbocharged inline-six producing 335 horsepower and 365 lb-ft of torque paired with an 8-speed automatic transmission. The entire packaged weighed 3,397 pounds. All of this meant the Mark V could do a 0-60 MPH time of 4.1 seconds.
Once the A90 Supra had shipped and aftermarket companies began to work on performance options for it the general approval rating of the Supra went up. From personal experience seeing pictures of this car does not do it justice as it is much nicer looking in person. Although many enthusiasts were not satisfied with the exterior of the car a variety of body kits quickly came on the market. As with most new cars, the factory exhaust system leaves a lot to be desired. In the Supras case, the factory exhaust system is restrictive and doesn't quite live up to what the engine can truly sound like. Today we are going to focus on 2020 Supra exhaust systems, below we have compiled our favorite exhaust options for the A90 Supra
AWE Tuning Track / Touring Edition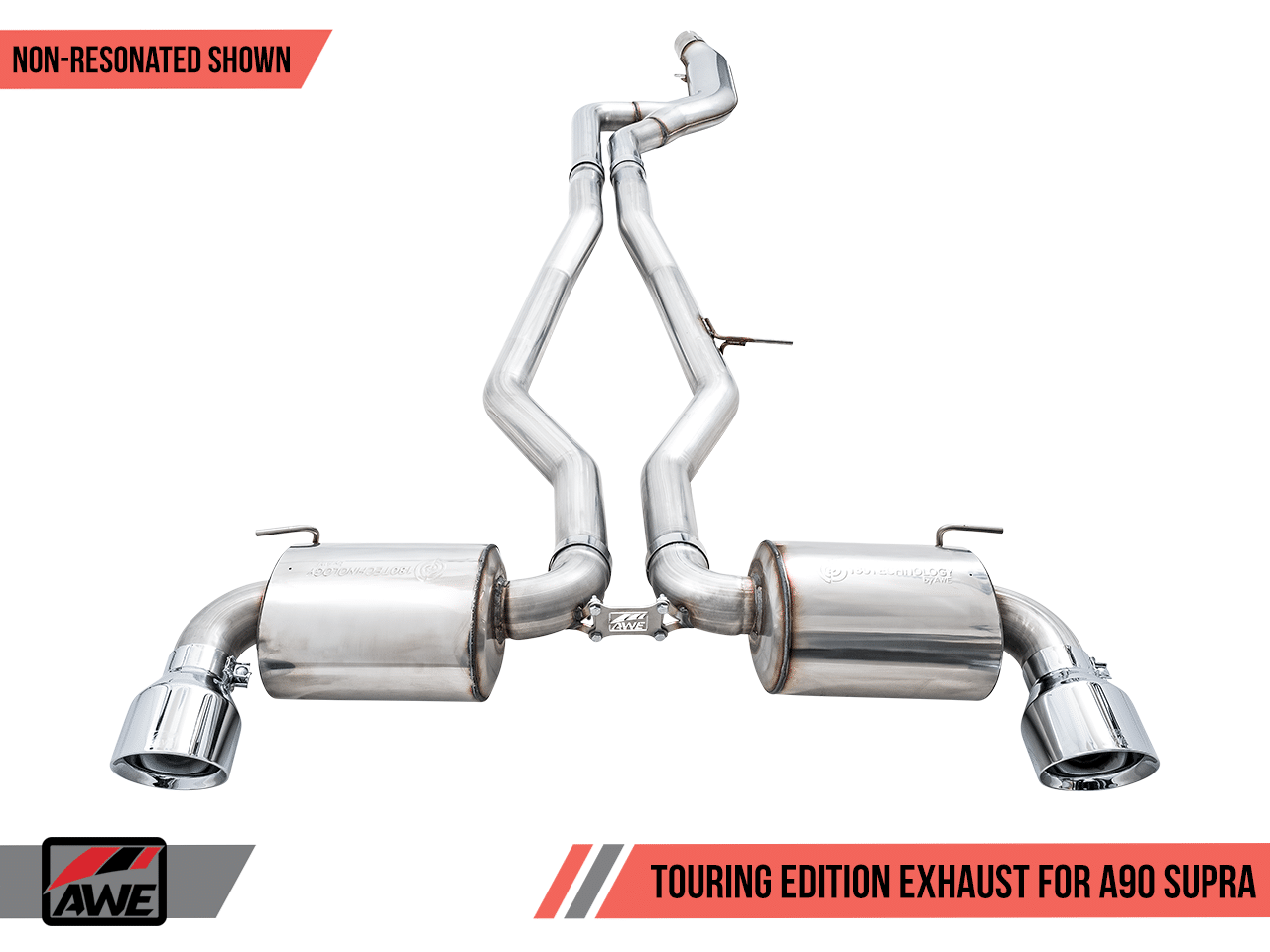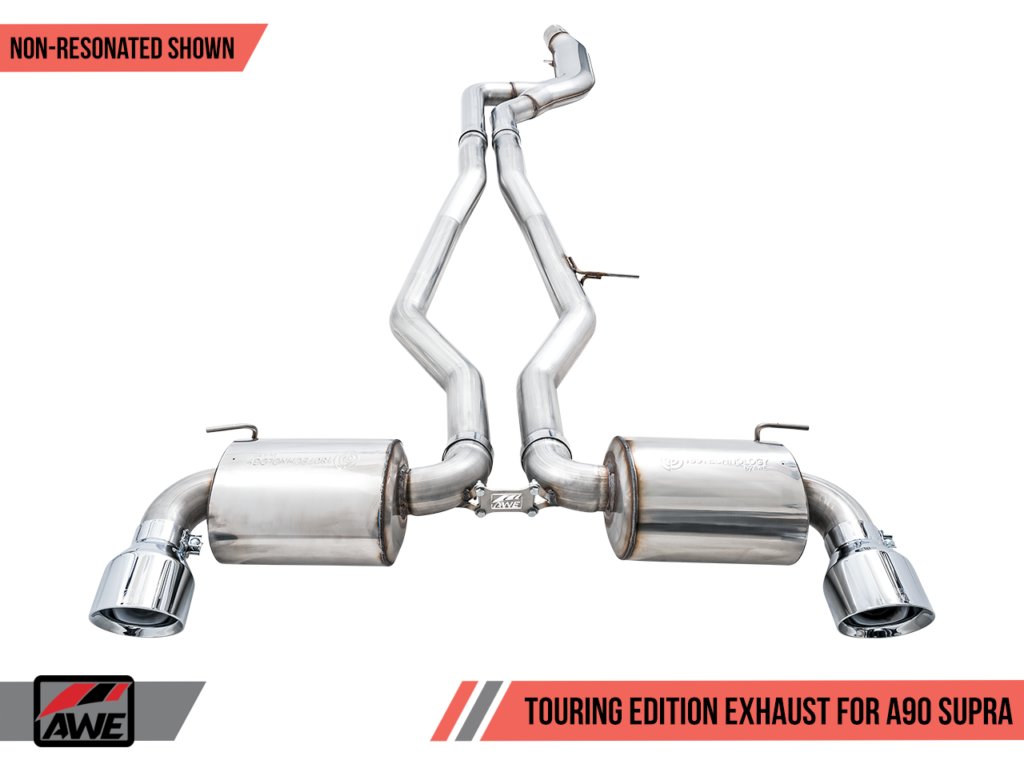 Based out of Philadelphia, AWE Tuning (Air and water enterprise) started in just a 100 square feet single bay shop. When AWE first started making exhaust systems they had a large focus on German car manufactures such as Audi, BMW, and Mercedes. Today they manufacture exhausts, intakes, and intercoolers for a variety of cars such as Mclaren and Ford.
AWE has two 2020 supra exhaust offerings either the touring or track edition. The touring system adds AWE'S 180 drone canceling technology. This keeps the exhaust sound reasonable in the cabin while still giving you that aggressive sound complete with all the pops and bangs you want with accelerations and downshifts. The Track Edition is for the driver who wants to hear their car fully unrestricted. It comes with non-resonated downpipes and straight pipe sections and does not have the 180 technology. On just the touring edition you can also opt for optional resonators to further reduce the exhaust sound. If you are unsure of what kit to purchase AWE has a conversion kit available so if you want your exhaust louder or quieter AWE has you covered.
The exhausts are fabricated from 3″ United States sourced T304L stainless steel piping with a .065″ wall. With the use of mandrel bending and lots of research and development AWE was able to increase the exhaust flow by 65%. This means your supra will be pushing an extra 6HP and 8 lb-ft of torque to the wheels. If you plan on using an aftermarket downpipe with an outlet that is larger than 80mm AWE has designed the system so it is easy to install. With just the simple removal of the inlet adapter, it leaves you with a 3.5″ diameter inlet that a custom adapter can be used to bridge the gap. When it comes time to purchase your system there are two exhaust tip color options available either black diamond or chrome silver. AWE is also fully behind there system and offers a lifetime warranty.
HKS Stainless Steel Dual Tip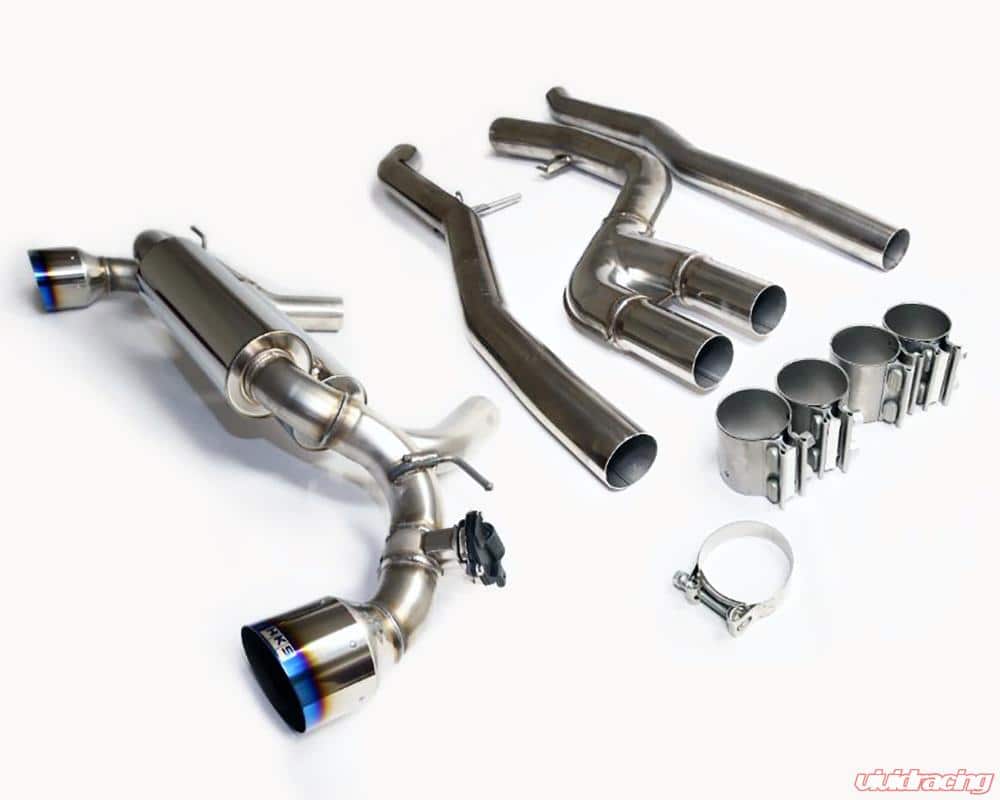 HKS is a tuning company that every JDM fan knows and loves. They were founded in 1973 but it wasn't until 1981 when HKS USA was established. HKS has a strong past and is well-rooted in the JDM community. They manufacture a wide variety of products such as turbos, suspension, body kits, and of course exhaust systems. It was no surprise when HKS was one of the first manufacturers with a 2020 Supra exhaust system ready to go.
Their exhaust offering for the A90 Supra is a great choice for anyone who is looking for an upgrade. It is comprised of SUS304 stainless steel with 5″ titanium exhaust tips. The center pipe has a diameter of 3.35″ and the main pipe with 2.76″. HKS was also able to shave off a few extra pounds the factory exhaust weighing in at 66 pounds and the HKS exhaust at 57 pounds you have a 13% weight reduction. The exhaust is also designed so it is 100% compatible with the factory exhaust valve system.
HKS is also claiming an increase of 30 horsepower with this system. When developing this exhaust HKS designed it to have a noticeable sound while also being pleasant and easy to listen to.
Akrapovič Titanium Supra Exhaust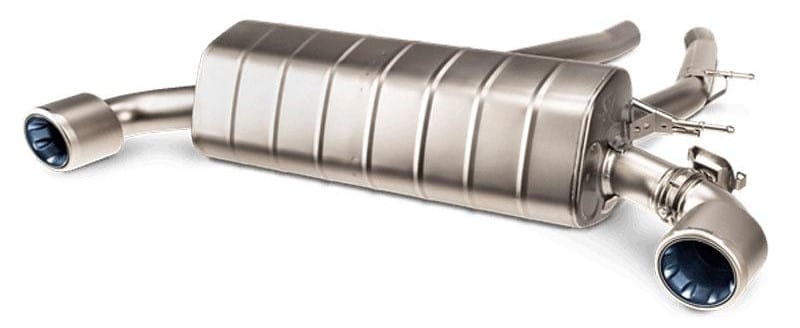 Akrapovič got its start building exhaust systems for motorcycles in the early '90s. It wasn't until 2010 when they expanded into the car exhaust scene. They brought with them all of their knowledge from building motorcycle exhaust and especially their knowledge of titanium.
There 2020 Supra exhaust setup is a bit of a unique option compare to others on this list. The exhaust is sold as a "slip-on system". What this means is that to install it you have to remove the factory exhaust (if you don't have a lift) and follow Akrapovič's very well written guide and cut the factory exhaust off and use the included clamps to connect the AkrapoviČ system to the rest of the factory exhaust. This may turn some Supra owners off from this exhaust but because the guide is so well written its not a very large job.
Akrapovič develops all of its exhaust systems out of titanium as opposed to the more commonly found stainless steel. The main advantage of titanium is it is much lighter and stronger than stainless steel. Since it is much stronger you do not need as thick piping walls so the exhaust tone is raspier and aggressive. As far as performance gains go you can expect an increase of 3 horsepower at 2400RPM and 5.5 lb-ft of torque at 2400RPM. Thanks to the titanium construction you are saving around 13 pounds. Sold separately Akrapovič also offers its sound kit. It gives you more control over the exhaust valves and optional tuning opportunities.
Boost Logic Titanium Exhaust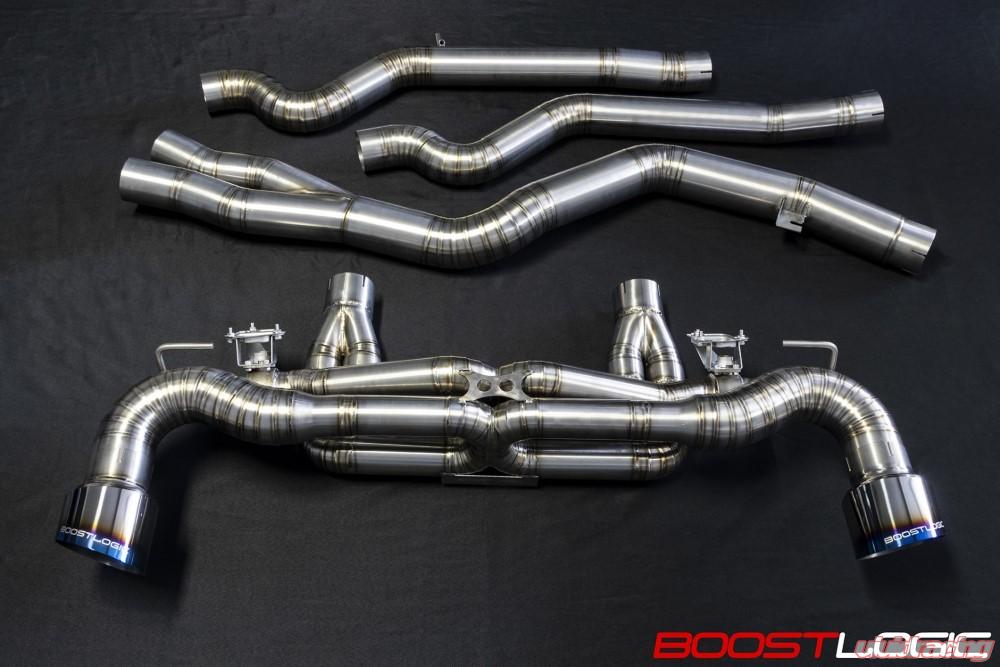 If you want one of the best 2020 supra exhaust systems on the market Boost Logic has you covered. Boost Logic claims "This system is the unrivaled highest quality exhaust for the MK5 Supra." Boost Logic has been around since 2003 with its first product being turbo kits for the mark IV Supra. It's safe to say Boost Logic LOVES Supras and they put all of their exhaust knowledge into this system.
Being one of the lightest cat back systems on the market the entire Boost Logic 2020 Supra exhaust including the mid-pipe weighs in at just 20.75 pounds! The stock Supra exhaust weighs around 34 pounds so you are saving 13.2 pounds. Just like the Akrapovič exhaust Boost Logic has fully built their supra cat back out of titanium. Meaning you get a much lighter system and a better more exotic exhaust note. Their quad tune design gives the exhaust a throatier tone in the lower RPM'S and a high pitched aggressive sound in the higher RPM'S. All of this creates a sound that you truly would not expect from a Mark V.
There are two main systems offered either the valved or non valved. They also have a variety of exhaust tip options available so you can find one that suits your build perfectly, Matte, Polished, Blue, Purple and Ceramic coated black that is only available on a made to order basis. The systems mid-pipe is 3.5″ and has dual 3″ outlets. When it comes time for you to install the system you will need stainless steel clamps.