When it came time to replace the Ford Mustang in 2015 those in the automotive world held their breath. 2015 signified Ford's 50th year of Mustang production, and throughout that half a century the famous galloping pony symbol has become a revered nameplate. No wonder, as the Mustang is credited with spurring on an entire subculture of "pony" cars in the US and has consequently become synonymous with muscle car culture.
There was another reason why the 6th generation Mustang was a significant car for the Blue Oval. The 2015 Mustang wasn't just out to win the hearts and minds of those in the home market; world domination was planned, with key markets such as Europe and China singled out as having lucrative export potential. The old Mustang recipe would no longer be enough. The new car had to not only appeal to long-time loyalists but also win over the minds of a completely different demographic. 
This shift in audience appeal meant a new direction for the line-up—a complete overhaul of a formula that had worked for fifty years prior. The Mustang had to be more than just a blunt instrument. It had to be refined and respected as a comfortable and well-handling alternative to what was offered by the European marques. 
To do so, major changes were carried out to the suspension—chief of which was the ditching of the rather crude live-axel setup in the rear. The replacement was a more modern independent suspension arrangement. This allowed not only for greater comfort but for better control. The steering was reworked with different modes for city and track driving, while the increased focus was applied to improving NVH levels within the cabin. 
To appeal to markets that levied heavy taxes on high-capacity power plants a 2.3-liter 4-cylinder turbocharged "EcoBoost" engine was introduced—much to the dismay of purists. However, to satisfy Mustang devotees the ever-popular V6 base model was retained, as was the ultimate 5.0-liter V8 "GT". 
The 5.0-liter V8 GT was the top of the line Mustang at launch and featured Ford's famed Coyote V8 engine. With 435bhp and 400 lb-ft of torque, the GT didn't disappoint. It had a 7000rpm redline, and the Mustang GT was able to belt itself to 60mph in a more-than-respectable 4.4 seconds. Power was sent through the rear wheels via either a six-speed automatic transmission or a six-speed Getrag automatic.
One new and noteworthy feature for the sixth-gen 'Stang was the headline-grabbing Line Lock. Normally an aftermarket device, line-lock allows you to independently brake or "lock" the front wheels, enabling smokey burnouts evocative of those performed at a drag strip. 
2018 saw the mustang receive a mid-cycle facelift which brought about some stylistic changes to the exterior and interior. The Mustang GT saw a new raised-capacity engine (from 4951cc to 5038cc) which also featured revised intake runners, larger valves, and both direct injection and port injection. The result was a bump in power figures, with the 2018-onward Ford Mustang GT producing 460 bhp and 420 lb-ft of torque. In addition, the 6-speed automatic transmission was replaced with a 10-speed unit co-developed with General Motors, although thankfully for those who appreciate the virtues of three-pedals, the 6-Speed gearbox remains an option. 
From 2018, the Mustang GT's exhaust options now include an active exhaust. But when it comes to the factory piping, the Mustang GT's V8 engine is given a fairly restrictive set of breathers. As is often the case, there are a plethora of options available in the expansive aftermarket modifying scene. So, if you're looking for the best sounding 2015 Mustang GT exhaust, read on for an in-depth line-up of the most popular options! 
This Guide Covers
2015 Mustang GT Exhaust Systems

2016 Mustang GT Exhaust Systems

2017 Mustang GT Exhaust Systems

2018 Mustang GT Exhaust Systems

2019 Mustang GT Exhaust Systems

2020 Mustang GT Exhaust Systems
AWE Tuning Track / Touring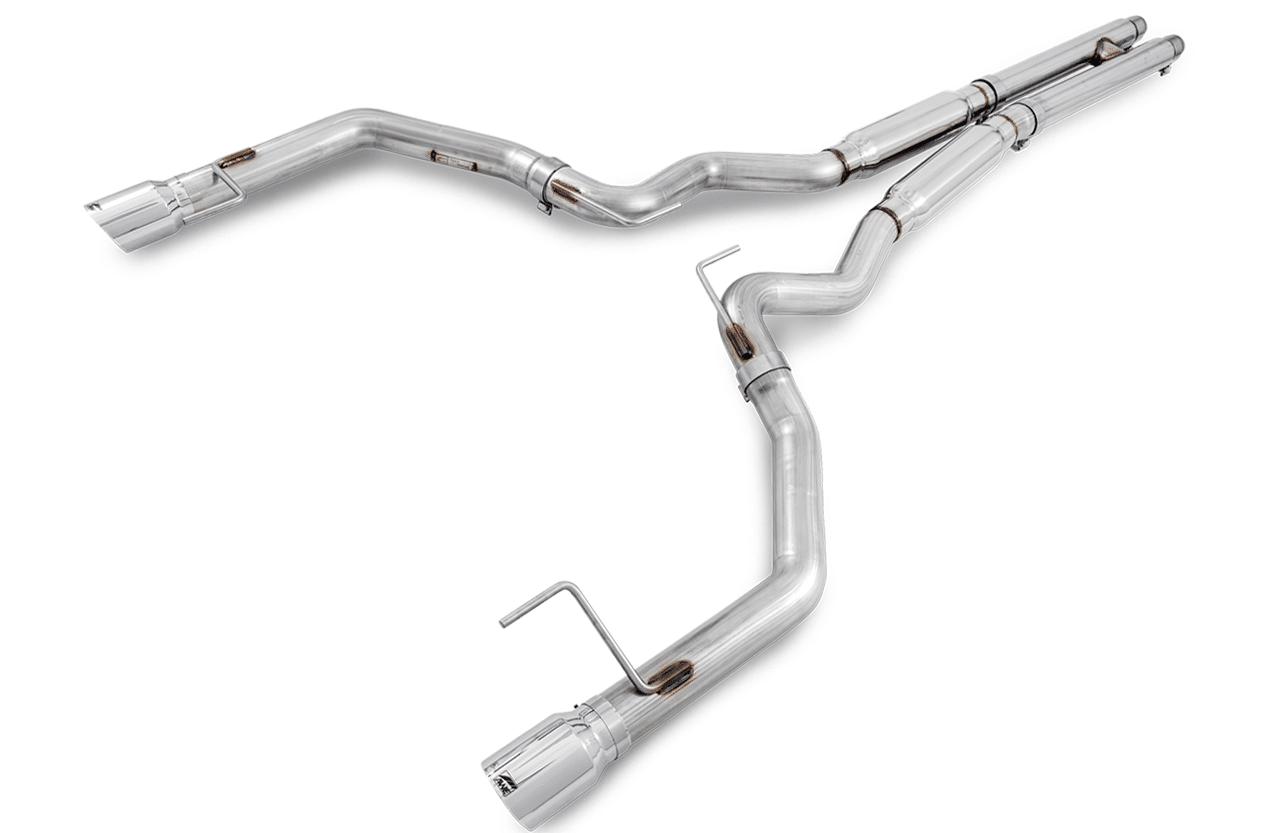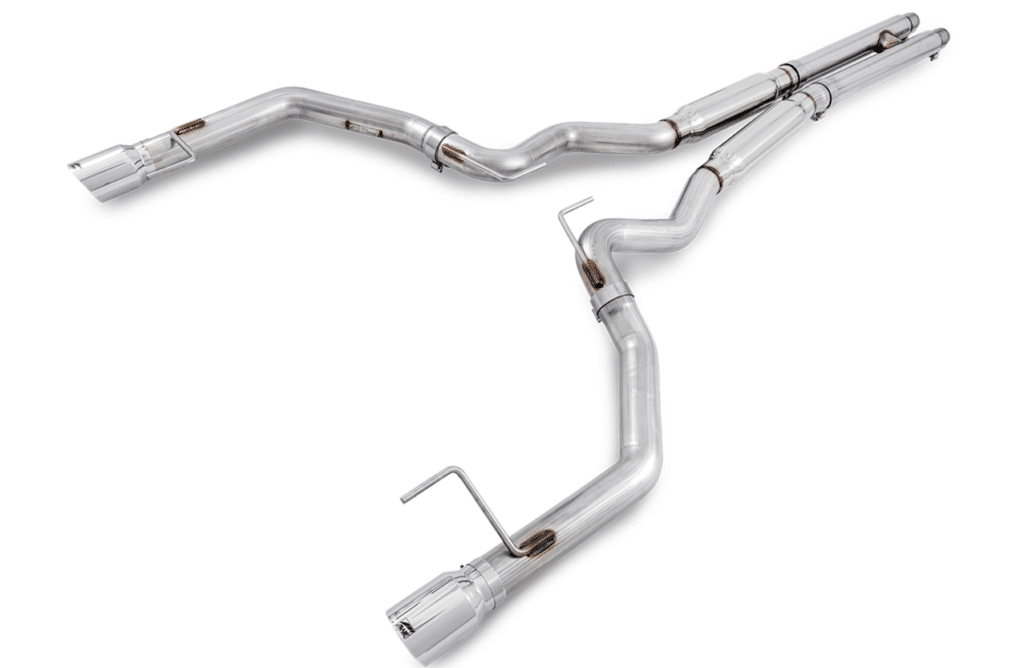 Based just outside of Philadelphia, Pennsylvania, AWE is a tuning company that prides themselves on their commitment towards the in-house development of each part offered. The AWE Tuning Track Edition Catback exhaust is no different, with particular attention to detail paid towards the design and manufacture of each product.
Each unit is handcrafted, with CNC mandrel-bent pipes made from .065″ wall T304L stainless steel. The entire system is 3" from the cat back, finishing in beautifully silver-chromed 4" tips.
AWE's track edition pulls no punches when it comes to delivering the best sound for the 2015 Mustang GT. That's partly because it's practically straight-through, with no baffles to muffle the V8's growl.
However, if you want a slightly less deafening option, AWE also offers the touring edition of their Catback exhaust. Just like the track edition, it features the highest quality steel, with 3″ piping throughout. But the touring edition employs AWE's "180 technology"—so-called due to the specific engineering that has been applied to create resonators that take into account the specific frequencies of exhaust gases and their sound waves. The result is a one-hundred-and-eighty-degree out-of-phase sound wave that cancels out problematic frequencies, which roughly translates into a drone-free experience throughout the rev range.
What's more, both the Track and Touring editions of AWE's 2018 Mustang GT exhaust promise a maximum horsepower gain of 8 hp, with 18 lb-ft of torque (at the crank). So, whether you want a roaring monster for a soundtrack, or a slightly toned-down baritone rumble, the Track and Touring editions of AWE's 2015-2020 Ford Mustang GT exhaust are significant improvements over stock.
Milltek Mustang Exhaust System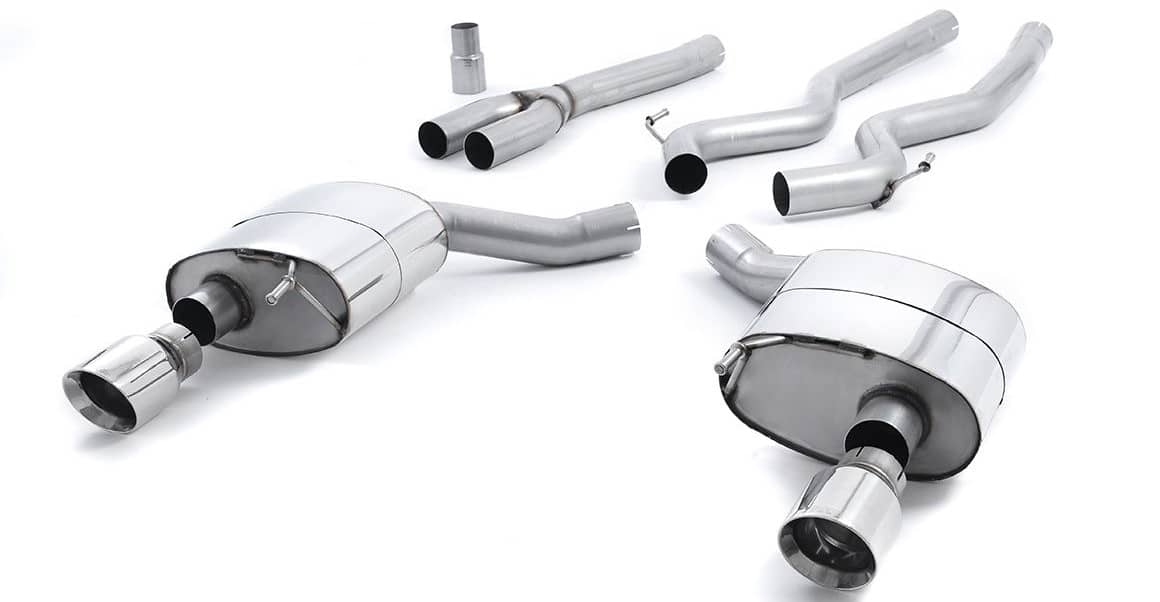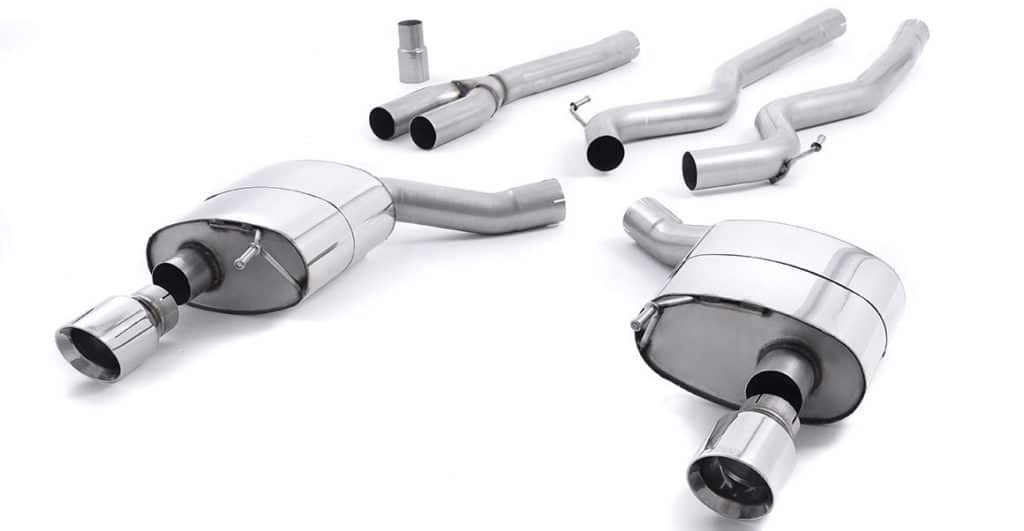 From across the pond, few exhaust tuning companies can boast the kind of heritage and race pedigree that Milltek Sport can. Based in the United Kingdom, and with a devoted development and testing center at the Nürburgring Ring in Germany, Milltek has competed in a variety of racing disciplines, including the British Touring Car Championship and the 24 Hours Nürburgring.
The Milltek Resonated Catback system combines that racing pedigree with manufacturing excellence to produce a high-quality aftermarket exhaust that not only sounds great but claims to boost power as well.
Made from high-quality mandrel-bent piping, the Milltek 2018 Ford Mustang GT exhaust system utilizes aircraft-grade 304 stainless steel. The steel itself is anti-magnetic and is reassured against long-term discoloration. Not only is it one of the best sounding exhausts for the 2015-onwards Ford Mustang GT, but it also comes with a significant weight saving over the stock system.
For those wanting a little extra meat and volume to the Mustang GT's 5.0 V8 exhaust note, Milltek offers its 2018 Mustang GT exhaust system in a non-resonated version as well. With significantly higher decibels emitted, the non-resonated version offers the biggest leap in sound quality, with a screaming exhaust note at high RPMs and a much-deeper-than-stock rumble at just above idle.
Both the resonated and non-resonated systems from Milltek comprise of 2.76″ piping throughout and finishes with black dual-exit exhaust tips that are coated with Cerakote. A quality offering from a British brand steeped in history, the hardest choice you'll have is choosing whether you want to remain on speaking terms with the neighbors or opt for the non-resonated Milltek Catback exhaust system instead.
Stainless Works Redline Cat Back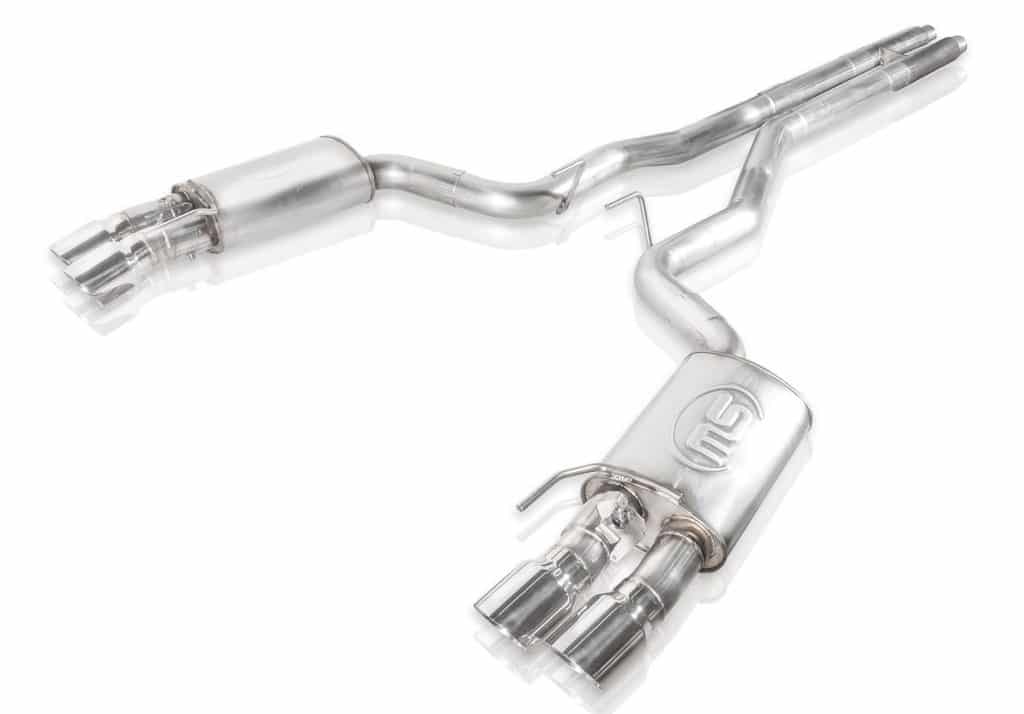 From the Mustang's 2018 refresh onwards, the GT was available with a slightly larger engine and the option of an active exhaust. The active exhaust allows you to tone down your sound or raise hell and volume, all on the fly. It's done via an electronically-controlled butterfly valve enabling you to select between a quiet city-friendly mode, a midway "normal" setting, or a raucous track-suited V8 howl.
And now, Stainless Works has been able to build upon that by introducing their own line of active-exhaust-compatible systems for the 2018-onwards Mustang GT. While they will only fit 2018-onwards cars (those that were optioned with the active exhaust) it serves as a great way to give you one of the best sounding Mustang GT exhausts whilst retaining the invaluable factory-fitted functionality of decibel control.
Stainless Works is an American company based in Streetsboro Ohio. Having recently expanded into a new 52,000sq-ft workshop that houses their team of skilled fabricators and technicians, Stainless Works prides themselves in keeping design and manufacture of their exhaust systems in-house—an attribute that allows them to continually add to the number of products offered while maintaining their exacting quality standards.
The Stainless Works Redline Active Valves exhaust hooks straight up to the factory electronics, allowing all three factory modes to be accessed: "Quiet", "Normal" and "Track". The Redline uses TIG-welded 304 Stainless Steel with 3" tubing, finishing up in those gorgeously-stylish 4" quad polished tips.
The Redline exhaust package is also available in an X-Pipe configuration. This is arguably better suited for top-end power and tuned applications, whereas the H-Pipe likely favors low-end torque utilization. Both emit their own unique sound and are guaranteed to transform your 2018 Mustang with possibly the best sounding active exhaust systems on the market.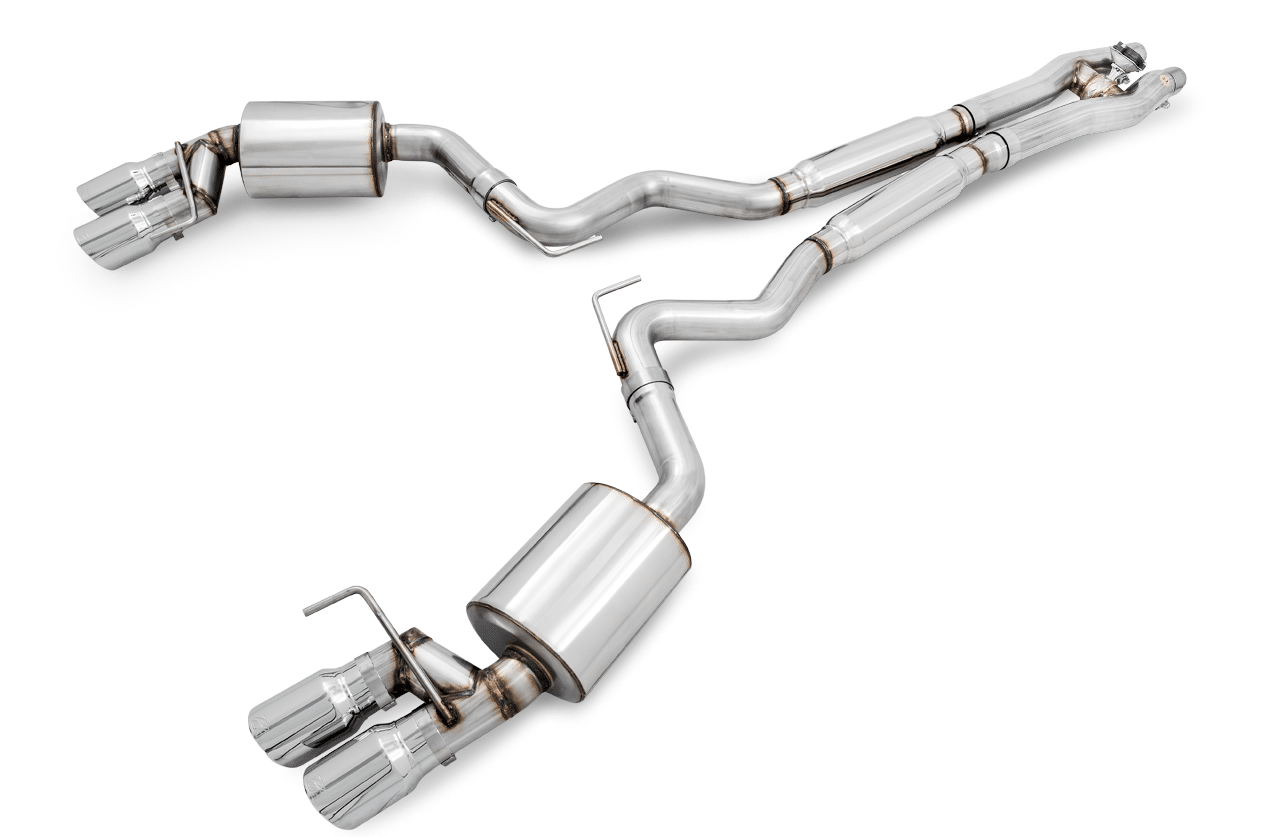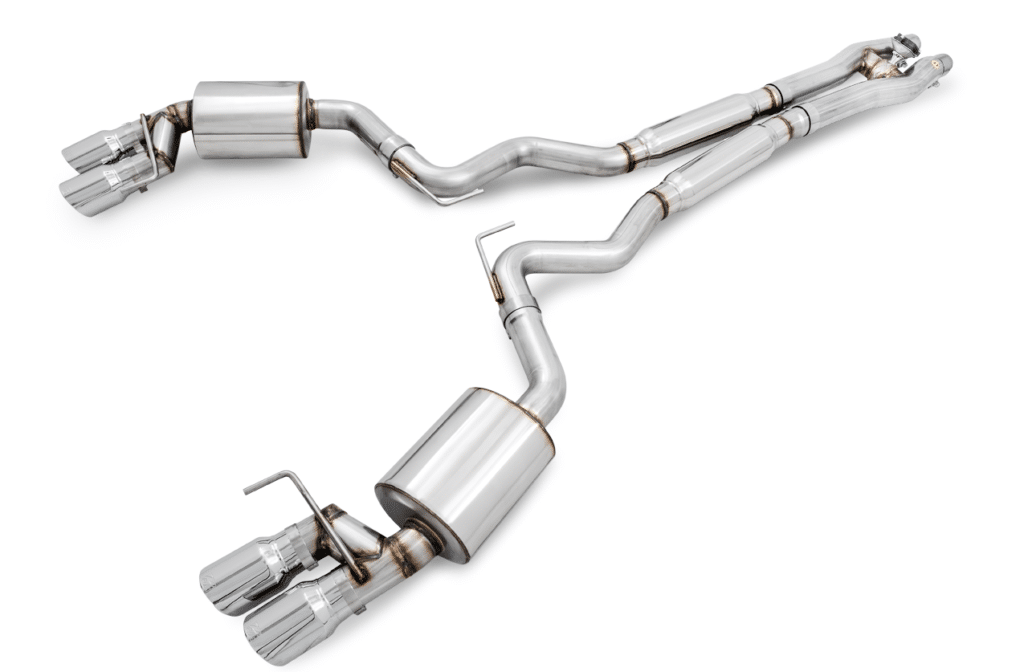 The second option from AWE Tuning is from their active exhaust line. Dubbed "SwitchPath", unlike the option from Stainless Works, this active exhaust will fit Mustang GTs from 2015-2020 and doesn't need the factory active exhaust option to have been ticked before installation.
However, you only get two modes as opposed to the three active options offered on the factory 2018-onwards Mustang GT exhaust system. And, with the AWE, the difference between quiet and loud sound modes isn't as massive as you may expect. That's because the AWE SwitchPath uses a valve placed along with the H-Pipe crossover. When closed, the 2015 Mustang GT exhaust is louder but more noticeable is a change in the dimension of the sound.
Either way, the AWE Tuning SwitchPath makes it on to our list for being one of the best sounding exhausts for the 2015 Ford Mustang GT, and its H-Pipe configuration gives the Mustang's V8 a deeper growl than the more common X-Pipe. The SwitchPath also comes with AWE's propriety "180 technology" that eliminates drone.
The icing on the cake is that the AWE Tuning Switchback's 4" double-walled tips are available in two colors to match your car's exterior—available in Chrome Silver or Diamond Black.
ARMYTRIX Valvetronic Catback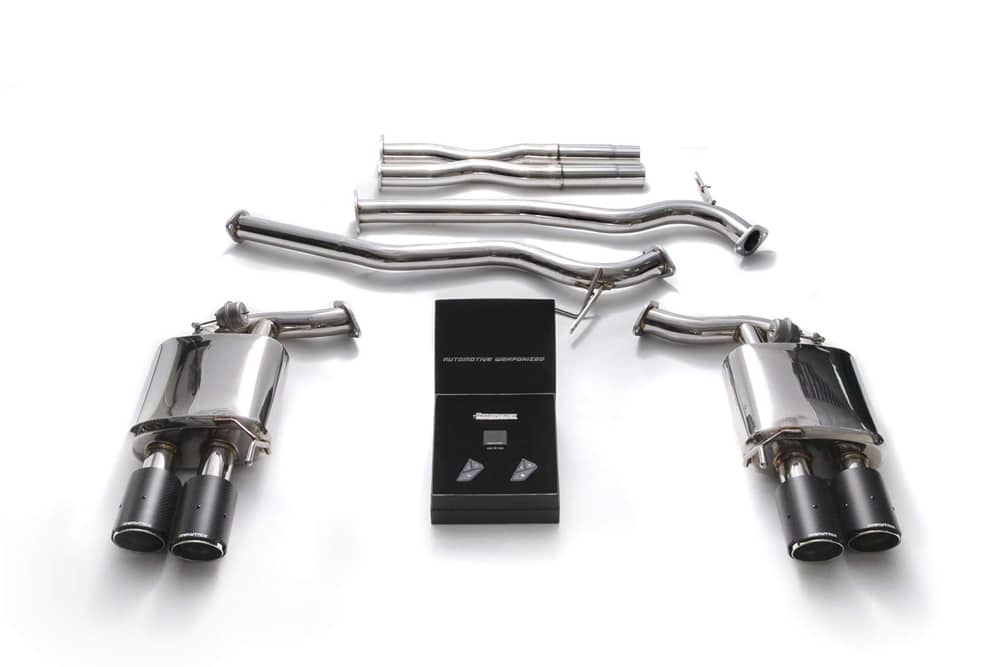 The Armytrix Valvetronic Catback system is undoubtedly the most feature-rich entrant on this list. Famed for their OBDII dongle systems, the Armytrix exhaust system for the Ford Mustang GT goes beyond the norm.
It incorporates a wireless remote to switch between "neighbor" (quiet) and "beast" (loud) modes. There's also a "Smart" mode, which automatically opens up the valves at a higher predetermined RPM.
Supplied with a Bluetooth OBDII module, you can also use your Apple or Android phone to switch between modes. In addition, the Armytrix app can monitor key parameters of your car such as water and exhaust temperatures.
Made from the highest grade 304 steel, with the added advantage of a 4.5kg weight saving over the stock system, the Armytrix exhaust doesn't compromise on quality for the technological wizardry included. And, not only is the Armytrix Valvetronic one of the best sounding exhausts for 2015 Mustang GT, they claim a boost in power of up to 13.4 horsepower and 18 Nm of Torque.
Added versatility is found when you factor in the ability to select between exhaust tip styles and colors. Armytrix offers both dual and quad tips, as well as 4.5" chrome or matte-black color options, making it not only one of the most technologically-advanced Ford Mustang GT exhaust systems but also customizable according to the look and feel of your car.