The third generation Ford Mustang built from 1979 to 1993 on the fox platform was a major success for Ford. Begin available in a variety of engine configurations starting at a little 2.3L all the way up to the glorious 5.0 V8. The Most recognizable Fox Bodys were produced from 1987 and on as Ford released an updated face life. Featuring square bucket headlights with a slanted grill all while making it lighter and more aerodynamic than the previous design. And of course, the 5.0 engine got a major upgrade. The 5.0 in the 1979 mustang produced 140 horsepower and 250 ft-lbs of torque. But in 1987 The 5.0 was outputting 225 horsepower and 300 ft-lbs of torque an 85 horsepower gain and an extra 50 ft-lbs of torque!
But to most people 225 horsepower isn't near enough, fortunately, the Fox Body is often referred to as "Legos" as you can build any car you want out of it. Want an insane quarter-mile car or a drift missile? The Fox Body can do both and excel at it. There is also a huge aftermarket around the Fox Body, Everything from the best sounding Foxbody Mustang exhaus you could ask for all the way to performance engine internals and engine swap components. And with any car that has a large following, there are a plethora of online resources available to help you should any issues arise, and of course a great community behind it all.
When it comes to Fox Body performance more specifically Foxbody Mustang exhaust systems since there is such a huge aftermarket it can be hard to decide on what to spend your hard-earned money on. That's why we have done all the hard work and selected the best sounding fox body exhaust systems and of course best performing.
Flowmaster American Thunder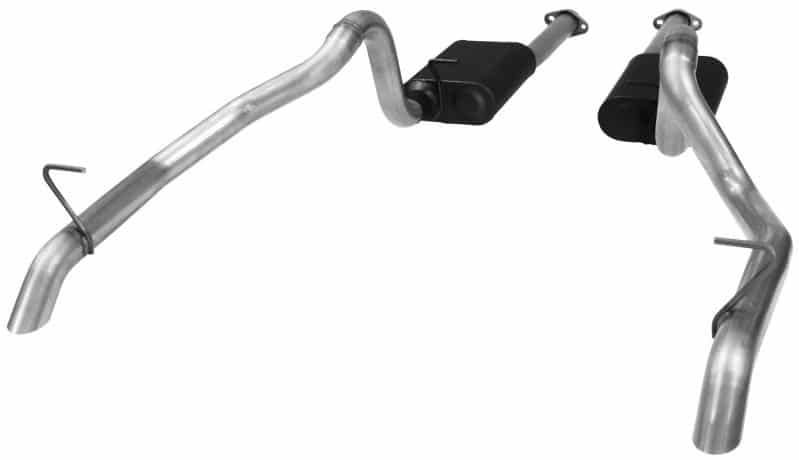 Flowmaster is an exhaust manufacture that every car enthusiast knows as they have been manufacturing exhaust systems for over 36 years. Flowmaster considers themselves the "Exhaust Technology Company" as they are always innovating to create the best exhaust systems possible thanks to their advanced research and development team. Although they mostly focus on exhaust system Flowmaster also manufactures cold air intakes and boost controllers as well as other exhaust components such as catalytic converters and headers.
Flowmasters Foxbody Mustang exhaust system is built under their American Thunder product line. American Thunder is Flowsmasters exhaust series that is designed to deliver maximum horsepower and maximum torque. Since the American Thunder is much more free-flowing than stock you also are going to hear the deep and aggressive "original Flowmaster" sound.
This dual exit exhaust system comes with a pair of Super 44 Series mufflers. The 44 series muffler is number three on the Flowmaster loudness scale thanks to its dual-chamber design it produces a deep, loud and aggressive exhaust note. The entire exhaust utilizes 2.5″ mandrel-bent piping along with 2.5″ exhaust tips.
If you think the American thunder exhaust system is for you, you have a choice to make. Flowmaster builds this exhaust out of either cheaper aluminized steel or the more expensive 409 stainless steel. The estimated life span of aluminized steel is around three to five years where 409 stainless is eight to ten.
BBK Varitune Foxbody Mustang exhaust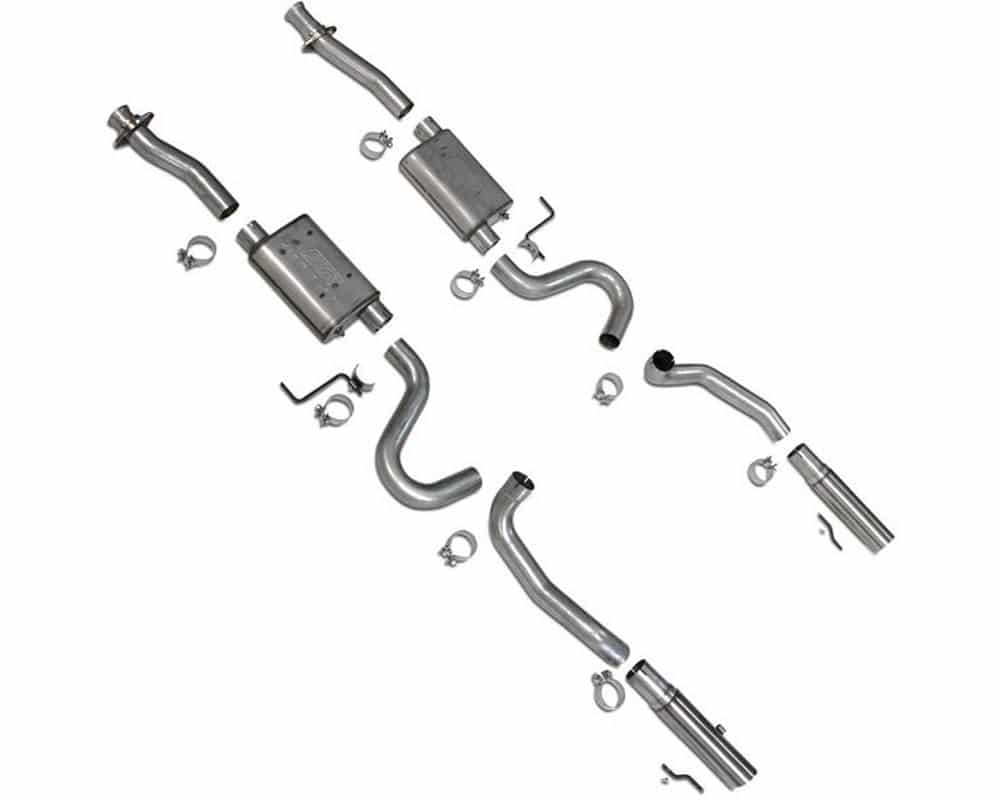 BBK Performance was initially started by Brian Murphy and his best friend Barry Morrison. Brian and Barry moved out to Southern California to attend college, but after Brian saw how popular the new fuel injected cars were he got the idea to start a business selling performance bolt-on parts. He saw a gap in the market as large companies at the time such as Summit Racing were still focusing on performance parts for carbureted engines. Today BBK has just shy of a 200,000ft building and they manufacture over 600 products.
BBK got their start with the Fox Body mustang so it is safe to say they know how to maximize performance. Their Foxbody Mustang exhaust is manufactured from 2.75″ mandrel-bent aluminum piping paired with dual 3.5″ stainless steel exhaust tips. BBK also utilized the factory exhaust hangers for a 100% bolt-on installation and the exhaust comes with all of the necessary hardware to install.
On the loudness scale, this exhaust can produce almost any sound you want! Yes, thanks to BBK'S Varitune technology both mufflers have a built-in exhaust valve that can be adjusted with just the turn of a wrench. When the valve is closed it forces the exhaust gases to flow through three chambers in the muffler. When the valve is open the exhaust gases flow straight through the muffler taking the path of least resistance. Going on a long drive and want to take it easy on the ears simply close the valve. Going to cars and coffee and want to ensure your car is at peak performance and producing the best sound possible? Just open the valve.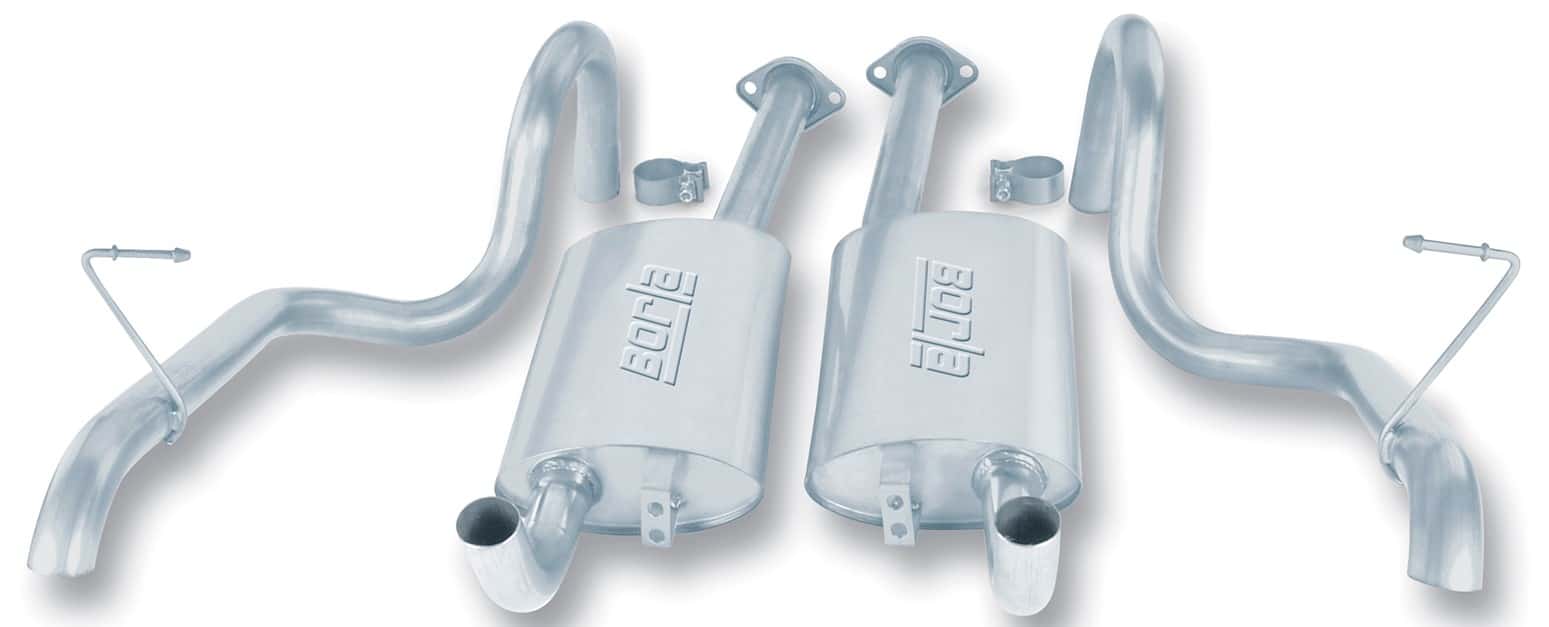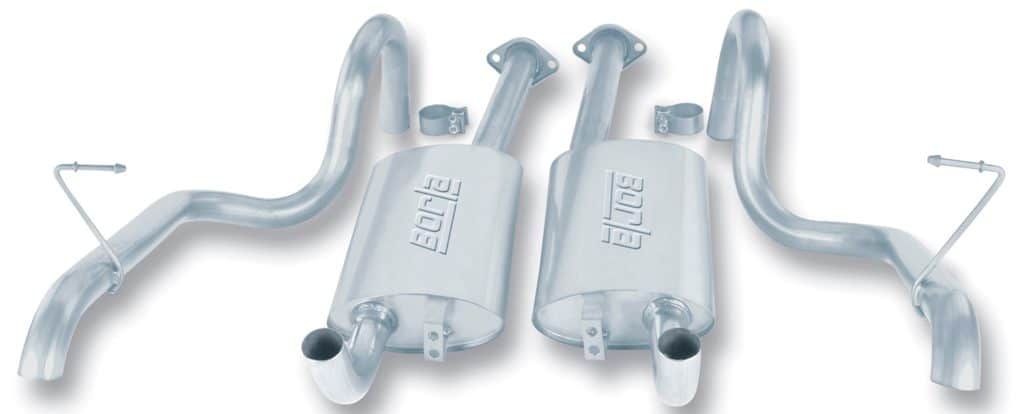 Borla is a very well established exhaust manufacture as for the past 40 years they have been producing quality exhaust systems for a wide variety of cars. Borla is known around the world for its patented award winning and race winning exhaust system. On average a Borla exhaust system can increase the horsepower of your car by around 8 to 12.
Borlas S-Type mufflers are advertised to have an "aggressive plus" sound that is deep and aggressive all while not being overly loud. The S-Type gets its sound from packing filament, perforation pattern, and a patented straight-through core design that gives you the Borla sound with every acceleration.
The entire system is constructed from high-quality T-304 stainless steel that will last for years. Borla used 2.25″ mandrel-bent piping through the exhaust system except in the tailpipe which is 2″. Your wallet will also thank you as Borla exhaust systems improve gas millage due to the engine being able to work more efficiently.
MagnaFlow Competition Series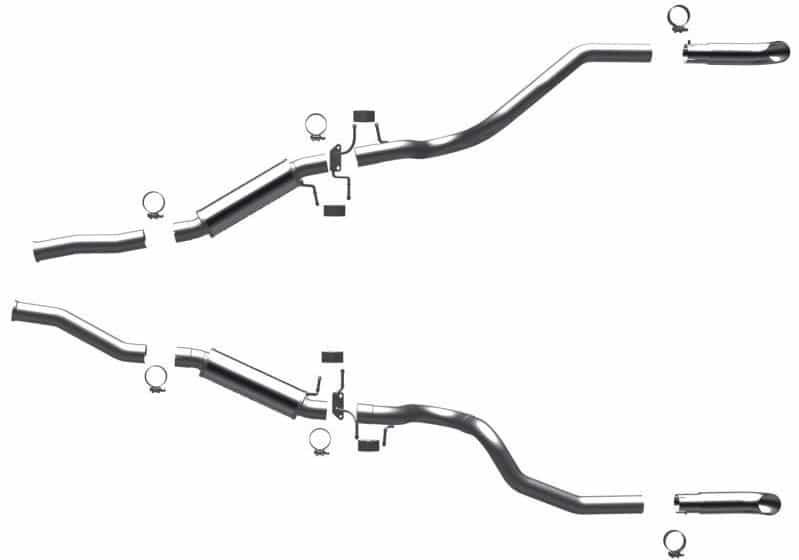 Magnaflow is one of the longest-running exhaust manufacturers in the world as they have been producing exhaust systems since 1981. Just under 40 years of innovation has come out of the Magnaflow factory which led to them being named SEMA manufacture of the year in 2017. Magnaflow makes exhaust systems for what seems like every car on the road and has also branched out into motorcycle and UTV exhaust systems. Since Magnaflow is ISO-9001 certified you know that you are getting a quality dyno-proven exhaust system for your car.
The Magnaflow competition series exhausts are the best of the best from Magnaflow unleashing all of the potential horsepower of your fox body mustang all while producing a deep aggressive and of course, LOUD exhaust note or as Magnaflow describes it an aggressive exterior and moderate interior sound. 
Since Magnaflow only uses high-quality materials the entire exhaust is manufactured from 409 Stainless Steel with dual 2.5″ polished stainless steel exhaust tips. The entire exhaust utilizes 2.5″ piping and is a direct bolt-on system, no cutting or welding required.
If you want Magnaflow quality but are looking for a more tame system Magnaflow also offers a Foxbody Mustang exhaust sold under their street series line.