The BRZ / Scion / FT-86 platform is one of the most important sports car releases of the past decade. This winning concept was developed jointly between Toyota and Subaru and is manufactured by Subaru. It is a true driver's car, an agile fastback with a brawny 200-hp boxer engine, rear-wheel-drive, excellent front/rear balance, and a low center of gravity. One of its most striking features is its affordability, which makes it an incredible performance value among competing models like the Mazda Miata and Nissan Z.
Real enthusiast owners are now looking for ways to improve their car's performance, looks, and sound. The following high-quality aftermarket Subaru BRZ exhaust systems / Scion FRS exhaust systems / Toyota FT86 exhaust systems have what it takes to seriously dial up the style and performance of this iconic, modern sports car.
Invidia N1 vs N2 Exhaust Systems
Invidia exhaust systems are sold by JetWorld/JetStar Auto Sports Inc. based in California, USA. These high-quality components are manufactured in Taiwan. Invidia specializes in supplying high performance exhaust systems for Japanese manufacturers like Mitsubishi, Toyota, and Acura. Invidia is extremely competitive with their pricing, offering quality comparable to the top Japanese brands.
The N1 Subaru BRZ exhaust system is priced slightly lower than the N2. Representing uncompromising quality and value, with the N1 system you get an excellent balance between price and performance. The N1 uses a canister-style muffler with a free-flow design. The construction is based on proven engineering that results in a more pronounced sound and significant performance gains.
The newer N2 model closely resembles the N1 system, but with a modified design that locates the mufflers slightly farther back from the exhaust tips. This fresh look responds to trending consumer feedback and improves the overall appearance of the system. According to reviews, the N2 also has a reduced tendency to drone compared with the N1 system.
Invidia N1 Exhaust System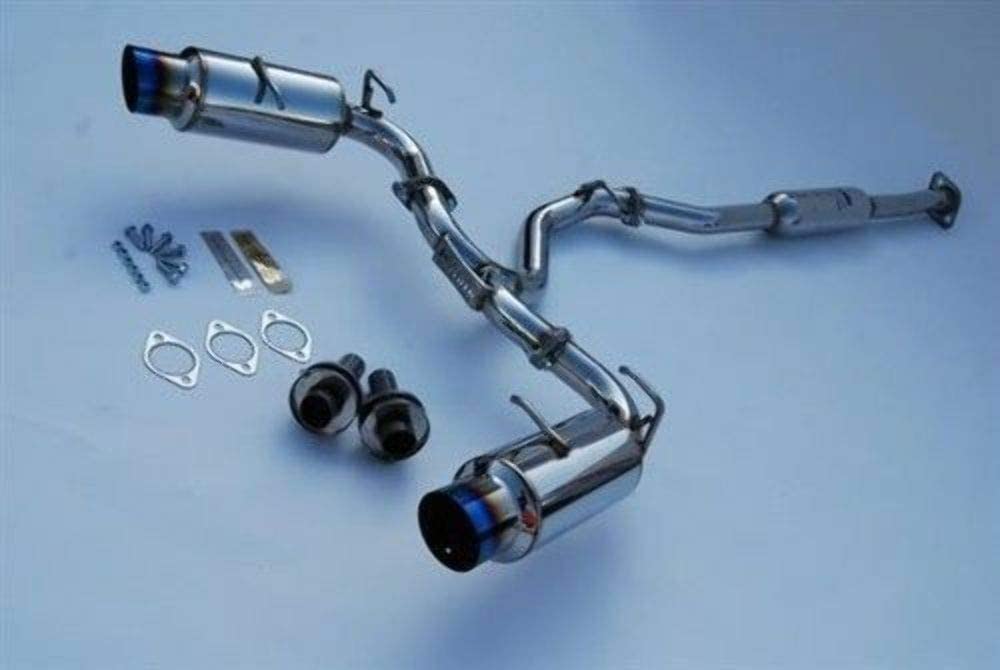 Constructed from high-quality SUS304 stainless, these systems are designed to improve engine power and torque and produce strong mid and top-end performance increases. The flanges are CNC-machined, and the wide 60mm mandrel-bent piping decreases back pressure to improve exhaust flow. The N1 system is suitable for both stock and even seriously modded vehicles.
Start-up produces a throaty snarl settling into a mature bass idle that growls like it means business. Up through the rev range, the low tone builds to a head-turning angry hornet's nest of a metallic howl. The sound inside the cabin is a deep muted purr that pleases the ear and impresses your lucky passengers.
Invidia N2 Exhaust System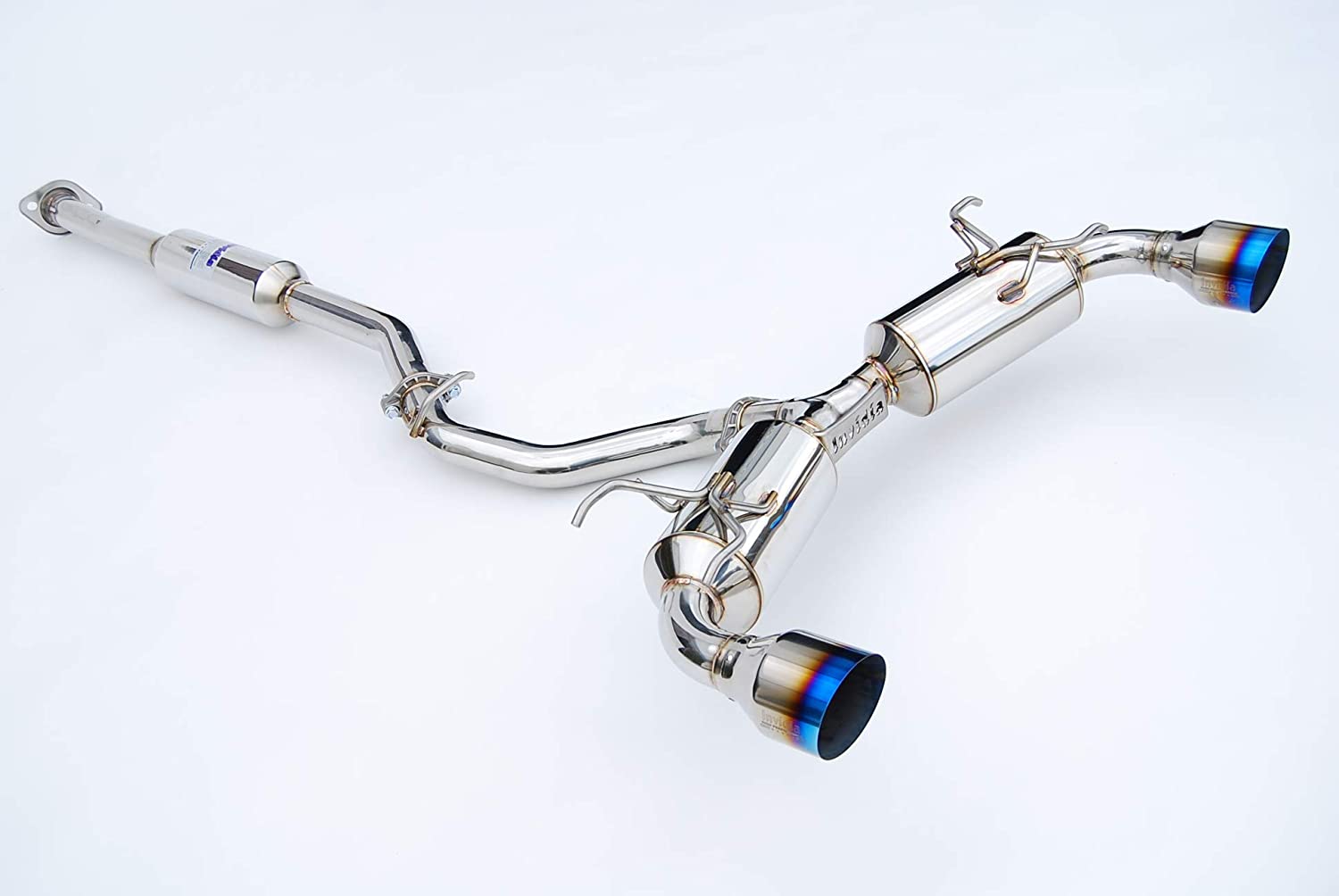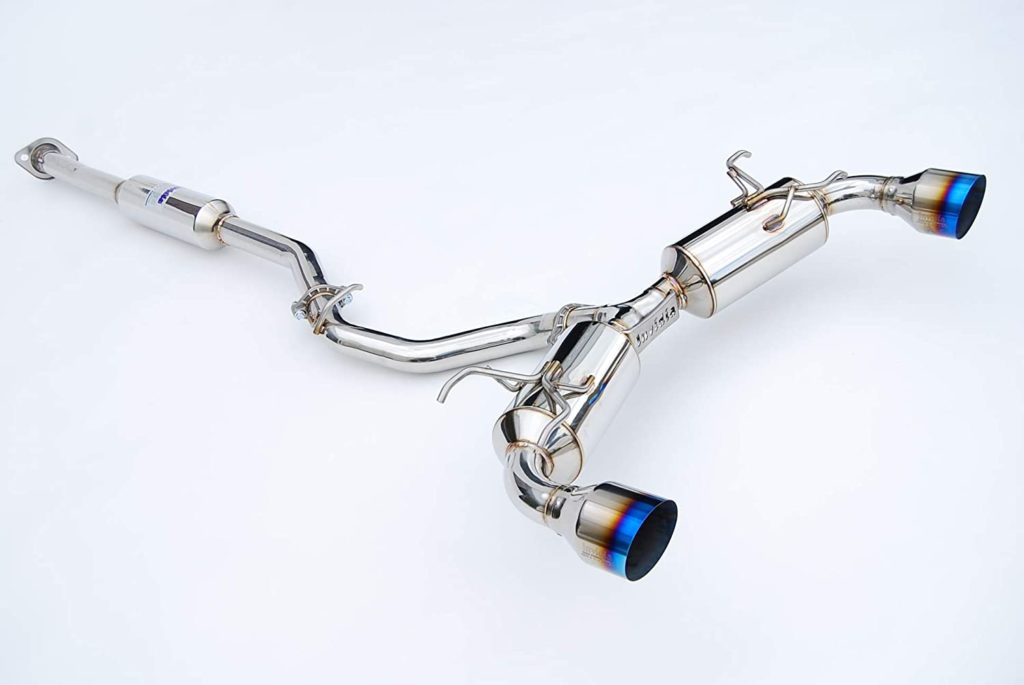 The newer N2 Subaru BRZ exhaust system / Scion FRS exhaust system / Toyota FT86 exhaust system features a sturdy and lasting construction of high-quality stainless steel and mandrel-bent tubing. Precise robot welding of components ensures an excellent fit and painless install.
The N2 system features a cannon-style muffler, minimized backpressure for optimal flow, and impressive-looking titanium exhaust tips engraved with the 'Invidia' logo.
When you turn the key you hear a rousing throb of raw power that balances out to a lively but deep, aggressive idle tone. The rolling rumble can be felt in the seat of your pants and in your feet through the pavement if you are standing nearby. Accelerator pulses are battle horn crescendos of potent resonance with a faint thunder crackle after-breath.
Tomei Expreme Titanium Type-80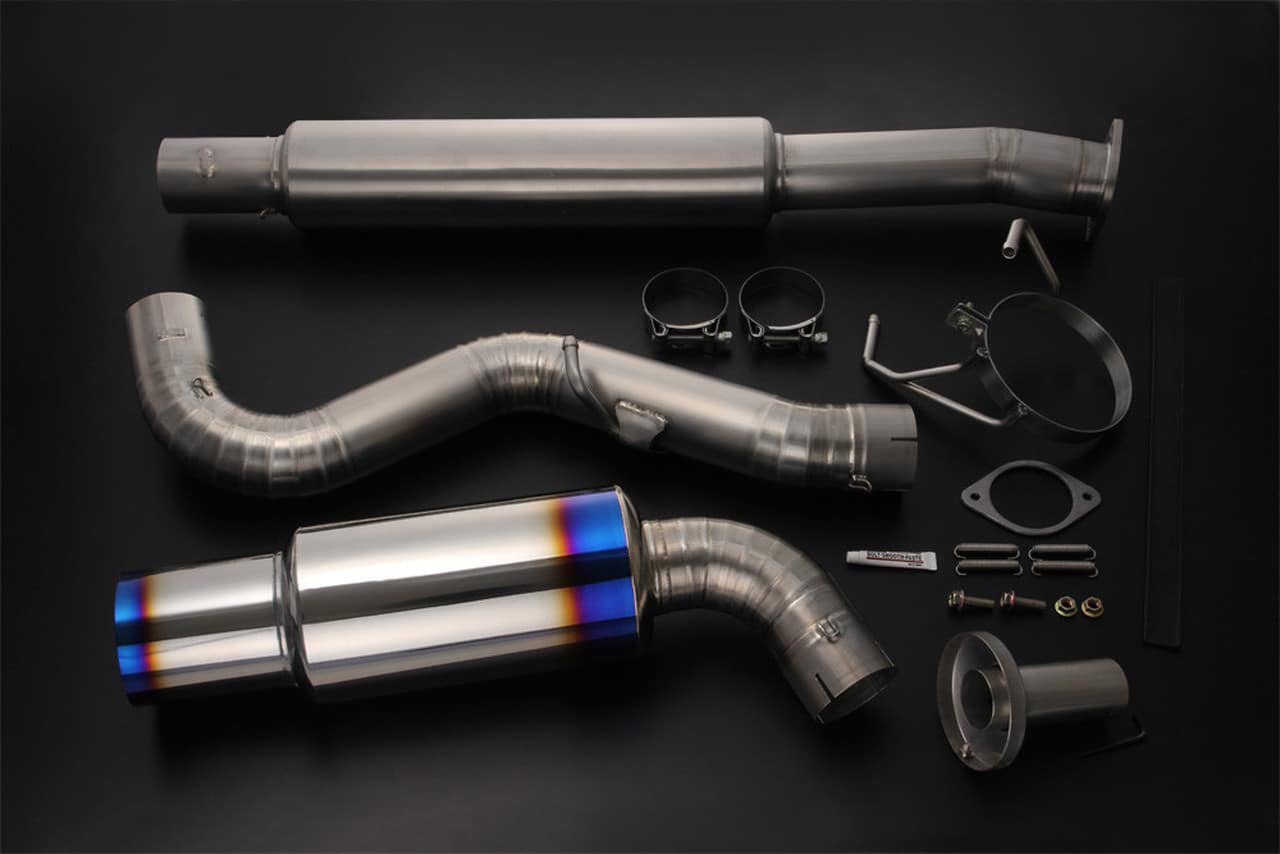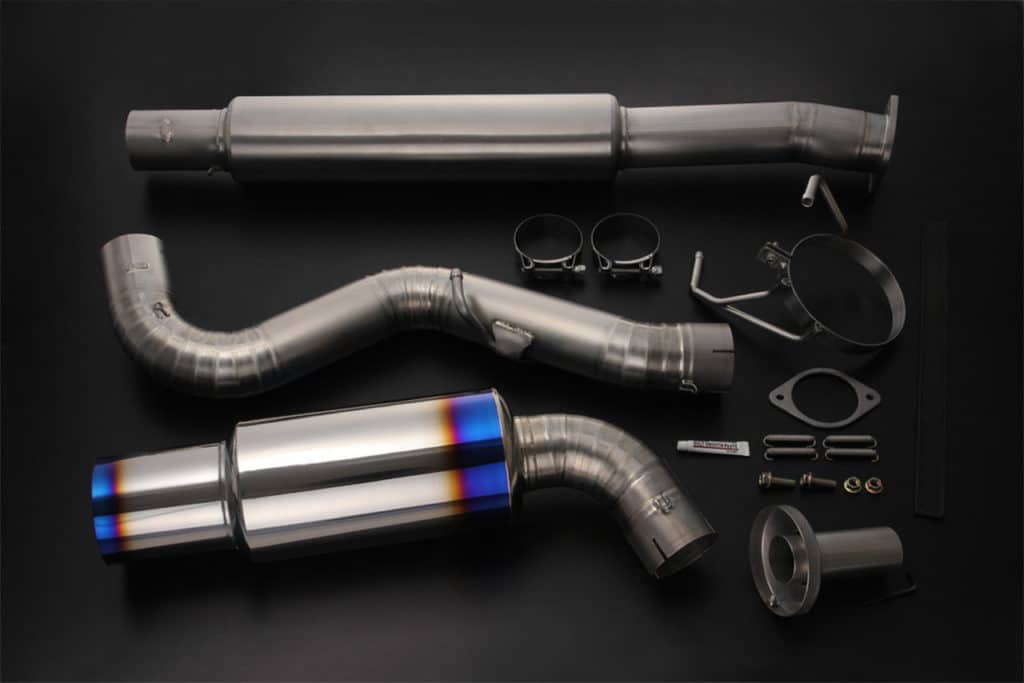 Tomei is a Japanese tuning firm that has been in business for over 50 years. Tomei produces a wide range of performance components designed for professional racing. The brand is renowned for its exceptional quality, dependability, and high performance.
Despite being affordable, Tomei Expreme Type-80 components are made entirely of titanium. By using titanium, replacing heavier flanges with springs and clamps, and making the exhaust system as straight as possible, the weight savings and performance gains are truly remarkable when compared with its competitors' stainless steel products.
This ultra-efficient, high performance light-weight design maximizes exhaust flow efficiency and is ideal for vehicles using superchargers and turbochargers.
Installers of this Tomei BRZ exhaust system can expect a raucous trumpet bark on ignition, a deep guttural bass vibrato idle, a hair-prickling automotive battle cry as the engine spools up to redline and fiery whoosh as the revs settle back down.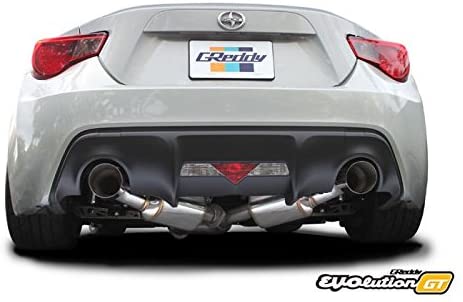 GReddy Performance Products has been a California-based distributor of premium-quality high performance Japanese aftermarket automotive parts since 1994. Founded and managed by racing drivers and enthusiasts, the company has the singular goal of developing products that advance automotive performance.
The Evolution GT Subaru BRZ exhaust system is designed to be the ultimate expression of style, performance, and sound. As the name denotes, this latest version is a new evolution in optimal high flow internal engineering. Each system is manufactured from high quality, precision-welded 304 stainless steel. It still features its popular offset-tip design admired and desired by discerning consumers.
Firing up this exhaust system results in a sonorous bray of fierce intent that dissolves into a primordial aum chant of detonating cylinders. Stab the gas and the heavens receive a fearsome horn blast of untamed thunder, culminating in a zen mechanical harmony of chest-felt sound.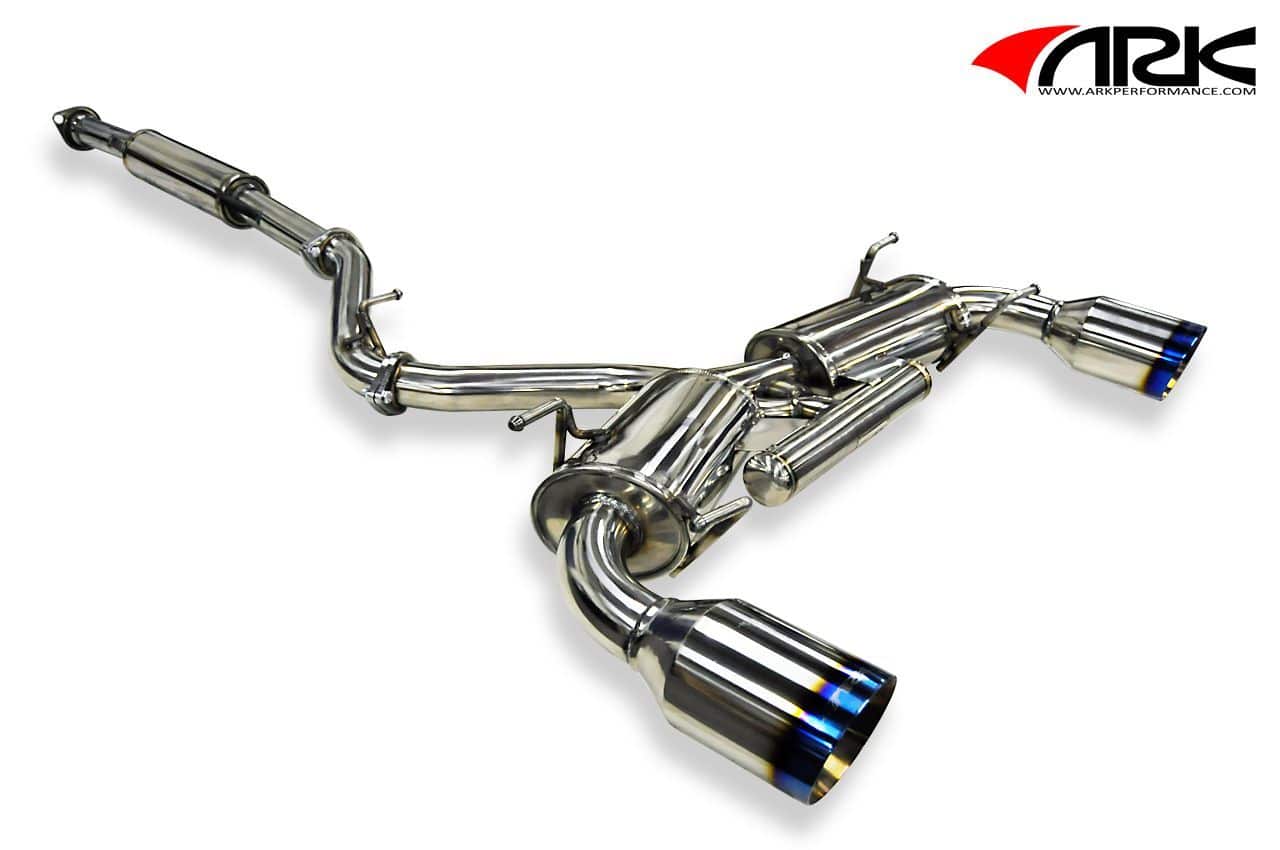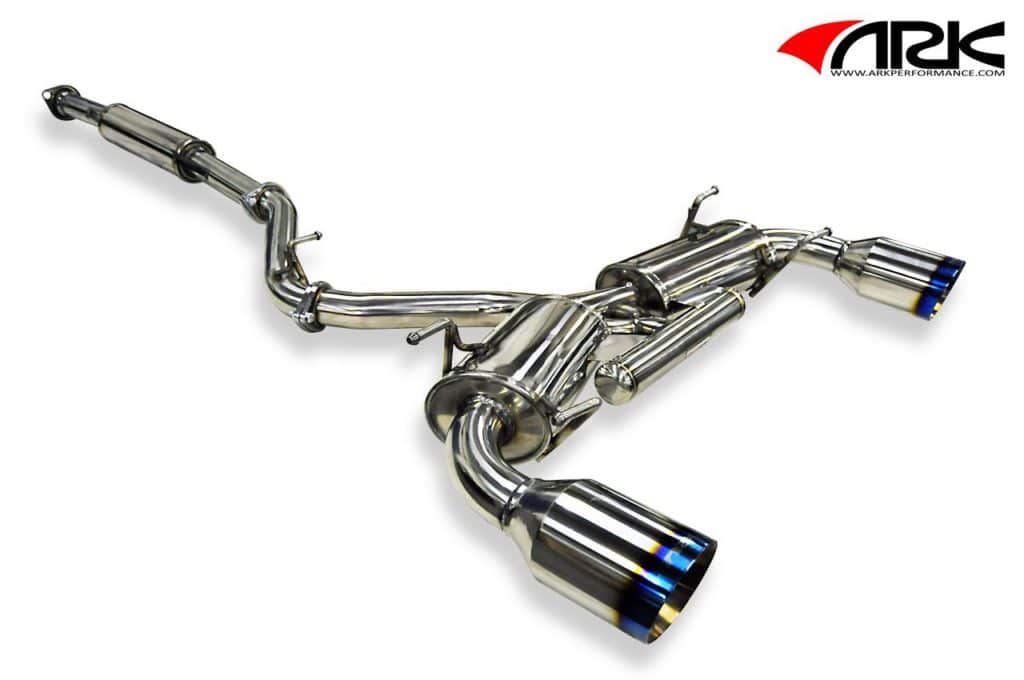 Founded in 1995, ARK Performance is now one of the biggest manufacturers of aftermarket performance parts in South Korea. With a rich history of engineering excellence in metallurgy and exhaust technology, ARK is recognized as an industry leader in performance exhaust systems. ARK's obsession with strict quality control and ongoing involvement in motorsports has helped it develop performance products that exceed all standards in professional racing.
The ARK DT-S is specifically designed for street and daily driving. The DT-S system uses a reservoir chamber tank design and CNC-machined flanges. The deep exhaust tone is specially tuned to be easier on the ears at low RPMs but has an uncompromisingly assertive roar when the revs go up. The overall design is sleek and clean. ARK DT-S models are all-bolt on systems that feature mandrel-bent piping, micro TIG welding, dual layer burnt exhaust tips, and mirror-polished 304 high-grade stainless steel.
ARK Performance mufflers use Helmholtz technology that enhances the rich engine tones while suppressing drone. Engine-start churns out a deep but restrained aggression. Idle is a weighty bass register that burbles with purebred performance authority. A forceful bellow of pure rage rushes forth when you open up the throttle, arcing back into a balanced, mature rumble.
If you're serious about improving the appearance, sound, and performance of your Subaru BRZ, Scion FR-S or Toyota FT86 you cannot go wrong with an upgrade from this selection of high-quality aftermarket exhaust systems.
With choices in popular burnt titanium or clean stainless steel, these exhaust systems enhance the sporty character of an already great-looking ride. The performance gains are measurable and significant. These professional tuner-quality exhaust systems provide a spine-tingling aural experience that you just can't get from stock or lesser-quality exhaust systems. Best of all, each one of them produces its own distinctly powerful bass rumble that excites the senses, captivates the ear, and intimidates the competition. Have a look and a listen for yourself and decide which one is right for you.