The little brother to the Focus ST the Fiesta ST is not a car to be underestimated. Packing a 1.6L turbocharged engine under the hood paired with a six-speed manual transmission you got a great platform to build from. The Fiesta ST has a large aftermarket behind it and has lots of tuning potential with some of the fastest examples reaching upwards of 400whp.
When you first start modding your car typically the first mod people look for is an aftermarket exhaust. An upgraded exhaust system lets your car breather easier and gives you a slight horsepower increase. Today we have compiled a list of our favorite Fiest ST exhaust systems for the 1.6L engine configuration. These are some of the best fiesta ST exhaust on the market and are sure to transform the sound of your car.
FLOWMASTER AMERICAN THUNDER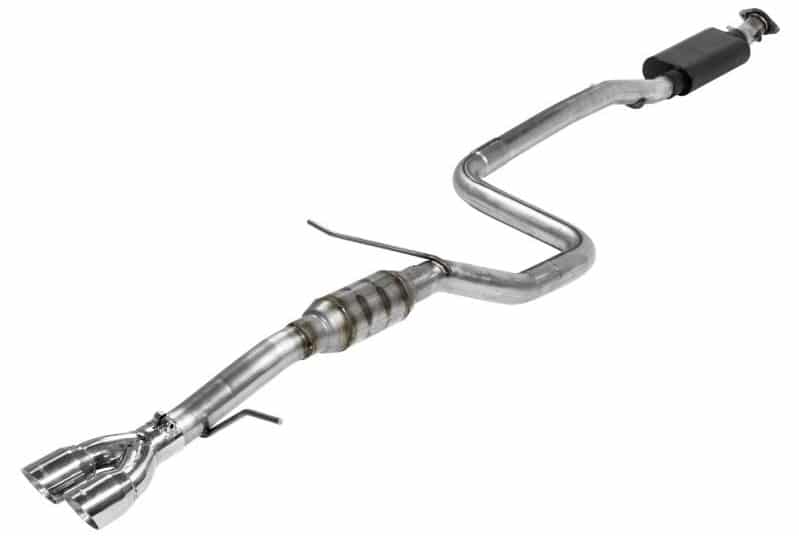 Flowmaster is an exhaust name that even the oldest of cars enthusiast will be familiar with, as they have been manufacturing exhaust systems for over 36 years. They manufacture exhaust systems for a wide variety of cars but their major focus is on North American made vehicles. Flowmaster is owned by Driven Performance Brands a conglomerate that owns many other well-known companies such as Holley Performance, B&M Racing, and Hurst Driveline Conversions.
Flowmasters Fiesta ST exhaust offering is a solid choice for your fiesta st. When you see a name like "AMERICAN THUNDER" you know you're getting a quality and loud exhaust system. The exhaust tubing is manufactured from 2.5″ mandrel-bent 409S Stainless Steel, and the exhaust tips are Polished 304 Stainless Steel with a 3″ opening. Flowmaster designed this exhaust to maximize horsepower and provide a superior external exhaust sound while keeping it easy on the ears in the cabin while at cruising speeds.
The system comes with everything you need to install it in the box and is a direct bolt-on Fiest ST exhaust system. Flowmaster also covers this exhaust with their limited lifetime warranty
Milltek Fiesta ST Exhaust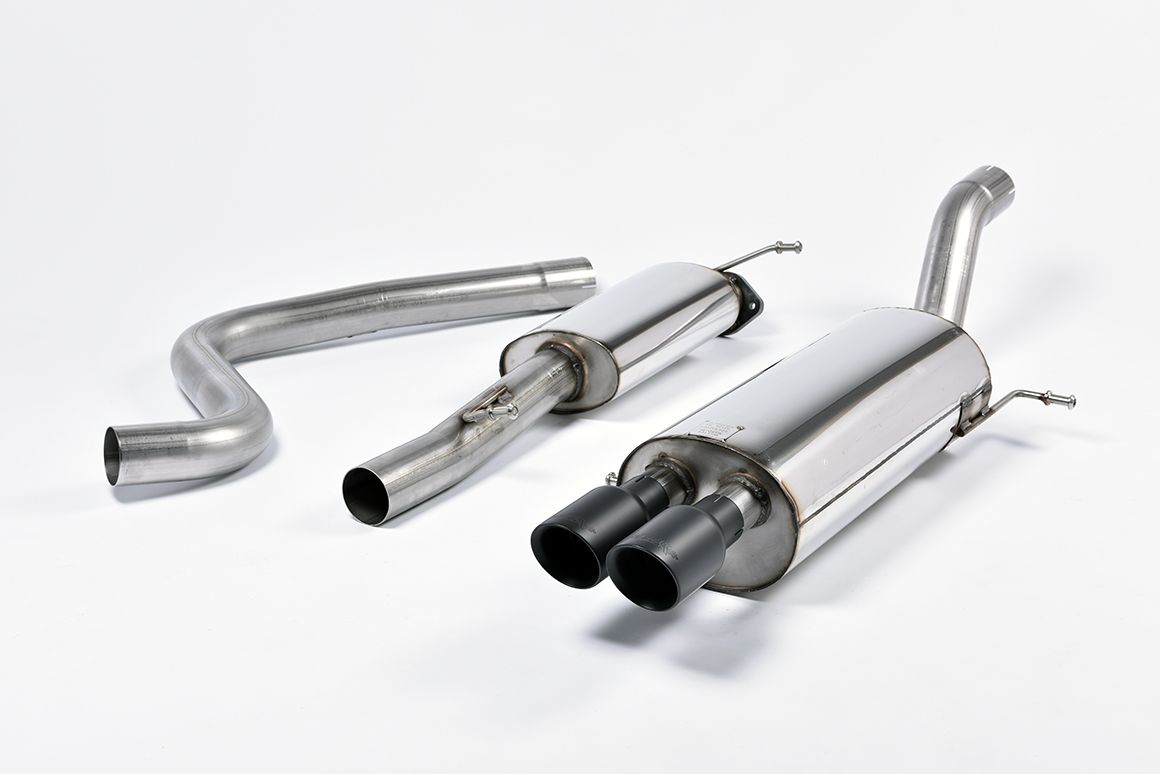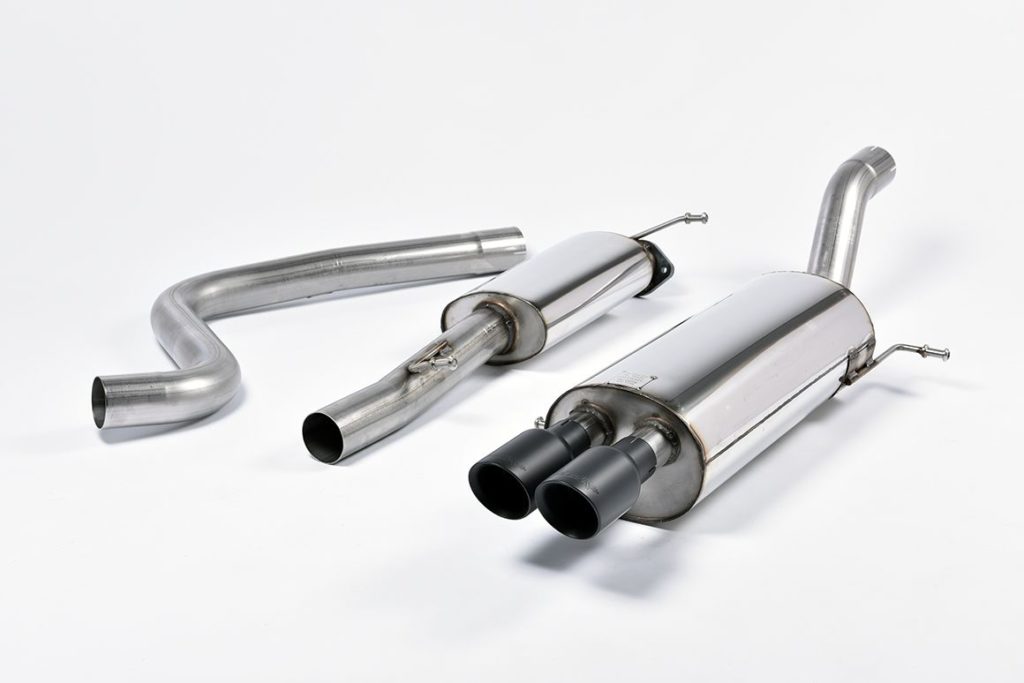 Milltek is a very well known exhaust manufacturer, especially in the racing world. They have been apart of a variety of large races such as the Volkswagen Cup, British Touring Car Championship, and the VLN to just name a few. It's safe to say Milltek knows their stuff when it comes to performance exhausts as they work very closely with a variety of race teams when developing new products.
Just like all Milltek products this exhaust is manufactured from high-quality type 304L aircraft grade stainless steel. This type of stainless steel is anti-magnetic so it is less susceptible to discoloration. Milltek also offers two main configurations of this exhaust either the resinated or non resonated. The resonators help to bring the exhaust note down and reduce drone. If you don't mind a loud exhaust sound in the cabin and you want to hear every pop and bang the non resonated system is for you.
Milltek also has a variety of exhaust tip options such as polished Steel, cerakote black, brushed titanium, burnt titanium, and carbon fiber so you can find one that suits your build perfectly. The entire exhaust utilizes 3″ piping along with 100mm exhaust tips ensuring maximum flow.
MagnaFlow Fiesta ST Street Series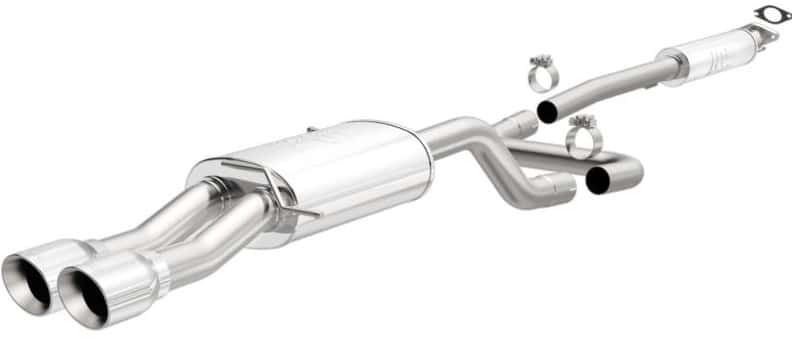 Established in 1981 and being named SEMA manufacture of the year in 2017, MagnaFlow who is owned by their parent company Car Sound Exhaust, is one of the largest and longest running exhaust manufacturers. MagnaFlow is known for building quality exhaust systems that not only increase horsepower but sound amazing.
The MagnaFlow Street Series Ford Fiesta ST exhaust is one of the best Fiesta ST exhaust systems on the market. It is manufactured from 409 Stainless Steel and the entire exhaust utilizes mandrel bending. The main exhaust pipe is 2.25″ while the exhaust tips are dual 3.5″ polished stainless steel.
When developing this exhaust Magnaflow wanted it to be loud and aggressive when your banging through the gears but pleasant to listen to when cruising. Therefore this exhaust is not the loudest system on the market but has one of the best exhaust notes, take a listen for yourself. Your exhaust is also covered by MagnaFlow's limited lifetime warranty as they stand behind their products.