The 2016-2019 Cadillac CTS-V was a game-changing car for the brand. It was only the third generation of Cadillac's "V" edition of the humdrum CTS sedan, but the 2016 model soon made headlines for its combination of speed, power, and poise.
It wasn't just the 6.2-liter, Corvette-sourced, supercharged V8 that made waves amongst journalists and buyers at the time. The third-gen CTS-V was quite possibly the closest that the home-grown brand had come to challenging the supremacy of the Germans in the performance sedan segment. And, crucially, it did so without sacrificing any of its American muscle.
Of course, the on-paper figures for the 2016-2019 Cadillac CTS-V spoke volumes: 640bhp with 630lb-ft of torque made for a 0-60mph time of a staggering 3.7 seconds. The CTS-V was also Cadillac's first 200mph car so, to stop it from such high velocities, it featured some of the largest diameter brakes to be fitted to a sports sedan at the time—six-piston calipers up front with four-pots at the rear, supplied by performance braking specialists Brembo.
The engine was closely related to the Z06 Corvette with just 10bhp less than the Chevy. To let the supercharged V8 breathe easy the CTS-V exhaust system was a 3.25″ stainless steel job from factory. The 2016 CTS-V exhaust also featured electronic valves to bypass the mufflers for certain drive modes.
But the numbers only told half the story. The appeal of the third-gen CTS-V was the level of detail the engineers at Cadillac had gone to, to ensure the car wasn't just fast in a straight line but handled comparatively to the likes of BMW, Mercedes and Audi.
The CTS-V was 25% stiffer at the front (over the standard model). This was achieved by extensive bracing, including aluminum strut braces and an aluminum shear plate with tubular bracing. Weight was saved by the use of a carbon-fiber hood and aluminum doors. But the real handling magic was down to the car's e-diff, which allowed the car to be hustled around a track with ease. The result? Laudable handling characteristics—something that domestic cars (and Cadillacs in particular) weren't particularly known for. At least, not until this point in time.
Cadillac's CTS-V only went out of production for the 2019 model year, yet they're already gathering a cult following. One of the easiest and most rewarding ways to make any of these fast Cadillacs stand out from the crowd is to invest in a good CTS-V exhaust system. While the factory 2016 exhaust was undoubtedly ahead of its time, there are a number of aftermarket exhausts that are less restrictive, and more aurally pleasing. Read on for a round-up of some of the best CTS-V exhaust systems available.
This guide covers exhaust systems for
2016 CTS V exhaust
2017 CTS V exhaust
2018 CTS V exhaust
2019 CTS V exhaust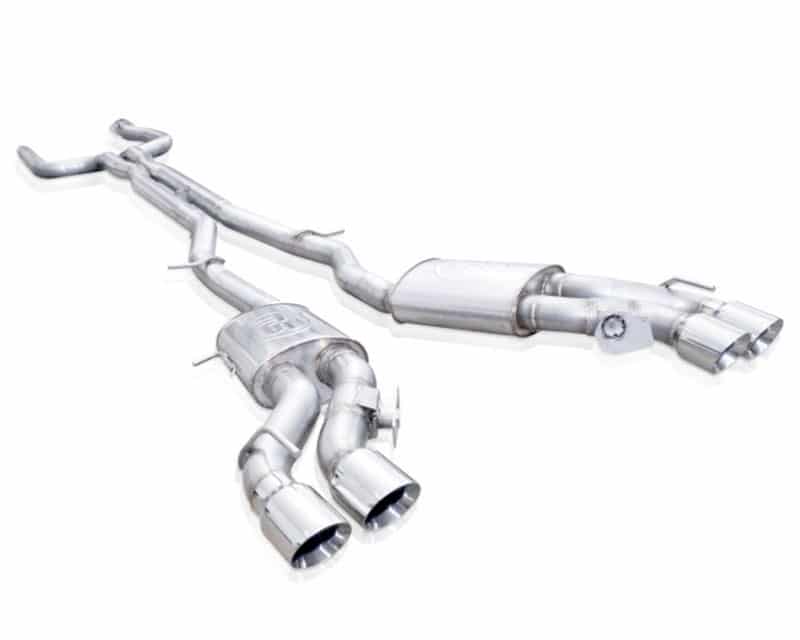 Stainless Works is an all-American company that's on an upward trajectory. Their continued popularity has necessitated expansion, and their team of skilled fabricators and technicians recently moved into a new 52,000sq-ft workshop. Stainless Steel Works prides themselves in keeping the design and manufacture of their exhaust systems in-house—an attribute that allows them to continually add to the number of products offered while maintaining their exacting quality standards.
Stainless Works offers several 2016 CTS-V exhaust systems, including axel-back and cat-back systems, as well as headers. The cat-back system offers a good mix of performance gain and adds both volume and depth to the exhaust note. It's a great compromise between the stock system's comparatively muffled drone, and a straight-piped racecar.
Stainless Works' CTS-V exhaust features 3" tubing and 4" quad-exit tips which are designed in a slash-cut style and mirror-polished. Furthermore, the cat-back system has been designed to utilize the factory break-point, making installation simple.
The CTS-V-specific exhaust system features a crossover x-pipe with resonators, and its electronic valve system allows the exhaust to bypass the mufflers. This retains the factory option of having a louder, less restrictive mode when switching from "Tour" to "Track" modes via the CTS-V's onboard drive selector.
Stainless Works issues a lifetime guarantee with their products, with each exhaust system being designed individually for any different model. The manufacturing process of the CTS-V's exhaust ensures that the piping is Mandrel-bent to avoid buckling, and the higher-quality 403 stainless steel means that the exhaust system is protected against red-rust, making it one of the best CTS-V exhausts on the market today.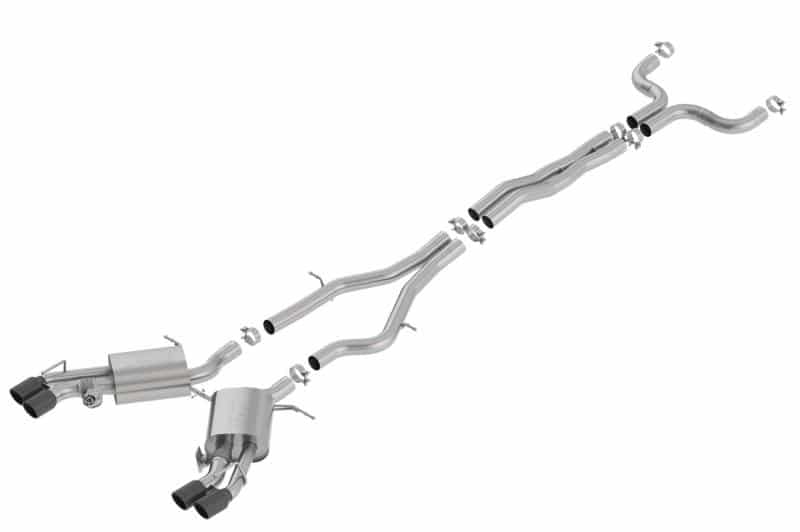 If you're looking for the best CTS-V exhaust system then you'll have likely already considered Borla. Borla is a name that needs little introduction. Their commitment to both performance road-cars and motorsports success has ensured they're a firm favorite amongst many discerning drivers. Borla's USP is their unique acoustic engineering across all their products, which they claim results in a signature sound that is challenging to replicate.
For those seeking an upgrade to their CTS-V exhaust system, Borla has a cat-back exhaust that can be bolted on for a quick and easy upgrade to both power and sound. Their S-Type range of products includes several features that set them apart from the rest. Borla claims that their CTS-V exhaust system will unlock hidden power, as well as increasing driver excitement and involvement.
Borla's 2016 CTS-V exhaust features their patented straight-through and multi-core technology which is designed to increase exhaust gas velocity. The piping is 2.75" in diameter from the inlet, ending up in 3.5" quad-exit exhaust tips that are chrome finished. As expected, Borla's CTS-V exhaust is made using the finest stainless steel (T-304 grade) and is backed by a million-mile warranty.
With the Borla S-Type CTS V exhaust you're guaranteed a louder and more aggressive exhaust note, that will add to driving pleasure and ensure you're heard long after you make a flyby.
B&B Fusion Exhaust System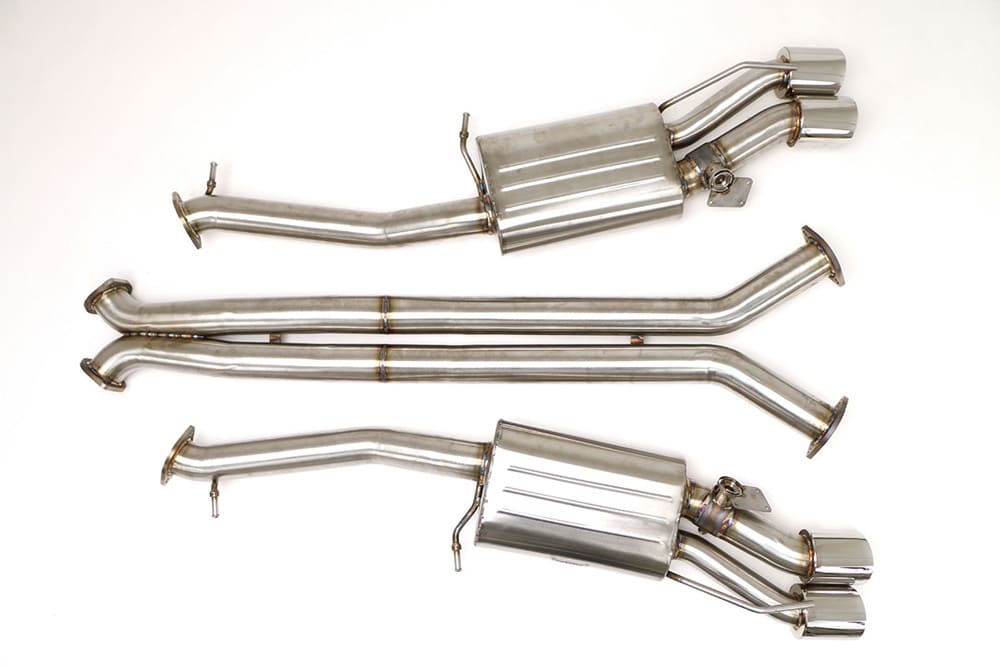 Last but not least on our list comes Billy Boat exhaust systems. Perhaps the most distinct-sounding of the three, the Billy Boat CTS-V Fusion exhaust is also backed by substantial performance-gain claims.
The team behind Billy Boat Exhausts has over 25 years of racing experience, and their products are all T-304 stainless steel which is mandrel-bent and CNC-machined for the perfect fit. A US-based company, Billy Boat takes great pride in their square-pipe design which increases flow-rates as well as optimizing surface area. In layman's terms, the result is a unique sound that certainly stands out from stock. 
Billy-Boat's 2016 CTS-V exhaust has been designed from scratch. It retains the CTS-V's factory electronic valves, which means the driving modes are unaffected with this upgrade. What's not unaffected though is performance, When it comes to performance Billy Boat has taken the time to fully dyno test the system.
The Billy Boat Fusion exhaust system makes its way on to the list of best CTS-V exhausts by virtue of the sound produced. At idle it is significantly more guttural over stock yet, at full-chat, the CTS-V is transformed into something more akin to a NASCAR racecar—the V8's engine note is truly unleashed. 
The sound and power benefits of the Billy Boat system speak for themselves. But, with a limited lifetime warranty and trusted engineering excellence, it makes the Billy Boat Fusion system one of the most compelling CTS-V exhausts on the market.