The Audi RS7 was initially released in 2014 and received overwhelming praise from the automotive world. Packing a twin-turbo V8 Producing 552 horsepower and 516 lb-ft of torque in the earlier models. In the newer model years, Audi was able to squeeze out an extra 39 horsepower bringing the car up to 591 horsepower and 590 lb-ft of torque. All of this results in a 0-100 km/h time of under four seconds.
Compared to the Audi A7 the RS7 is a whole new beast when it comes to performance. Although the A7 is no slouch depending on what package the car is equipped with. The slowest A7 has a 2.8L naturally aspirated V6 outputting only 201 horsepower and 207 lb-ft of torque, and the fastest model having a 3.0L supercharged V6 under the hood doing 306 horsepower and 325 lb-ft of torque. While not being overly attention-seeking on the exterior the RS7 boasts a much more aggressive front end than the A7 and is available in sportier colors. To handle the massive increase in power the RS7 has a completely upgraded suspension system and Audi has added much larger brakes. One of the most substantial features besides the horsepower, of course, is how Audi widened and lengthened the entire chassis by 40mm all while lowering it all on either 20″ or 21″ rims for the sport package with the A7 only having 19″ rims.
Although 500 or so horsepower is plenty for the streets some enthusiasts will want to take their car to the next level either for the track or Mexico. An aftermarket exhaust system will allow the car to breathe and change the sound of the car drastically so you can hear all 500 horsepower. Below we have selected our favorite Audi RS7 exhaust systems.
Milltek Catback / full system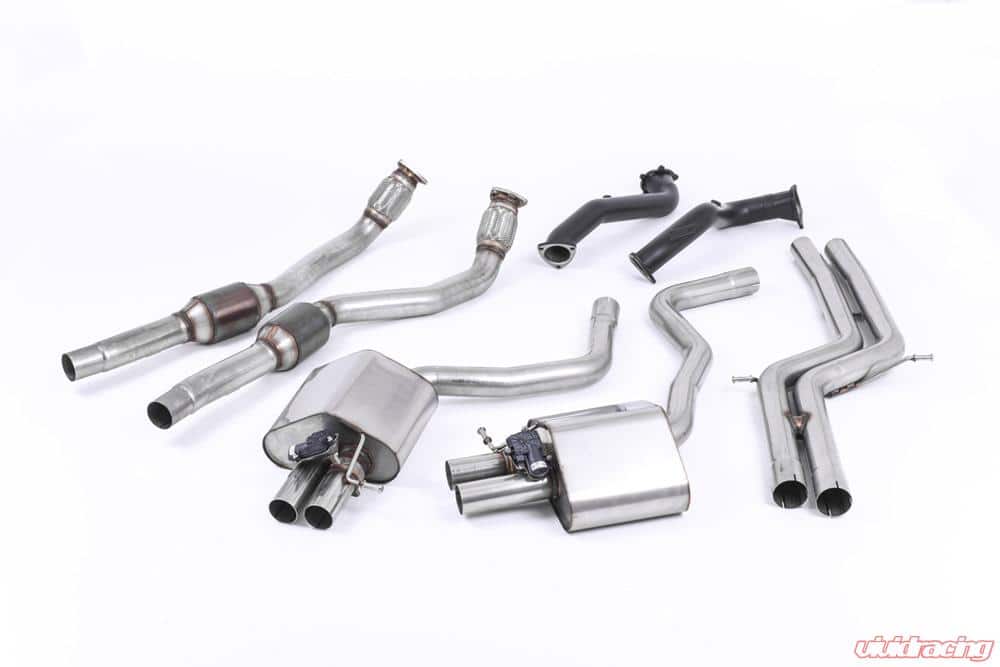 Milltek is a brand that we have recommended for numerous cars such as Ford Focus RS. Milltek is known for building quality exhaust systems for a wallet friendly price for over 20 years.
The Milltek Audi RS7 exhaust system is comprised of 2.75″ piping and constructed from 304 aircraft grade stainless steel. 304 stainless steel is anti magnetic making the exhaust less vulnerable to discoloration, it is also very durable ensuring that your exhaust will last through the harshest conditions. When designing this exhaust Milltek optimized the bore to ensure that performance was maximized without the loss of midrange torque. As always Mandrel bending is used throughout the entire system to ensure the exhaust gases can flow efficiently. One of the best features of this exhaust is the sound it produces. Offering a much deeper and more aggressive sound than stock it is sure to turn heads. Continuing with sound Milltek has also designed this exhaust to fully integrates with the factory exhaust valve system.
Milltek has two different offers for this exhaust either just the cat back or the full RS7 exhaust system. The difference simply being the full system replaces the entire factory exhaust all the way to the engine block where the cat back only replaces to the cats.
Overall the Milltek Catback is a great choice for someone who isn't looking to break the bank but wants a considerable step up from stock
Frequency Intelligent RS7 Exhaust
Frequency Intelligence makes exhaust products for common cars such as the Toyota 86 all the way up to a variety of high end supercars such as Ferrari 458-Speciale and Lamborghini Huracan. They have a great reputation to go along with their premium exhaust systems.
The factory RS7 exhaust in dynamic mode has a sound level while revving of around 75DB. With the FI exhaust, it is increased to 99DB all while changing the sound to a more aggressive deep tone complete with all of the pops and bangs.
One of the largest selling features of this exhaust is the performance gains. FI took a stock Audi RS7 and put it on the dyno. The results were 529 horsepower at 5800 RPM. With their exhaust installed the car dyno 556 horsepower at 5800 RPM a 27 horsepower gain! Pair this exhaust with an aftermarket intake and a tune and the horsepower numbers will definitely be into the 600's.
This exhaust also features Frequency Intelligences Valvetronic system SOLD SEPARATELY. This system is fully controllable either with the mobile app or the included remote. Using the full metal remote with just the press of a single button, you can switch between silent mode for cruising and sport mode for when you want to hear your car. The mobile app has a very cool feature called automatic. How this features works is you can set your exhaust to automatic in the mobile app, it will remain in silent mode until you hit a preset setting of either boost RPM or speed then it will change to sport mode. This is very nice if you are want to pass someone and your car opens up freeing up that extra horsepower.
ARMYTRIX Valvetronic Exhaust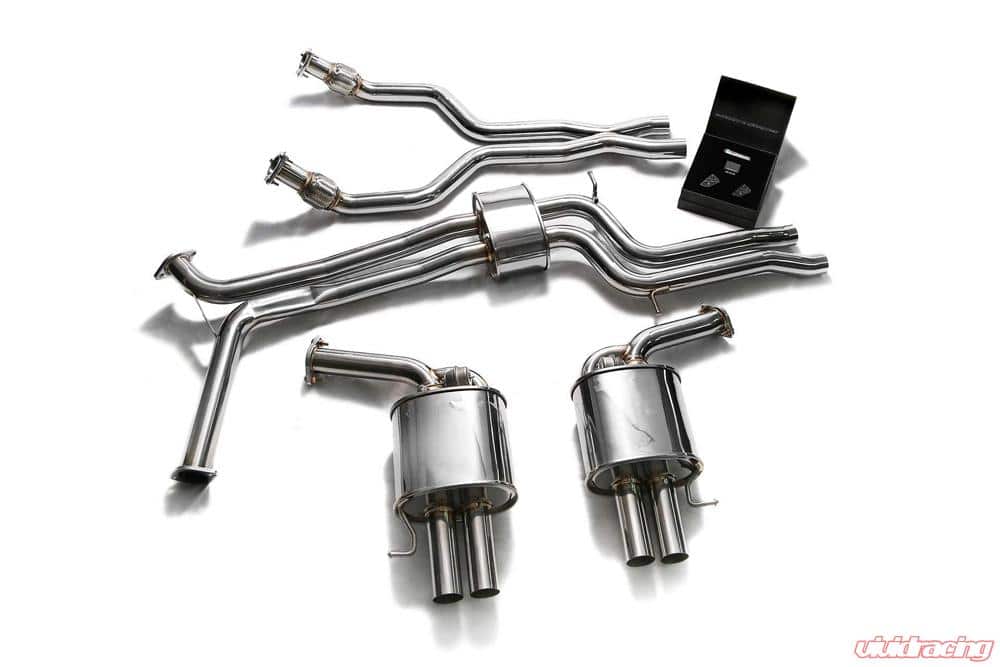 ARMYTRIX philosophy is "arming the vehicle with the most advanced exhaust system technology that'll challenge everything you thought you knew about performance driving." This statement couldn't be more true with their Audi RS7 exhaust system.
ARMYTRIXS claim to fame is their Valvetronic technology. With just the press of a button or through their mobile app you can change how loud you want your exhaust to be. The Valvetronic system works by utilizing a vacuum source on the engine and connecting it to a control module. Then when you use either the remote or mobile app you are communicating with an OBDII module. The module then tells the exhaust valve to allow the engine vacuum to open or close the exhaust valve. Just like the FI app you also have an auto mode available so you can preset when your exhaust valve opens based on boost RPM or speed. Compared to the FI app ARMYTRIXS app is much more refined and has a better user interface. You can also pull any engine codes and real time monitor some of your car's information.
This exhaust is manufactured from high-quality T304 stainless steel and all ARMYTRIX exhausts and tested for faults to ensure your exhaust is perfect. ARMYTRIX is also claiming an increase a 9.3 horsepower and 11 lb-ft of torque.
ABT Akrapovic Exhaust System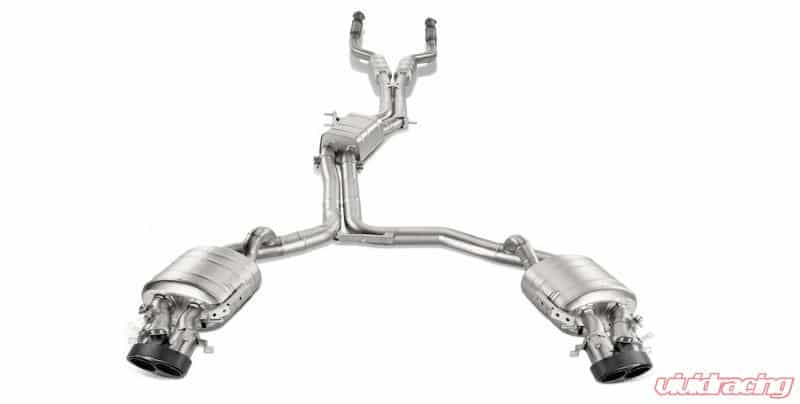 If budget is no issue for you and you want the ultimate no-compromise RS7 exhaust money can buy look no further than the AkrapoviČ Audi RS7 exhaust. Based out of Slovenia AkrapoviČ originally only manufactured motorcycle exhaust systems when they first started in the '90s, until recently in 2010 they expanded into car exhaust world. Their exhaust systems are some of the best in the industry being used in 38 world championships all across motorsport.
What sets their RS7 Exhaust system apart from the others we have showcased is that AkrapoviČ has manufactured the entire exhaust from titanium. When it comes to exhausts most are typically manufactured from stainless steel due to its reduced cost, although there are many advantages to titanium. Using titanium is a better choice because it is around 40% lighter than stainless steel and it is much stronger requiring thinner pipe diameter. these thinner walls result in a noticeable difference more raspy and aggressive exhaust note
The exhaust fully integrates with the factory exhaust valve system allowing them to be open or closed. AkrapoviČ claims that the exhaust has a horsepower gain of 9 at 6000 RPM and 11 lb-ft of torque. Where you see the true gains is with a weight reduction of 18 pounds. On AkrapoviČs website they have a great before and after sound comparison as well as a very well written installation guide if you plan on tackling the install yourself.