The Hyundai Genesis Coupe was initially released to the North American market in 2009 to general approval from auto enthusiasts. With the Genesis coupe, Hyundai was hoping to target similar cars such as the Infiniti G37. The Coupe was available with four different engine configurations the early 2008-2012 cars came with a 2.0L Theta l4 producing 210 BHP and the later 2013 – 2014 2.0L turbo cars producing 274BHP. Hyundai also offered the coup with a 3.8L Lambda V6 producing 308HP in the early 2008-2015 cars and the later 2013-2016 cars came packed with 348BHP. The coup was also offered with a 6-speed auto, 5-speed manual and 8-speed auto in the 2013-2016 cars. Fortunately whatever engine you have Hyundai has left lots of room for tuning potential.
The exhaust system is arguably one of the most important modifications you can do to your car when you start your journey down the tuning road. Why? For starters, you get a better sound and release some more trapped ponies by letting the exhaust gasses flow better and reducing backpressure. The Hyundai Genesis has been a staple at import car meets ever since it came out, and we're willing to bet that not one of the modified cars out there has a stock exhaust.
We have scoured the internet and selected three of the best Hyundai Genesis coupe exhausts for the 2.0L and 3.8L engines based on price, performance, and overall quality.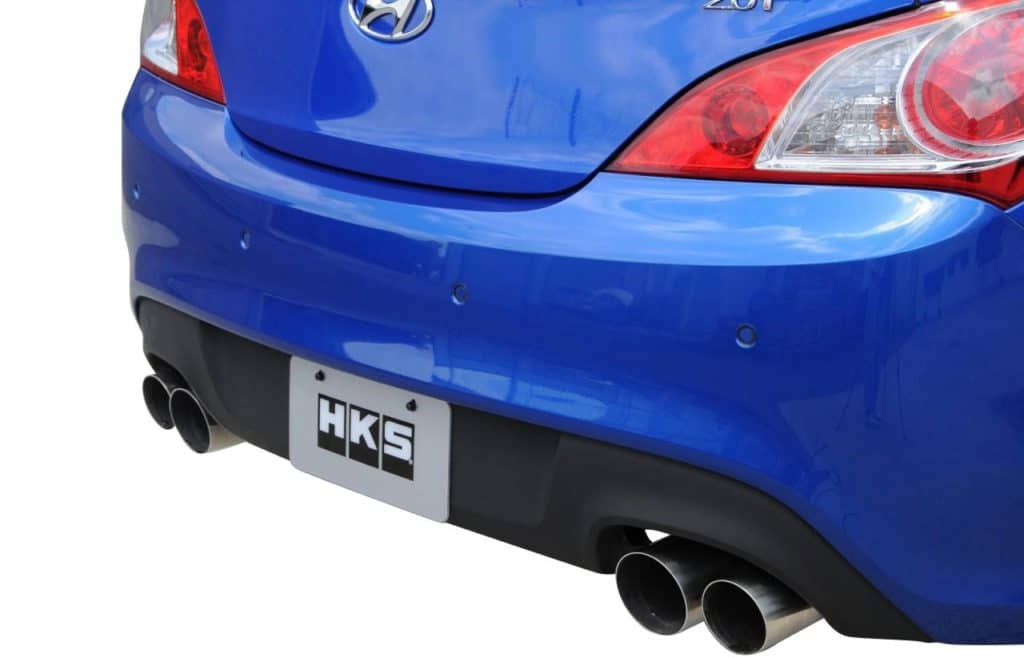 Available for both, the 2.0L and 3.8L engines, the HKS Legamax is an axel-back exhaust coming from a company with over 35 years of experience in the motorsport world. That's right, we are talking about HKS. Anyone slightly familiar with the import scene will be familiar with the name, and for good reason. Each Legamax axel-back exhaust is made from polished SUS304 stainless steel to prevent rusting and improve durability. In addition, HKS has tuned each system for each specific model to improve low-end torque and high-end horsepower. This way you aren't just getting some off-the-shelf parts slapped together with no real research and development behind it. Even the mufflers have been specifically designed for the Coupe. This Genesis coupe exhaust system will fit the 2.0L as well as the 3.8L, with little modification required in some cases. Please note that on the 2009-2012 models, the axel-back section will bolt right up regardless of the engine. The center pipe will only fit the 2.0L models, no matter the year. IF you have a 2013+ 3.8 V6 with the factory mid-pipe, this exhaust will not for you!
Injen Hyundai Genesis Coupe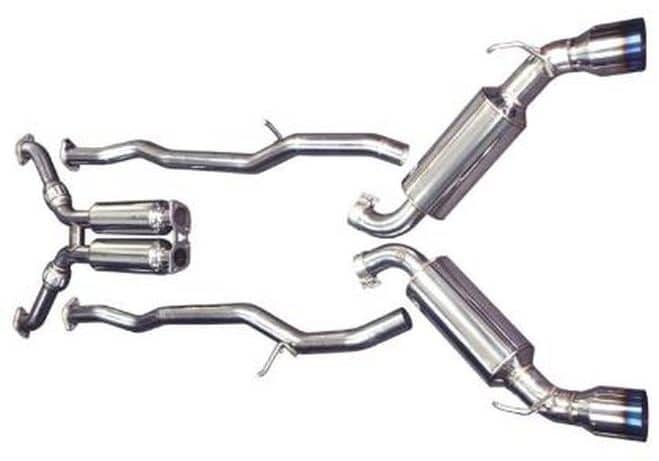 Have you ever heard the saying "you get what you pay for"? That couldn't be any truer when it comes to the Injen cat-back exhaust system for your car equipped with the 3.8L engine. The mandrel-bent, 308 stainless steel tubing and precision robotic tig welding has made Injen an industry leader. This meticulous attention to detail given to this Hyundai Genesis coupe exhaust does not only make for a great look and sound, but you also profit from an additional, dyno-proven 8 hp and up to 15Ft. Lbs. of torque as well. The countless hours that went into research and development shows. From the titanium quad tips to the x-pipe disguised as a mid-muffler, it is almost a shame to hide this system under the car. But have no fear, the unique, throaty sounds will still have people breaking their necks when you drive past. With all that being said, we have to inform you that this Genesis coupe exhaust system is ONLY available for the 3.8L engine.
There is a good reason why the tuning community turns to Tanabe when they want a lightweight, quality exhaust. They have been in the industry for years and it shows. Their Medallion Hyundai Genesis coupe exhaust for the 2.0t engine is specifically made for streetcars. For example, they shaved weight wherever possible, like the use of hollow hangers and 1.2mm thin wall piping. These details may seem irrelevant, but thisi attention to detail is what makes them one of the most sought-after brands in the industry. Mandrel-bent tubing makes this system incredibly efficient and the patented Advantex packing material used in the mufflers gives an aggressive, yet quiet rasp that measures 93Db, making it perfect for everyday driving. Tanabe was one of the first companies to use SUS304 stainless steel for their exhaust systems. This does not only look good, but it provides unbeatable quality that will last for many years to come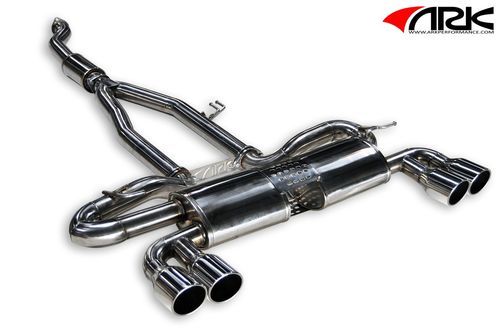 The folks over at ARK are above all, enthusiasts. This means that they have the same passion running through their veins as us. They have committed to producing the best quality products at a reasonable price. This Hyundai Genesis coupe exhaust system is built from SUS304 polished stainless steel to provide a great look that will last for many years to come. This bolt-on system is designed to take all the headaches out of the installation process. The x-pipe and multi-layer sound compression materials used in the muffler all add up to an unmistakable low, quiet rumble at low RPM's that comes alive and lets everyone know you're coming once you step on the gas. In addition, you can choose from polished, burnt, and techno exhaust tips to further accommodate your tastes.
Although this is not the cheapest exhaust system on the market, it is one of the best, hands down. ARK conducted many tests on the dyno to extract as much power as possible from your Genesis with this exhaust system. Not only that, but the throttle response is also greatly improved, making you feel the difference instantly! Even the flanges have been engineered to last. No off-the-shelf parts here. ARK had the exhaust clamps cut on a CNC machine, leaving nothing to chance. There is a reason why they have priced this exhaust on the higher end of the spectrum. Just remember, cheap and good do not go together, especially when It comes to your car's exhaust. NOTE: this model is also available for the 2.0L Genesis coupe as well.
In conclusion, the Hyundai Genesis coupe is an eye-catching car that is soon to be a classic, but we can all agree that it surely lacks in the exhaust department. We have carefully selected the top 3 exhaust systems that fit anyone's budget. Regardless if you have the 2.0L or the 3.8L V6, these reputable companies have spent countless hours in developing an exhaust system that not only sounds good but gives more power and torque. Next to wheels and suspension, an exhaust is a must for anyone that is even slightly into cars.