There is no doubt that the Infinity Q50 is one of the best-looking sedans to ever come off the Japanese automaker assembly line. It's sweeping body lines, asymmetrical interior layout, and crescent-cut C pillar all make for a very aesthetically pleasing vehicle. Infiniti first released the Q50 in 2013 as a replacement to the G-series and was mildly based on its Japanese brothers, the Infiniti Essence and the Etherea.
It was offered with five different engines to choose from, starting with a 2.0L Inline four, all the way up to a 3.7 V6. They were offered in gas, diesel, and hybrid variations. Couple that with RWD or the optional AWD and you have a super sedan that is fun, reliable, and very luxurious. In 2014, Infiniti came out with two special editions called the Q50 Exclusive Designer Edition. Zac Posen and Thom Browne are both American fashion designers and they are the ones to thank for the Exclusive Designer Edition. Although they were only cosmetic upgrades, those two special editions garnered quite a bit of publicity. In the later years, the car manufacturer dropped the 2L engine from their lineup and introduced a Red Sport edition which saw the horsepower increase to 400, making it a true sleeper.
Although automakers are offering more and more options from the factory for those looking to make their vehicles stand out from the rest, there are still some things that you just can't get from the factory. This comes down to a few different factors, mainly customer demand and regulations. A good example of this is the exhaust system, and the Infiniti Q50 exhaust is not exempt from this. Nowadays most exhaust sounds are fake and pumped into the cabin to make it sound like your vehicle sounds better than it actually does such as the focus ST INTERLINK, but that does not do anything for the performance or actual sound of the car. We have compiled a list of the very best Q50 exhaust systems that both, sound good and increase your power and torque output at the same time.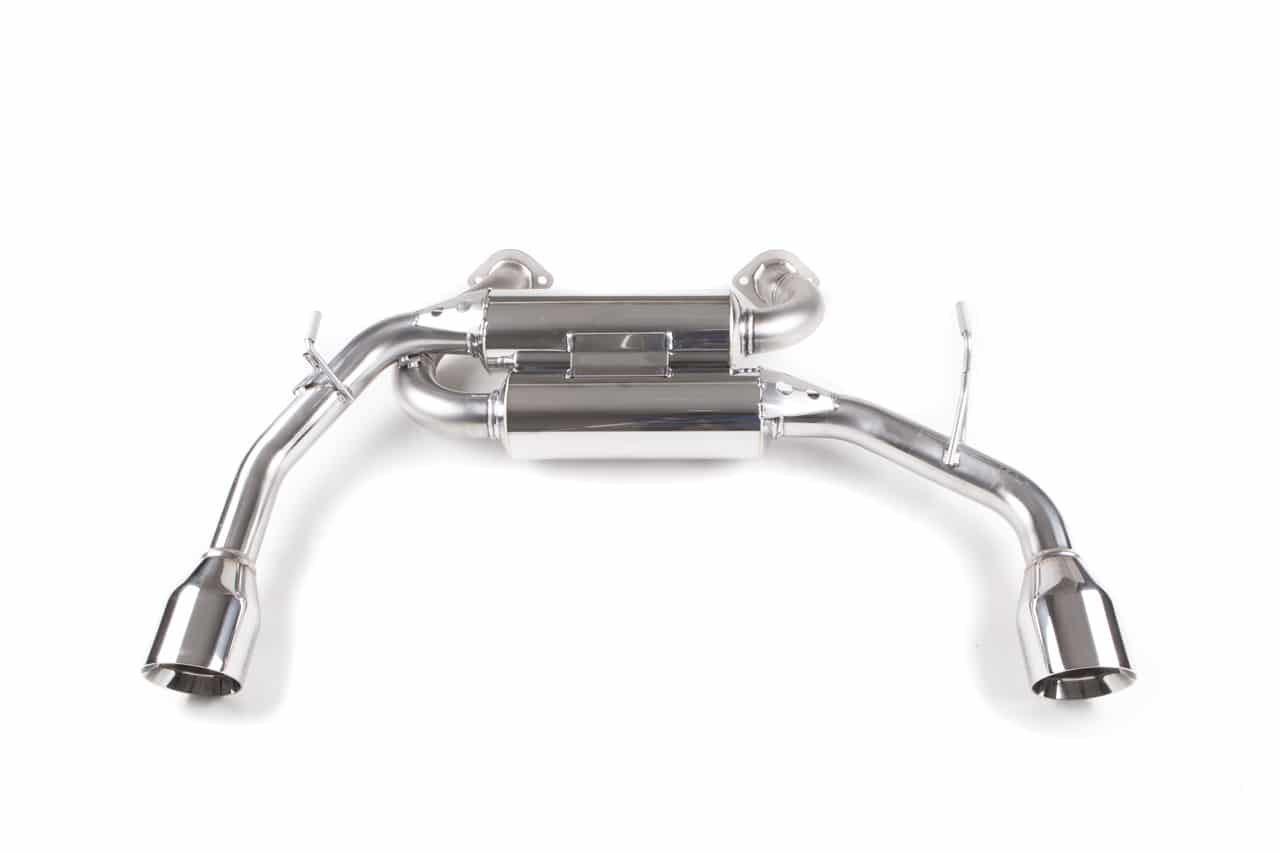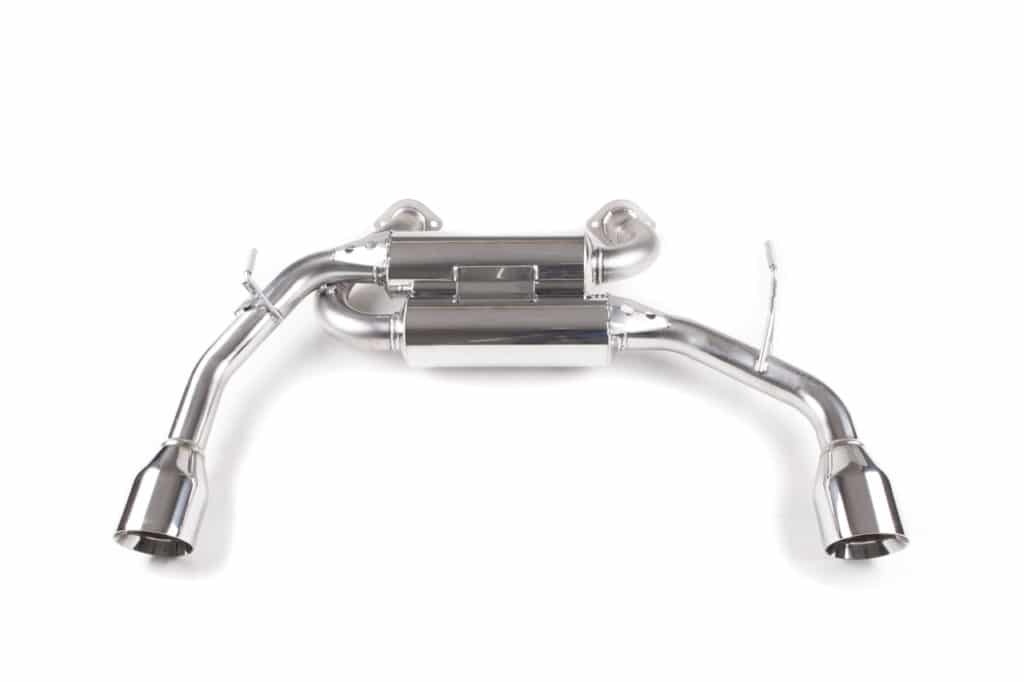 If you are even slightly into the import scene and haven't heard of Tanabe, you must have been living under a rock for the past 20 years. Tanabe is known as a prestigious brand in the tuning world and they manufacture everything from exhaust systems to gauges. The Medalion Touring exhaust series is specifically created for cars that are used as daily drivers. However, that doesn't mean that the exhaust system doesn't sound good. In fact, Tanabe is well known for having some of the best sounding exhausts on the market thanks to its extremely low, deep rasp that can be heard through the RPM range, and that includes the Infinity Q50 exhaust as well.
Another area Tanabe focused on was weight savings. From the pressed flanges to the hollow exhaust hangers, and the 1.2mm thin wall piping, they did everything they could to make this Q50 exhaust one of the lightest systems on the market today. Another great feature is the use of Advantex Exhaust Technology in their mufflers. This packing material allows for reduced sound while still allowing nominal airflow. This means that the exhaust system for your Q50 will never go above 93db, making it ideal for everyday driving.
Tanabe was also one of the first Japanese companies to use stainless steel in their exhaust construction. High-grade SUS304 stainless steel was chosen by them due to its durability and lightweight characteristics. We highly recommend this axle-back exhaust system if you are someone who doesn't want to attract too much attention while still having a great sounding exhaust for your Infinity Q50.
Note – This exhaust is now being manufactured by Revel
Takeda Stainless Steel Cat-Back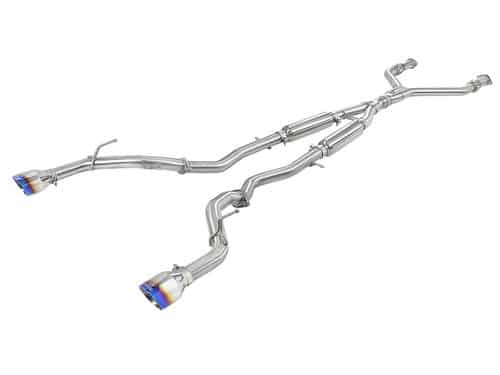 Takeda is aFe's import division. For those who don't know, aFe, better known as Advance Flow Engineering, is recognized for their diesel truck products. However, in 2009 they decided to branch out into the import scene by introducing the Takeda lineup. Since then, they have been steadily making a name for themselves with such products as the Takeda 2-1/2" 304 Stainless Steel Cat-Back Infiniti Q50 exhaust. The years of experience they have acquired in the truck industry have come in very handy when it came time to create this Q50 exhaust.
Based out of Corona, California, Takeda prides itself on being an American company. Countless hours and money went into the research and development of this system, and it shows. With a gain of 18 HP and 19 Ft. Lbs. of torque over the stock Q50 exhaust, Takeda proved that even though they are a relatively new face in the import scene, they can still compete with some of the more well-established companies in the segment.
The cat-back system offers an incredibly aggressive exhaust tone thanks to its dual 4"x15" resonators and the fact that they opted out for putting axel-back mufflers. All this adds up to an incredible low growl at idle that comes to life when you step on the throttle. An additional resonator pipe delete kit is available as well if you want that extra bump in power and sound. This Infiniti Q50 exhaust is finished off with dual 4-1/2" tips in your choice of polished, blue flame, carbon fiber, or black tips. Installation is made easy thanks to the factory style bayonet hangers that utilize the stock mounting locations.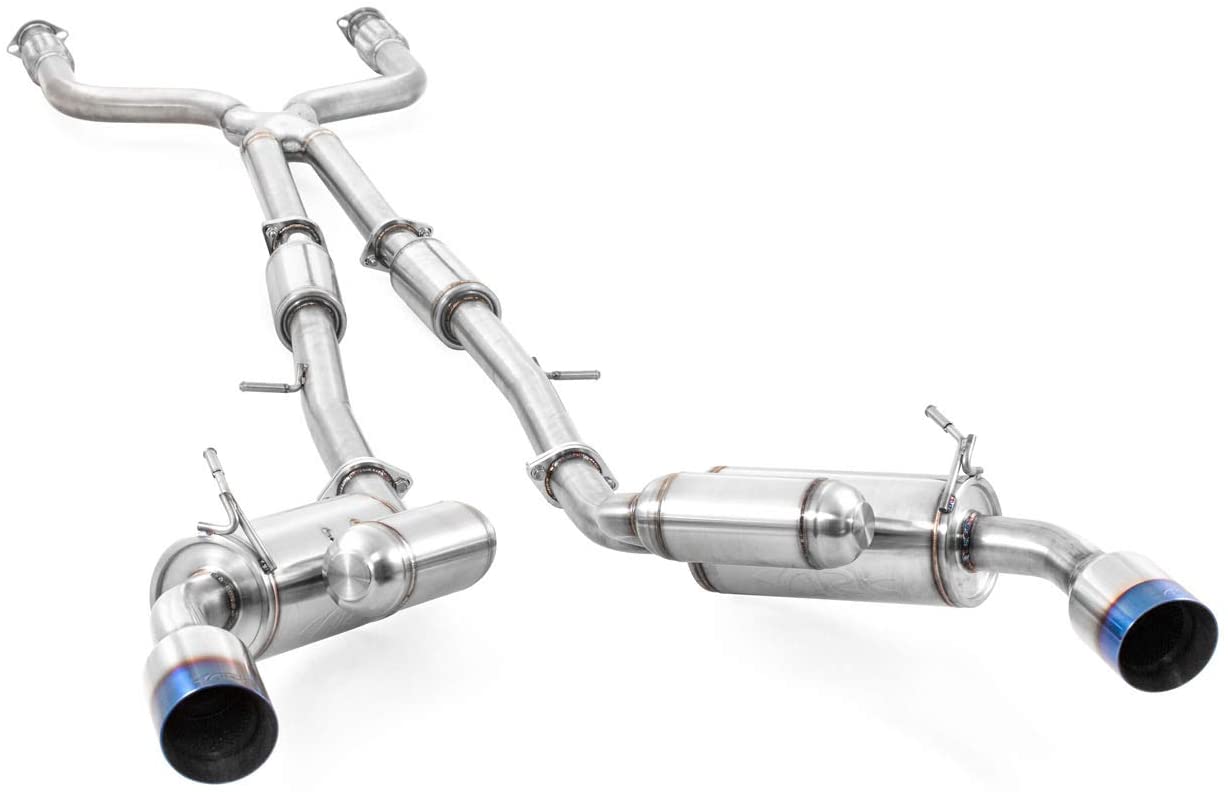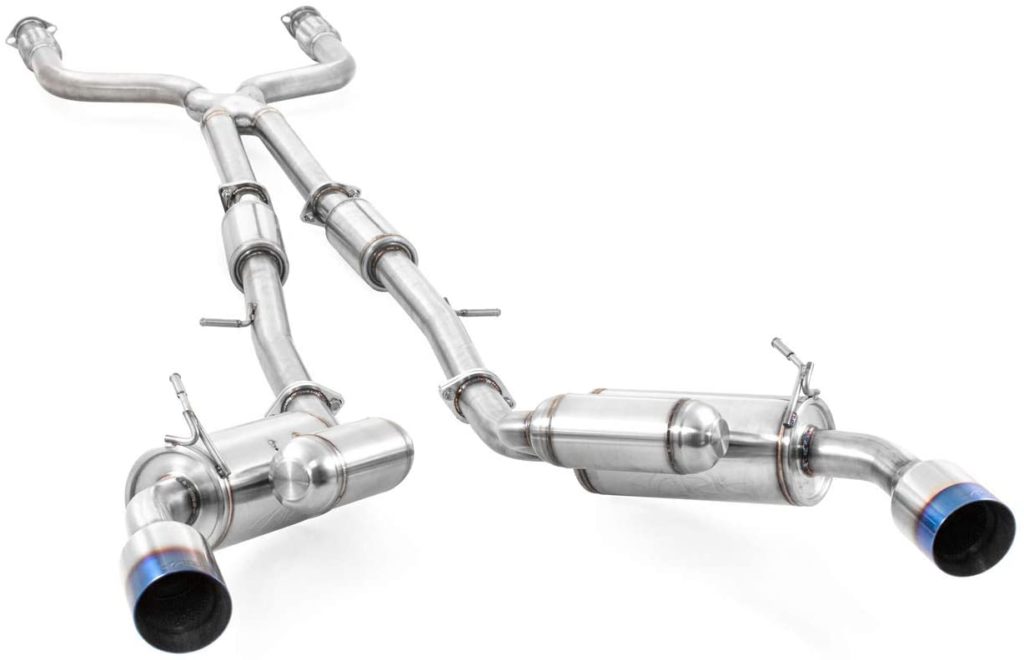 Ark performance is widely known as the company that is run by true enthusiasts. This shows through with all their products, especially their exhaust systems. Based out of Ontario, California, ARK performance has blessed us with a true dual cat-back Infiniti Q50 exhaust. The attention to detail really shows in everything they produce. This bolt-on system is precisely manufactured with SUS304 stainless steel that is precisely tig welded to the highest standards.
The sound this Q50 exhaust produces is second to none, as the guys at ARK Performance utilized Helmholtz Design to minimize drone, yet still provide customers with that deep ARK note that many have become accustomed to. Additionally, the 2.5" stainless steel tubing and true x-pipe design frees up those trapped ponies under the hood. It is then finished off with two polished 4.5" diameter tips that will perfectly complement your Q50.
Not a single part was overlooked when creating this Infiniti Q50 exhaust. For example, they could have used a regular, off-the-shelf flange, but they didn't. Instead, they custom-designed their flanges and cut them in house on their CNC machine, now that's attention to detail! If you want an exhaust system that is truly second to none, then the ARK Performance GRiP Cat-Back Exhaust for the Infinity Q50 is the one to go for. It's easy to see why people choose this over the countless other exhaust systems that are available.
Since its creation in 2013, the Infiniti Q50 has been the go-to vehicle for someone looking for a luxo-barge that doesn't come from a German manufacturer. And now, almost 10 years later, the Q50 is still in production and doing very well. Aftermarket parts are abundant and at times can be intimidating when sifting through all the choices. That's why we provided you with the top 3 performance Infiniti Q50 exhaust systems for your beloved sedan. Sure, there may be other systems out there that may be cheaper but remember: "you get what you pay for". There is a reason why certain manufacturers charge such a high price. Research and development along with using premium materials does not come cheap. After all, your Q50 deserves the best quality parts available.