Nissan 370z is a common choice for first-time sports car buyers. It has the right balance between power, looks, and affordability. Not only that, but the 370z is a member of Nissan's' large family of Z cars with big names like the 240z, 300zx and the 350z preceding it which gives further confidence to the buyer. So, while the 370z has big shoes to fill, it does not disappoint at all and wears the Z badge proudly.
The 370z has a 3.7l v6 engine which produces 332hp and 270ft/lbs of torque. These numbers are usually enough to keep most drivers happy but not the keenest of them. Thankfully, the 370z has great tuning potential and a vast aftermarket behind it. While there are many ways to go around modifying your car, engine performance is most desired.
The easiest and typically most common first modification to do to your car would be to swap your factory 370z exhaust system with an aftermarket one to improve on the restrictive factory exhaust. The fact that the 370z engine revs up to 7500RPM before hitting the red line further tilts the scale towards installing a performance exhaust on your 370z. But you don't just get a performance gain with an aftermarket exhaust system. You get to hear the true sound of VQ37 almost always resulting in a more aggressive and deep sound depending on what system is selected.
When it comes to exhaust systems, there are many options to choose and it is easy to get all mixed up. We have gone through many of them and listed below the best 370z exhaust systems in their respected price bracket.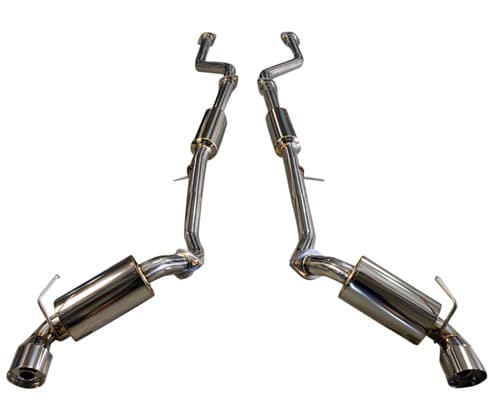 For the first-time 370z exhaust system buyer or those of you who just want a step up from stock without spending too much, the Agency power Cat-back is the perfect purchase. Stainless steel built with 2.5" diameter tubing and dual exhaust tips, this exhaust reduces resistance and ensures a free flow of exhaust gases which in turn enhances engine performance while playing music at the rear end of your 370z. The sound it makes is not too loud at lower RPM'S but throaty at higher RPMs.
The system is comprised of mandrel bent 304 stainless steel with tig welding ensuring high strength and durability. The exhaust is also much lighter compared to the OEM system which gives an added performance advantage in terms of throttle and steering response
In dyno testing, the exhaust registered a gain of around 10hp and 5ft/lbs of torque. However, it should be noted that this linear power gain happens between mid and high RPMs. Low-end torque might reduce a little bit as lack of backpressure can be caused due to easier exhaust flow. If you have a forced induction setup on the car, then you need not worry about this part at all.
AAM Competition Dual Exhaust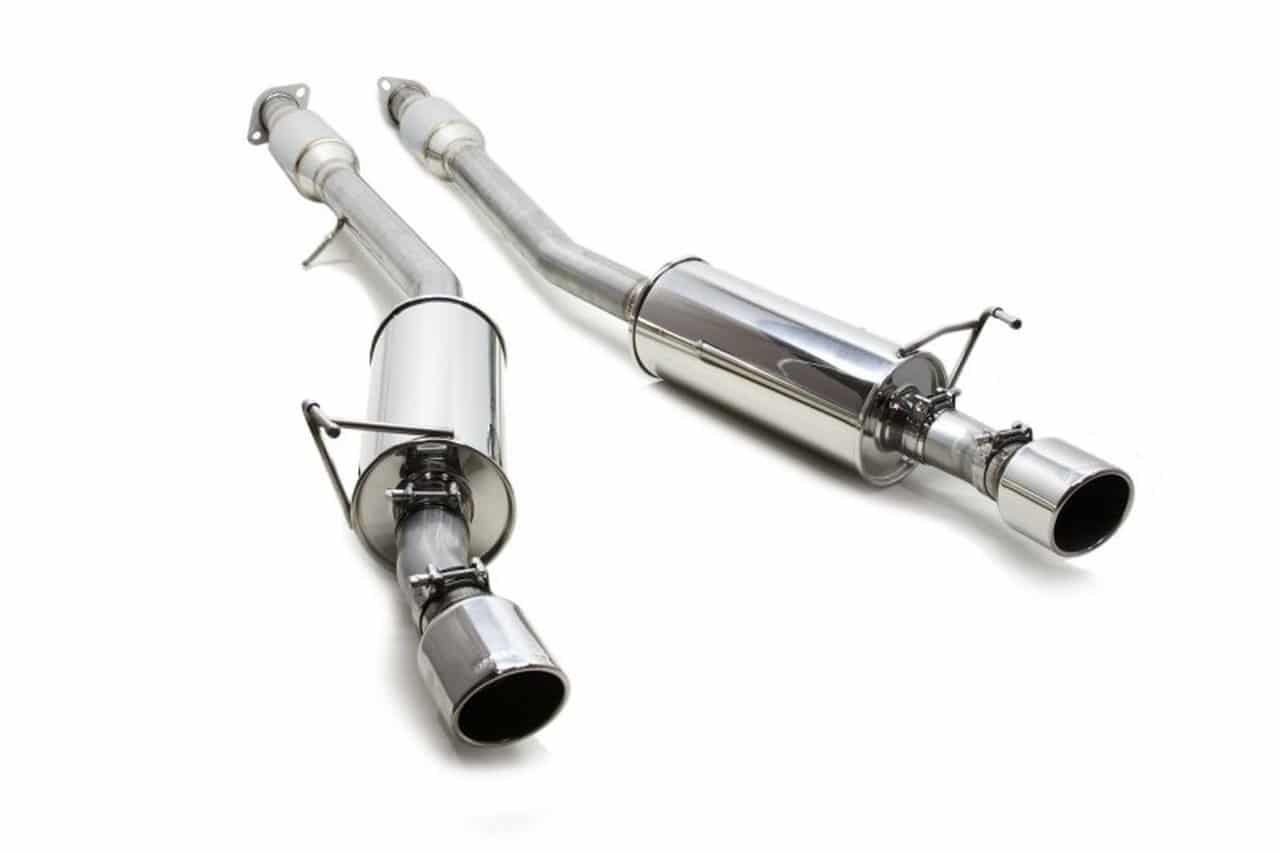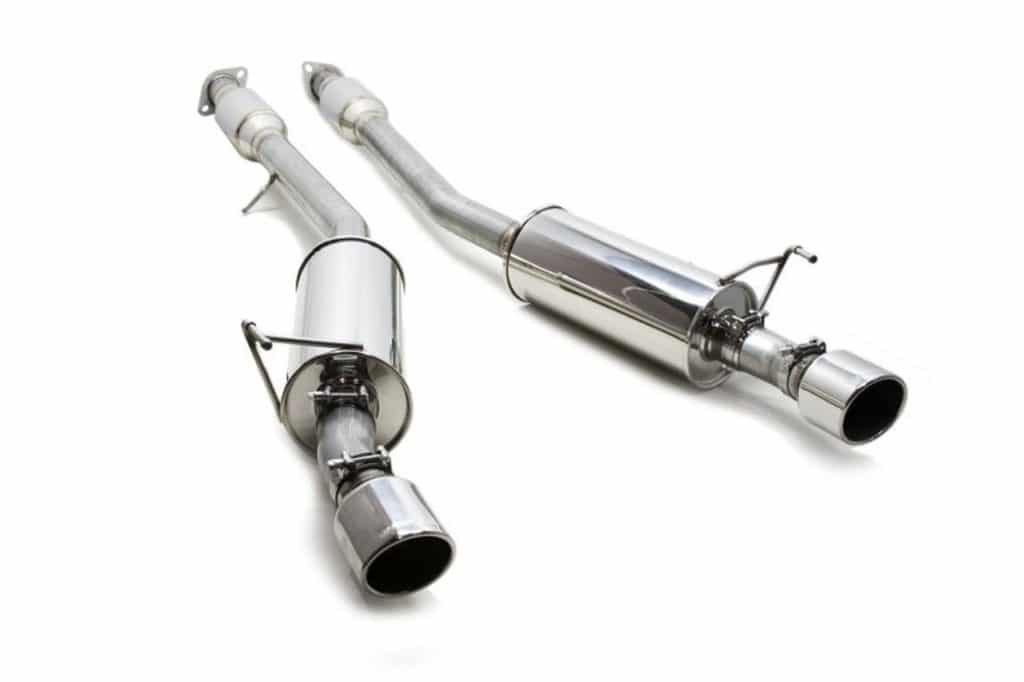 A step ahead of the above entry, the AAM Competition exhaust is built for perfect street performance. It's a "true dual" design which means it has two independent exhaust pipes that bolt on directly to the original catalytic converter. This ensures ideal exhaust outflow and hence ideal performance and a beautiful exhaust note. Constructed with solid 304-grade stainless steel, the AAM was engineered to have the minimum possible bends and smooth transitions.
As per dyno testing, the AAM Competition 370z exhaust can add up to 14hp and 11ft/lbs of torque around 5500rpm.
The packaged comes with a complete hardware kit and all of the required gaskets needed for install. It can be done relatively easily if you have basic car knowledge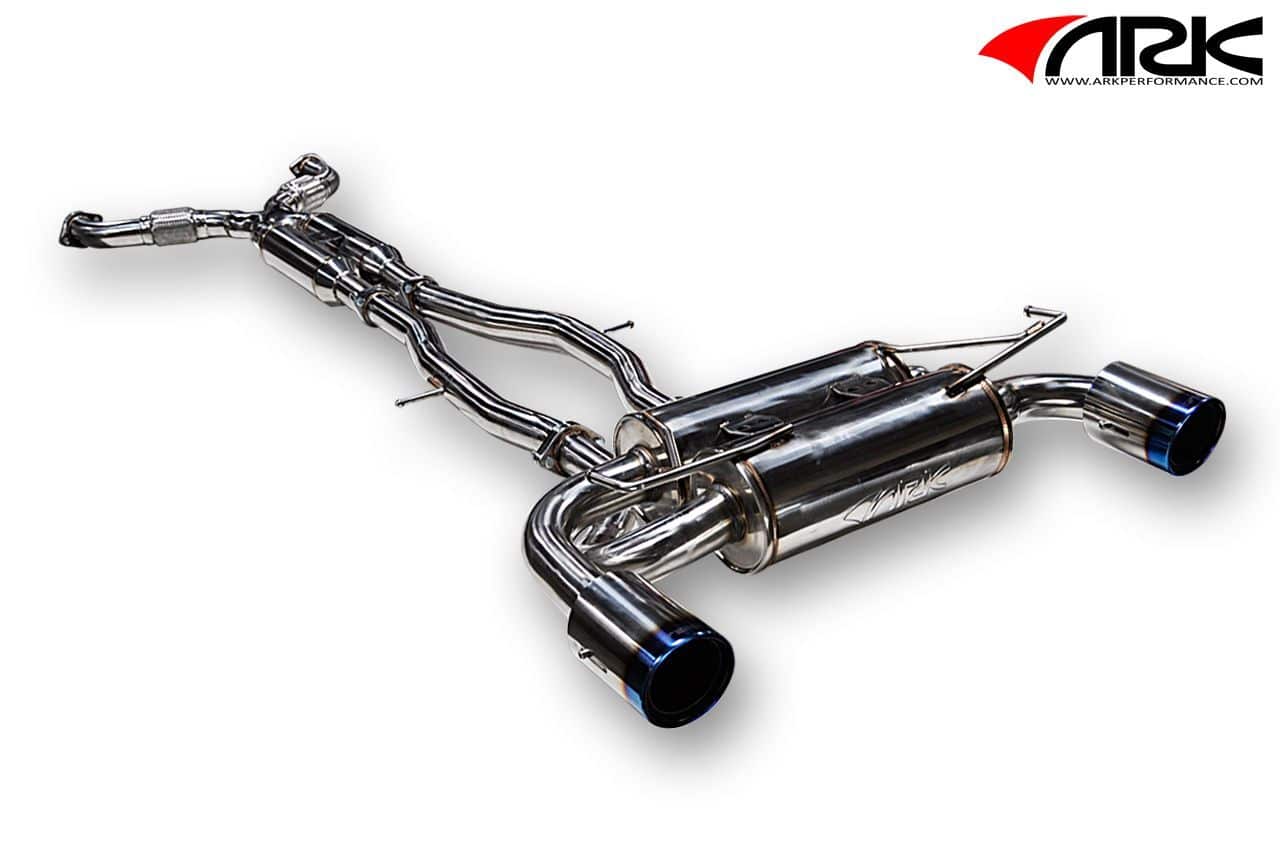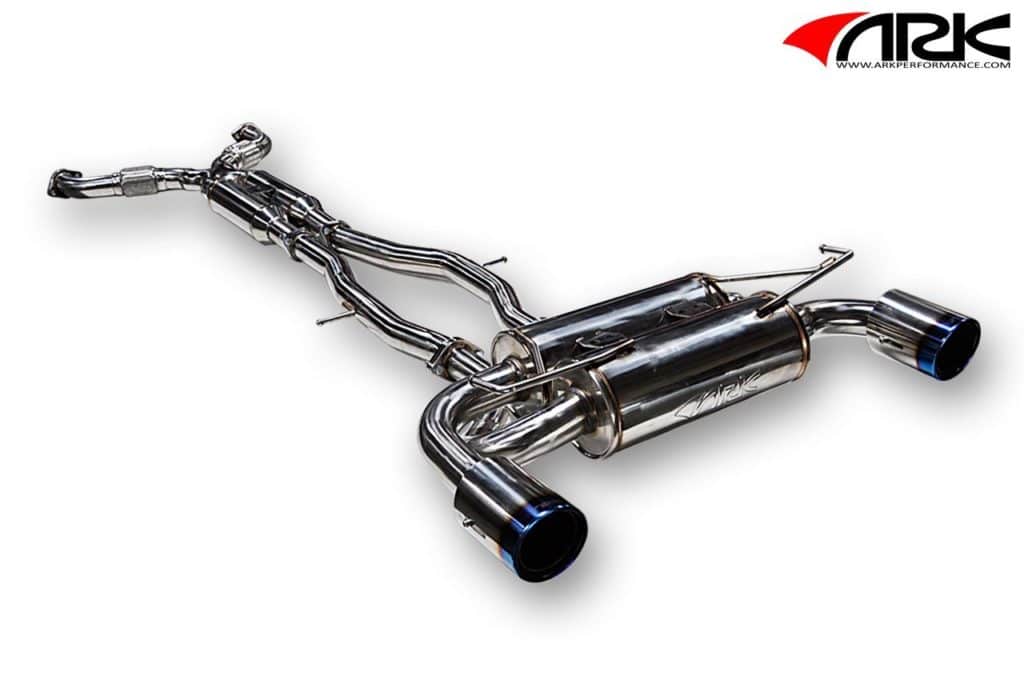 The DT-S series exhaust from ARK offers the perfect blend of sound, performance, and visuals. This mandrel-bent T304 stainless steel built exhaust comes with a tone control system that uses multi-layered sound compression materials to fine-tune the audio output that enthusiasts seek. The 2.5" tubing and 4.5" exhaust tip ensure the ideal escape of exhaust gasses reducing the resistance in the engine's breathing capabilities. This is crucial at higher RPMs when the operation time of inlet and outlet valves in the engine is very less, giving a narrow window in which to push out the exhaust gases and bring in a fresh supply of air. Easing this operation is what helps your 370z gain more than 10whp and above 9wtq. These gains are easily noticed when you are pushing your car hard.
An added trick the DTS has up its sleeve is the exhaust tip finishing. You can choose between a polished, burnt-style or a techno-style tip. This small visual makes your ride looks cool and appear ready-for-action even when it's sitting still.
In terms of fitting, the DT-S is a bolt-on fit. A fitting guide is available in case you want to install the system yourself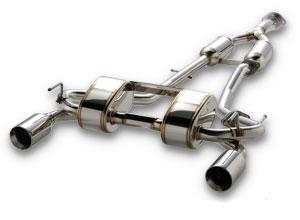 There is perhaps no name as well-known in exhaust systems manufacturing as HKS, and there are plenty of reasons for it. The name is synonymous with high quality, peak performance, and long term durability.
The super sound master 370z exhaust system produced by HKS is tuned to have a low audio output on idle, mid-range during cruising but loud during higher accelerations. This ensures that you are not disturbed by the sound when you are just idling and cruising but still get peak performance when you are in the right mood.
The SSM has a very unique construction and design philosophy with its horn-shaped outlets, it looks like the engineering marvel it is. The longer tailpipes not only enhance audio output but also increase back-pressure which helps gain engine performance at lower RPMs. Most exhaust systems lack this capability as they are geared only towards the higher RPM band and sacrifice low-end performance for top end.
High strength tig welding is used to ensure strength and enhance the looks of the exhaust. Corrosion-resistant SU304 stainless steel is used for construction. HKS tests its products rigorously in-house so you can rest assured about its performance and life cycle.
Just one thing to keep in mind is that the SSM will only fit the 6-speed manual transmission versions of the 370z and also that some modification to the heat shield might be required before fitting. This is why professional fitting is recommended instead of a DIY project.
HKS has knocked it out of the park with the super sound master as it is one of the best 370z exhaust systems money can buy