The 300ZX is arguably one of the most recognized cars that Nissan has ever produced, besides the R32 Skyline of course. This car was built when the automaker was in their glory days. They had the Skyline, the Pathfinder, and who could forget the 240SX. The lifecycle of the 300ZX spanned almost 20 years, from 1983 to 2000. Over those years, Nissan had 2 generations, known as the Z31 ('83-'89) and the Z32 ('89-'00). Their thought was: "Why change something that is doing well?". It was offered in several engine variations ranging from a 2.0L all the way to a twin-turbo 3.0L. Models were offered in a 2+2 configuration, meaning that there were two seats in the front and two in the back, although those in the back weren't really seats, it was more for regulations. Even though it was sold in Japan and other markets for nearly two decades, America was only blessed with the 300ZX from 1984 to 1996.
The first generation (Z31) was Nissan's answer to the original "Z" car, the Nissan S30, or as it was known stateside, the 240Z. Although in the first production year the car was sold under the Datsun brand, Nissan decided to scrap that idea and put their name on it after that initial first year. Along with a new model, the automaker also introduced a new V6 engine to replace the old and outdated inline 6 they had previously used. The straight 6 was still sold alongside its V6 counterpart for a few years until it was completely phased out.
Numbers-wise, the Z31 was the best selling 300ZX model, but the second generation Z32 was definitely the best looking one of the two. It received the final approval from the Nissan execs in 1986 and the first one rolled off the assembly line in 1989. It was out with the square, boxy style, and in with a newer, more modern and sleek-looking body. They also introduced the now-infamous VG30DETT twin-turbo V6 which produced a whopping 300HP and 283 lb. ft. of torque when mated to the 5-speed transmission. Just like the past generations, the new Z32 was offered in a 2+2 configuration, but in addition to that, Nissan also offered T-tops as standard. If you wanted a hardtop, however, you had to give up the tiny back seats and have a 2+0 configuration.
Now that you are all caught up on the history of the Nissan 300ZX, let's talk a little about exhaust systems. Just like any models of the '90s and the '00s, the 300ZX exhaust was horrible. Not only was it restrictive, buy it really muted that wonderful sound of the engine. This is why we've searched the depths of the internet to find the top three Nissan 300ZX exhausts available.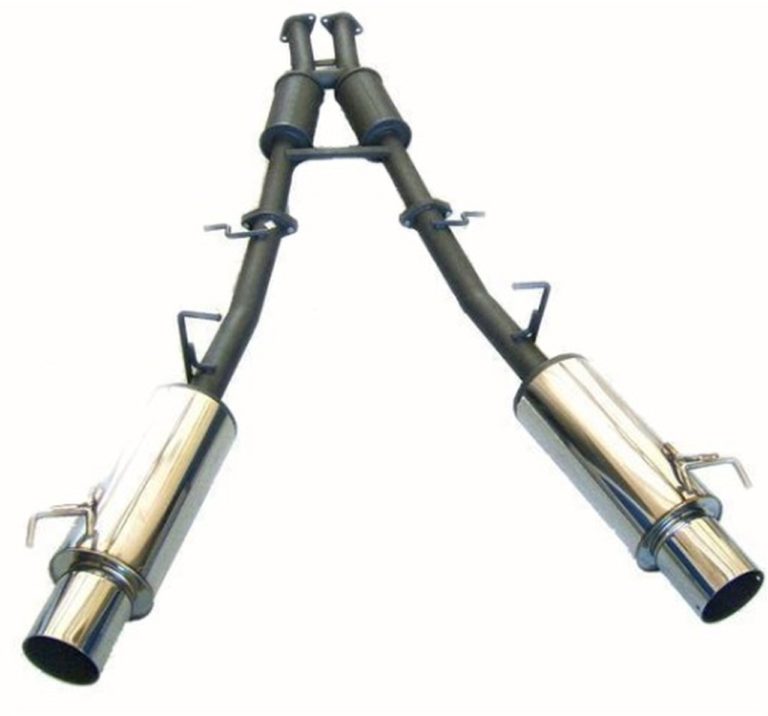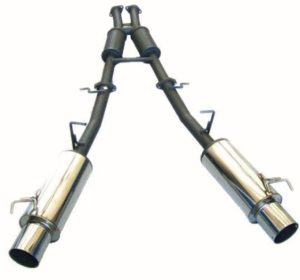 HKS is a very well-known brand in the tuning world. They have been around since the '70s and provide a wide variety of aftermarket parts for Japanese cars. These include anything from engine internals, turbo kits, intercoolers, and of course, their famous exhaust systems. Despite the low price, the HKS Hi-Power cat-back exhaust is made from high-quality materials and is widely known to be one of the best sounding 300ZX exhausts. HKS took inspiration from their motorsport department with the angled stainless-steel mufflers and specifically designed it for optimal flow and an improved horsepower in the higher RPM range. Not only does this cat-back system look good, but twin-turbo models can see a 20HP gain, whereas the non-turbo models will see a 10HP increase. Additionally, the noise levels are somewhere around 70dB on the inside of the car, and 85dB at the rear of the car. These tests were done with the car at idle. It should be known that this HKS 300ZX exhaust system is designed to fit only the Z32 coupe (not convertibles) models with the 2+0 configuration. This system will not fit on the 2+2 seating configuration.
Overall the HKS Hi-Power / Hiper Catback Exhaust System is a fantastic value for the money considering that it's coming from such a reputable company.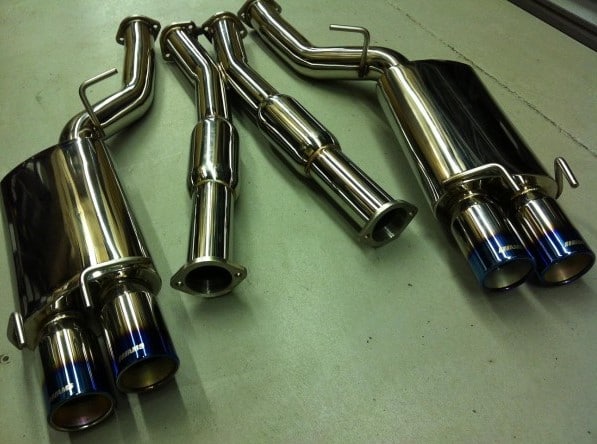 AMS has been in the industry for over 15 years. Over that time period, they have been manufacturing, engineering, and fabricating performance parts for various Japanese and German turbocharged cars. They do things a little differently, focusing mainly on engineering parts that will withstand high horsepower numbers and still look good. Being engineers, they look at function over form, and this is what's made them one of the best kept secrets in the tuning world.
This 300ZX exhaust system is constructed fully from stainless steel to withstand the test of time. They use 3" mandrel-bent tubing to ensure high flow and Tig weld everything for a great looking product. If that's not enough, they go so far as to fully polish the whole setup. Resonated X-pipes are also offered to reduce noise and improve that unmistakable low-end growl. The twin-wall titanium exhaust tips are finished with a "burned" look for added style. When you order this 300ZX exhaust from AMS, you will receive everything needed to have an easy and simple install. This includes all necessary hardware, gaskets, and fasteners.
Even though AMS is not a brand that is widely known, we highly recommend their cat-back system due to their incredible attention to deal they take when it comes to manufacturing and improved flow. After all, they are engineers first, and parts manufacturers second.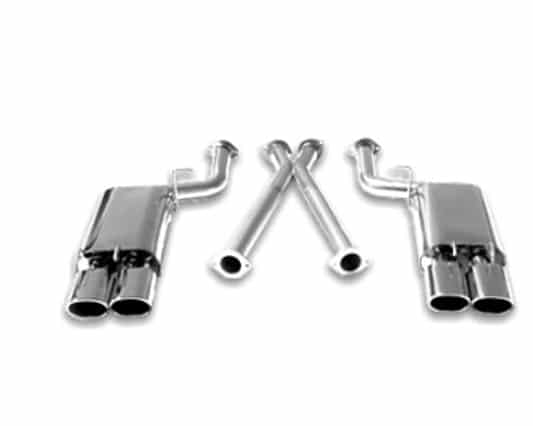 With a funny name such as Billy Boat, it may come as a surprise to many that these guys are very serious when it comes to producing aftermarket Nissan 300XZ exhaust systems. Many 300ZX owners can attest to that, as they made B&B one of the best-selling aftermarket exhausts for the Z32. They opened their doors in 1989 as a specialty shop for Porsche's. Since then, Billy Boat has expanded to making various aftermarket parts ranging from intercoolers to full exhaust systems, just like this one for the 300ZX.
Like other premium exhaust manufacturers, Billy Boat uses only T-304 stainless-steel for this 300ZX exhaust system. In addition to that, they mandrel bend the 3" pipe to ensure maximum flow required for that added gain in horsepower and torque. Due to their extreme attention to detail and scrutinous quality control, B&B offers a limited lifetime warranty, so you can sleep easily knowing that you are covered if your parts should ever fail. The whole system is then finished with four huge 4-1/2" double rolled oval tips for that added flare. Overall, this exhaust system is worth every penny. If you're in the market for a new 300ZX exhaust, we definitely recommend these B&B system dues to its high build quality and limited lifetime guarantee.
In conclusion, the 300ZX is one of the most iconic cars to ever leave the Nissan factory in Japan and is the reason many people got into the car scene. It is highly praised by its owners, but I think we can all agree when it comes to the original exhaust system the car came with. This is why we put this list of the top three Nissan 300ZX exhausts together for you. We have spent countless hours combing through all the brands currently available on the market, so you don't have to. If you have further questions, please don't hesitate to reach out to us!