It may have taken Ford some time to add an AWD edition to the Focus lineup, but despite being late to the game, when the Ford Focus RS arrived in 2017 it marked a turning point in the industry.
The original MK1 Focus, when introduced, was known for its ability in the World Rally Championship. At the hands of the late Colin McRae, the MK1 Ford Focus won multiple rallies and was immortalized in the gaming world as the lead car for the Codemasters tie-in, Colin McRae Rally 2.0.
But despite the all-wheel-drive ability of the WRC car back in the early 00s, it wasn't until the 2017 Ford Focus RS that we saw a road-going version with power to all the wheels. With the same 2.3-liter EcoBoost engine as the Ford Mustang, the RS received praise straight out of the gate.
Good for 0-60mph in under 5 seconds and a top speed of 165mph, the 4-cylinder turbo "EcoBoost" engine had 350bhp and, thanks to clever engineering, didn't display the one major misgiving of Turbo-power power plants: lag. Instead, power application was virtually instantaneous throughout the rev range.
But it wasn't just the power or the speed of the Focus RS that earned it its newfound place at the top of hot-hatch hill. It was Ford's all-wheel-drive system—not seen in a fast Ford since the Escort Cosworth.
The Focus RS drivetrain was developed by GKN—a company which specializes in all-wheel-drive applications. It features "torque vectoring" for all four wheels. It's a concept that was often reserved for only the upper echelons of the automotive world: think Acura NSX and Porsche 911 Carrera 4S. Put simply, it allows power to be individually sent to any of the four wheels, depending on which has the most grip. The result is on-rails handling without a hint of understeer. But, with rear bias, the Ford Focus RS never once strayed from being a true driver's car. It even has a drift mode, ideal for those wanting to unleash their inner Ken Block.
With Ford announcing they have no plans to continue the RS line, the Ford Focus RS is on track to be one of the greats from the Blue Oval—perhaps never to be repeated.
So, if you're planning on picking up the pinnacle of Ford's AWD hot hatch pedigree, but are looking for a way to a) make it sound even better and b) unlock a few more horses from the motor, there are plenty of Ford Focus RS exhaust systems on offer. Here's a quick rundown of some of the best focus RS exhaust systems.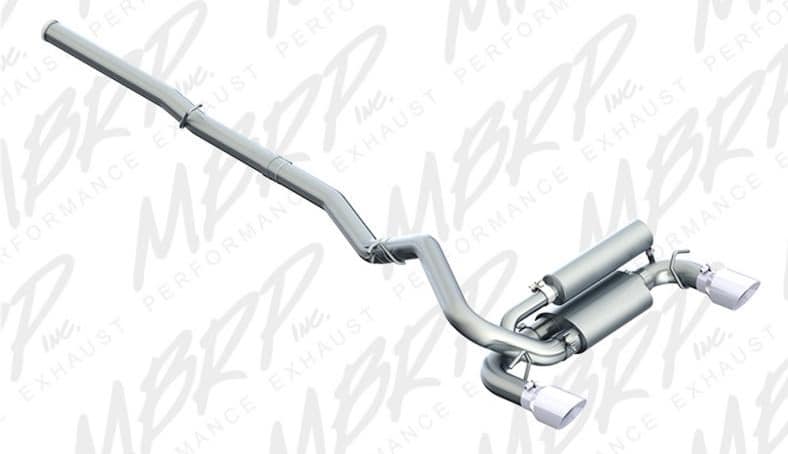 MBRP's roots actually started in snowmobiles. But it wasn't long until they started to make a name for themselves in performance automotive exhaust applications. The Focus RS MBRP exhaust is a product of over 20 years of delivering performance to auto enthusiasts around the world and is one of the most sought after systems on the market today.
It Features mandrel-bent pipes and high-quality T409 stainless steel for the ultimate performance, durability and style. The Focus RS MBRP exhaust system features 3" piping throughout, and finishes in a very stock-looking dual-exit setup, with T304 stainless steel polished tips.
MBRP is already well known for its great-sounding Focus ST system. So, they set out to replicate the deep tones produced when designing the Ford Focus RS exhaust. To do so they came up with a resonator to ensure those lower tones were retained.
Although the Focus RS MBRP exhaust doesn't feature an active/Valvetronic element, it does come with a coding plug that will eliminate any error codes that may occur when installing a new exhaust system. This follows their philosophy of producing something that sounds great all the time—the result is a great-sounding alternative to stock that's not too loud but is a subtle and noticeable boost over the factory acoustics.
The Focus RS MBRP exhaust is a great value solution for a great-sounding aftermarket set-up. But, if you want to save some of the outlay for a tradeoff in longevity, then MBRP also offers a cheaper aluminized steel version. Although you're sacrificing on longevity and style, it may appeal to the more budget-conscious users, but for everyone else, the Stainless Steel Focus RS MBRP exhaust is a great way to go.
AWE Tuning Touring / Track Edition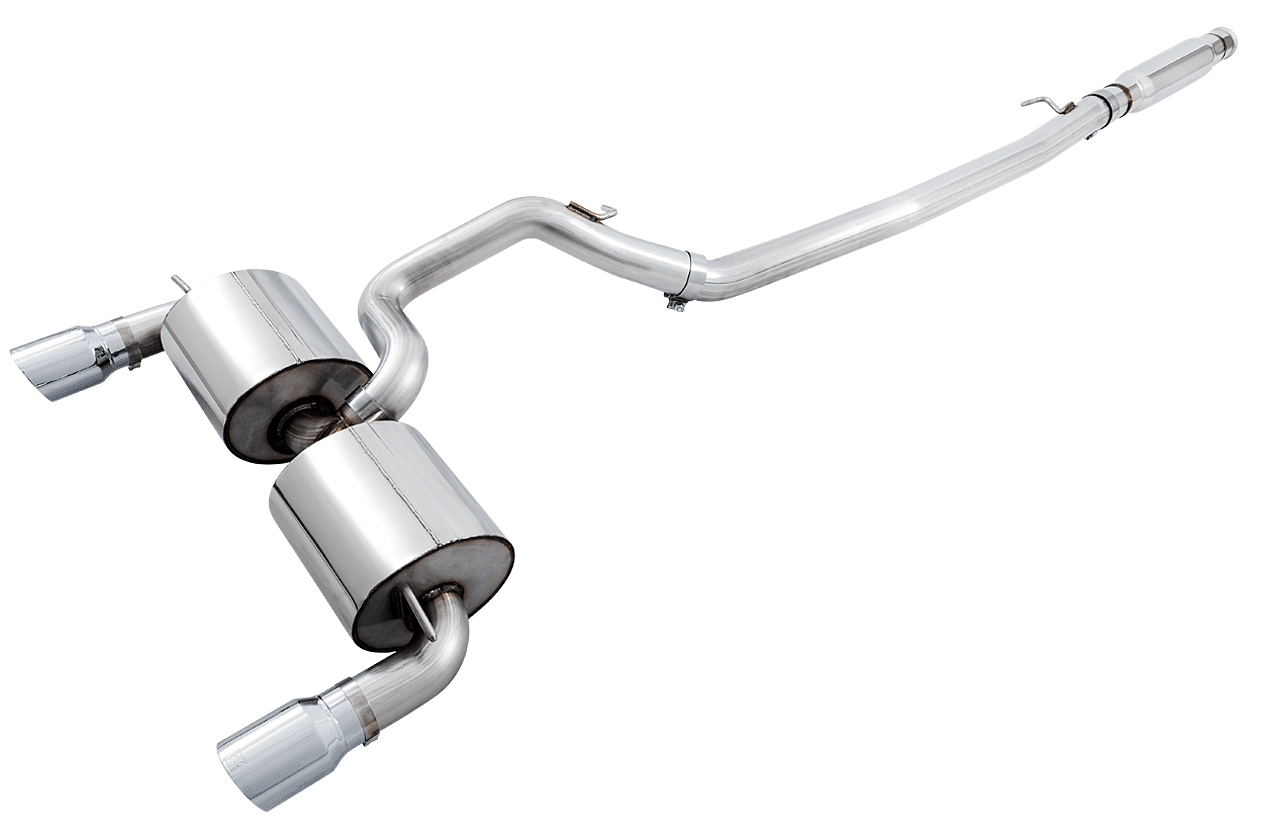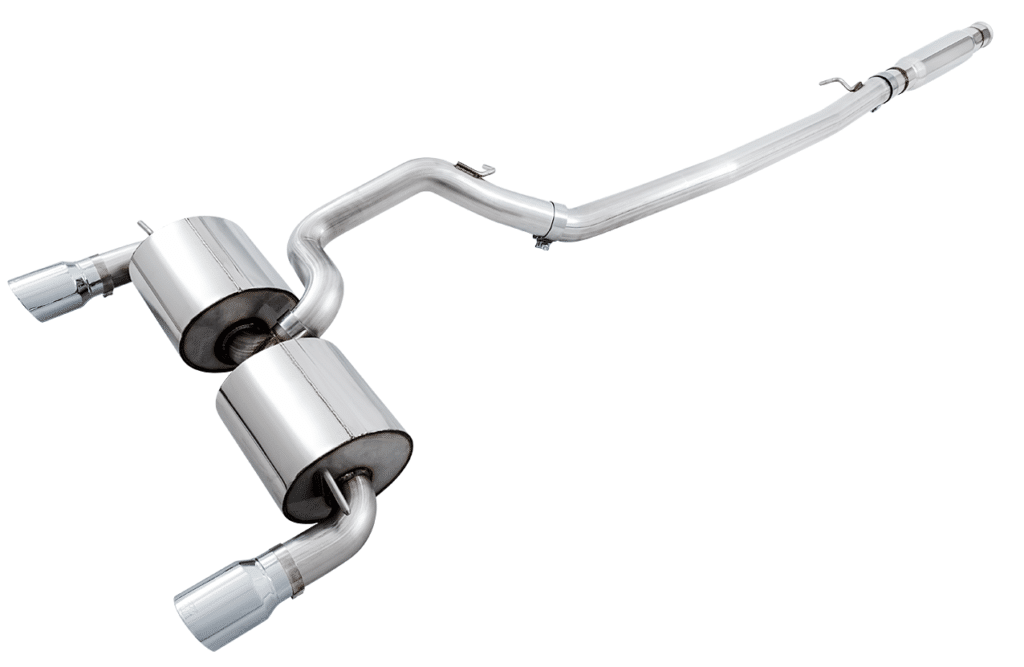 Based just outside of Philadelphia, Pennsylvania, AWE is a US-born and bred automotive tuning company that prides themselves on their commitment towards the in-house development of each part offered. With careful care and attention made for each product produced, the Focus RS AWE exhaust touring edition follows true to that tradition.
The Focus RS AWE exhaust is a great example of quality craftsmanship. Made out of T304 steel with 3" mandrel-bent piping, no expense has been spared in development. The resonated version is recommended for most applications, as it features AWE's propriety "180 Technology".
AWE Tuning's 180 tech has been designed to eliminate drone, while maintaining the great tones of a raucous hot-hatch throughout the rev-range. It does so by using a speciality resonator to control sound waves through its strategically located ports and reflection chambers. The result is a great sounding car with none of the dreaded and dreary drone on the highway.
The Focus RS AWE exhaust comes with a lifetime warranty, and promises an increase of power, with maximum gains of 22 hp and 19 ft-lbs of torque to the crank.
If you like your car to be noisy, you should probably consider AWE's track edition instead. As the name implies, it's best suited for track-use, as it's an audibly intensive affair. Without the resonator, AWE makes no claims to a drone-free experience. Instead, expect to hear a lot more exhaust noise, as this system is known to get vocal in the midrange.
ETS Ford Focus RS Exhaust System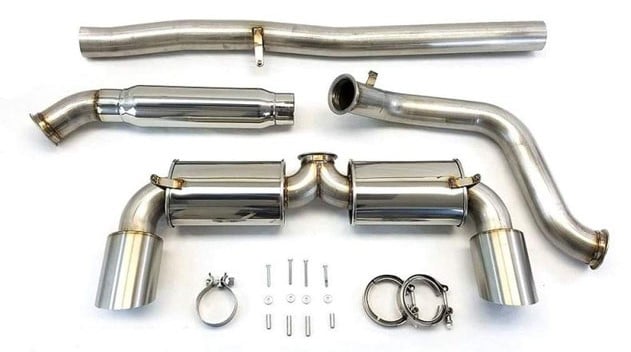 With a company name like Extreme Turbo Systems, it's almost a foregone conclusion that their solution is going to be on the wilder scale of things. The Focus RS ETS exhaust predictably doesn't disappoint.
Available in two guises, either with or without resonators, either configuration adds a suitable, muffler-free dose of volume. Without mufflers, the Focus RS ETS exhaust is predictably loud, with an aggressive exhaust note ideal for those who love their cars noisy.
The Focus RS ETS exhaust is handmade from stainless steel, with a 3" diameter throughout, finishing in 4.5" tips that sit flush with the rear bumper and are centered in the cutouts.
ETS claims their exhaust for the Ford Focus RS has the highest ground clearance on the market, with their 3.0" mid-pipe "tucking up" tightly around the car's underbelly.
The Focus RS ETS exhaust also features a "valve simulator." While not being adjustable with the Focus RS' drive modes, the ETS system provides a plug that will simulate the operation of the factory valving, avoiding a check engine light and allowing full functionality of the Focus RS' drive modes.
ETS also offers a range of products designed to compliment their exhaust systems. These include intakes, intercoolers, piping and air filters. And, of course, their wide range of products and solutions are available for a host of other makes and models, including the Toyota Supra, Subaru Impreza and Mistubishi Evo to name a few.
FI Valvetronic Exhaust System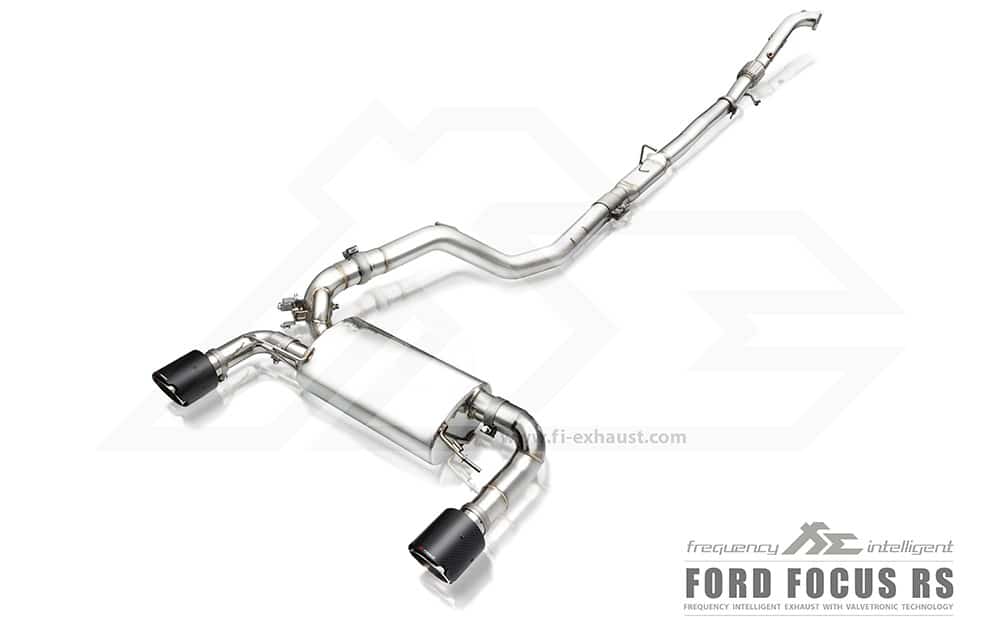 Being hailed as one of the best focus RS exhaust systems and embracing the valvetronic element of the Ford Focus RS is the Frequency Intelligent exhaust. With a heavy emphasis on sound tuning, FI's solution is great for those wanting that technological edge. It also gives you the added flexibility of being able to control how your car sounds on the fly.
The FI Focus exhaust goes beyond just having "loud" and "quiet" modes. Instead, you're given an automatic option that allows you to predetermine RPM intervals (read from the Focus RS's ECU) where you'd like the exhaust valves to automatically open up. This gives you the flexibility of being able to cruise around town quietly at low RPMs before seamlessly having the intelligent exhaust system open up when you put your foot down on a canyon run.
Of course, FI's Focus RS exhaust also has a remote controller to enable you to take full control of the valvetronic selection, should you want to remain in stealth, or make your presence known.
With a company policy of prototyping and sound tuning, the FI Focus exhaust has been specifically designed for the RS. And, on average, FI claim their systems can help improve power between 5%-10%