Build on the immensely popular 350z chassis the Infiniti G35 is no coupe to be messed with. The G35 comes equipped with the same engine as the Nissan 350z producing upwards of 300 horsepower with some variation between the model years. Unfortunately, the G35 doesn't have a ton of tuning potential, but you can easily squeeze out an extra 40-50 horsepower with proper bolt-ons. If you want to be able to push out significant power with the G35 and the 350Z alike, a turbo kit is your best route. But before you rush out and purchase a turbo kit, you need proper supporting mods on your G35. The first modification we recommend doing to your car is an aftermarket exhaust system. Stock exhaust systems are often very restrictive and don't allow the car to breathe, that's where an aftermarket system comes in. Below we have compiled a list of our favorite G35 exhausts.
Megan Racing Drift Spec Style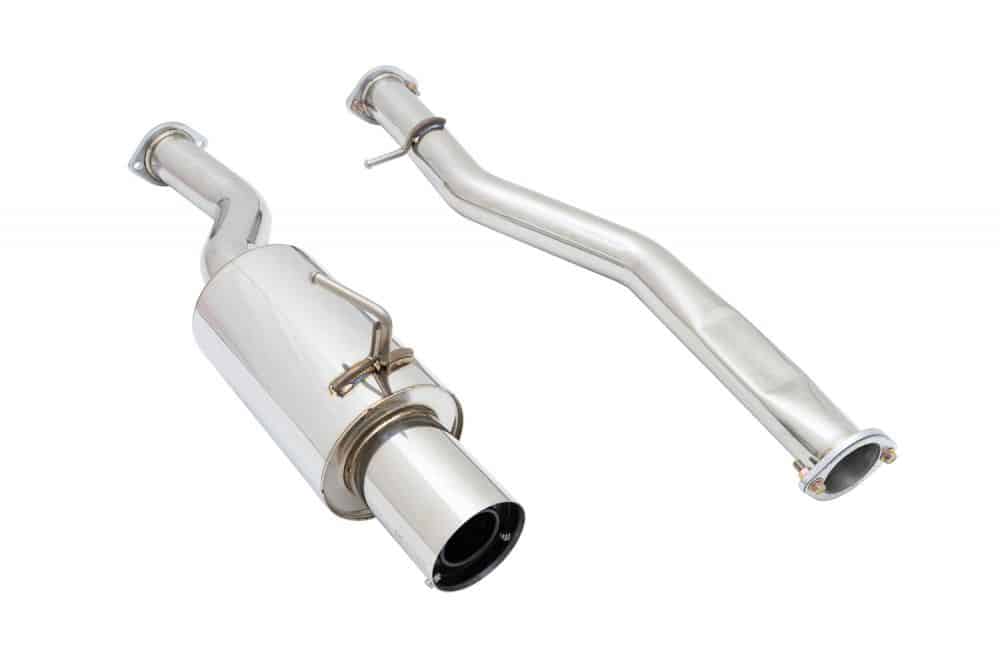 To being our list, we have the Megan Racing Drift Spec Style for the Infiniti G35. Megan Racing has been in the exhaust and performance parts game for over 18 years. They manufacture products for a variety of Nissan Infiniti vehicles, as well as almost every other performance car out there. The Racing Drift Spec is built from entirely polished SUS-304 stainless steel and comprised of 3″ mandrel-bent piping with a 4.5″ exhaust tip. Megan's in house testing has shown up to a 10-15 horsepower increase with this system. The Drift Spec produces a strong deep tone, and with the included silencer, you have the option to dampen the sound if you find it excessively loud.
Megan Racing was founded on the belief that "automotive enthusiasts should not be limited by the size of one's wallet, but rather their heart and passion for motor-sports." This statement stands true with the Drift Spec. it's manufactured from quality material and has an excellent sound, for a budget G35 exhaust system look no further.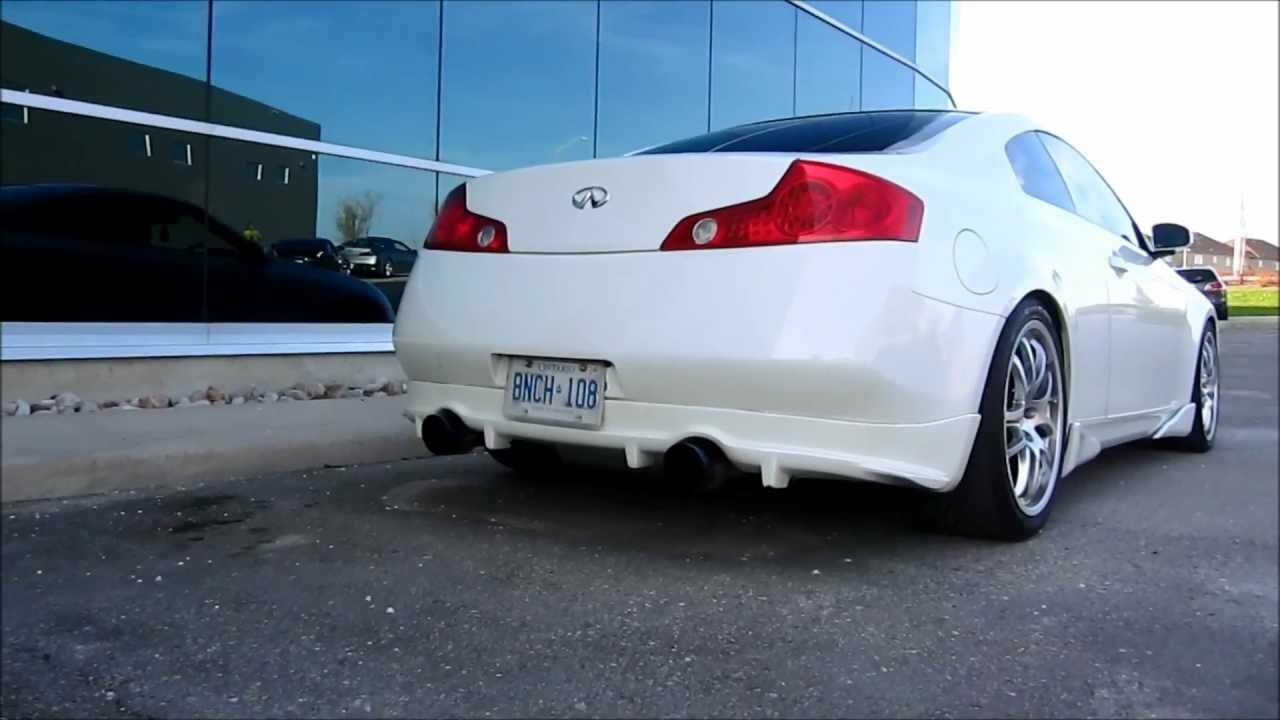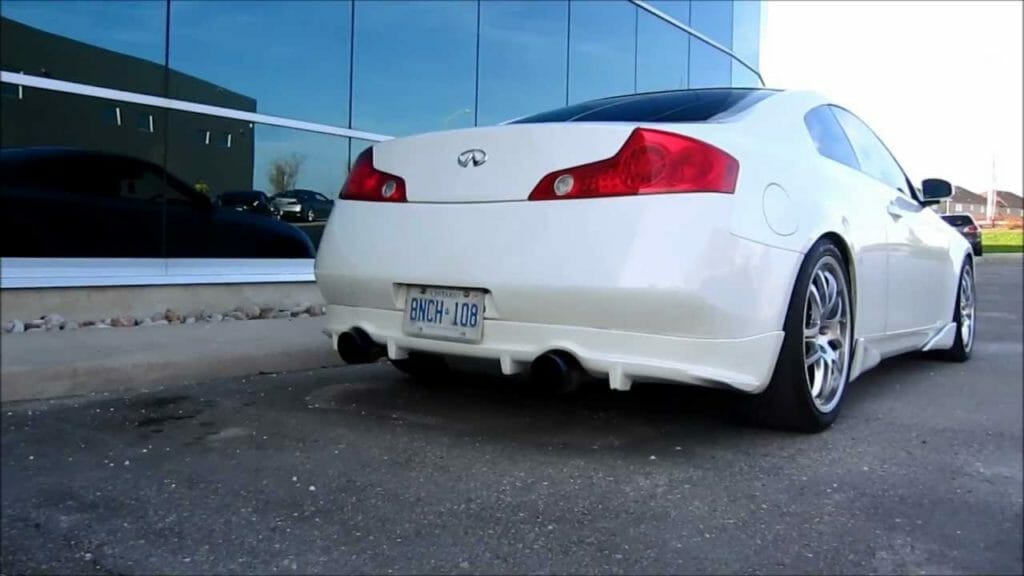 Next up, we have the Invidia Gemini Catback exhaust. Invidia, an Australian exhaust manufacturer, has been producing quality exhaust systems for over 13 years for a wide range of cars. The Gemini exhaust series is designed explicitly for the Nissan Infinity cars. The system is Constructed from high-quality SUS304 stainless steel with fully polished mandrel-bent piping. All Invidia exhausts systems are engineered to have the least amount of exhaust bends possible to ensure maximum airflow. The system is also offered with three different exhaust tip options, either rolled titanium, straight titanium tips, and stainless steel. This G35 exhaust system produces an intense deep sound that's not unreasonably loud while keeping drone to a minimum.
Overall as the budget option, the Invidia Gemini Catback is no slouch. It produces a great sound and has good looks to match this exhaust is not to be overlooked.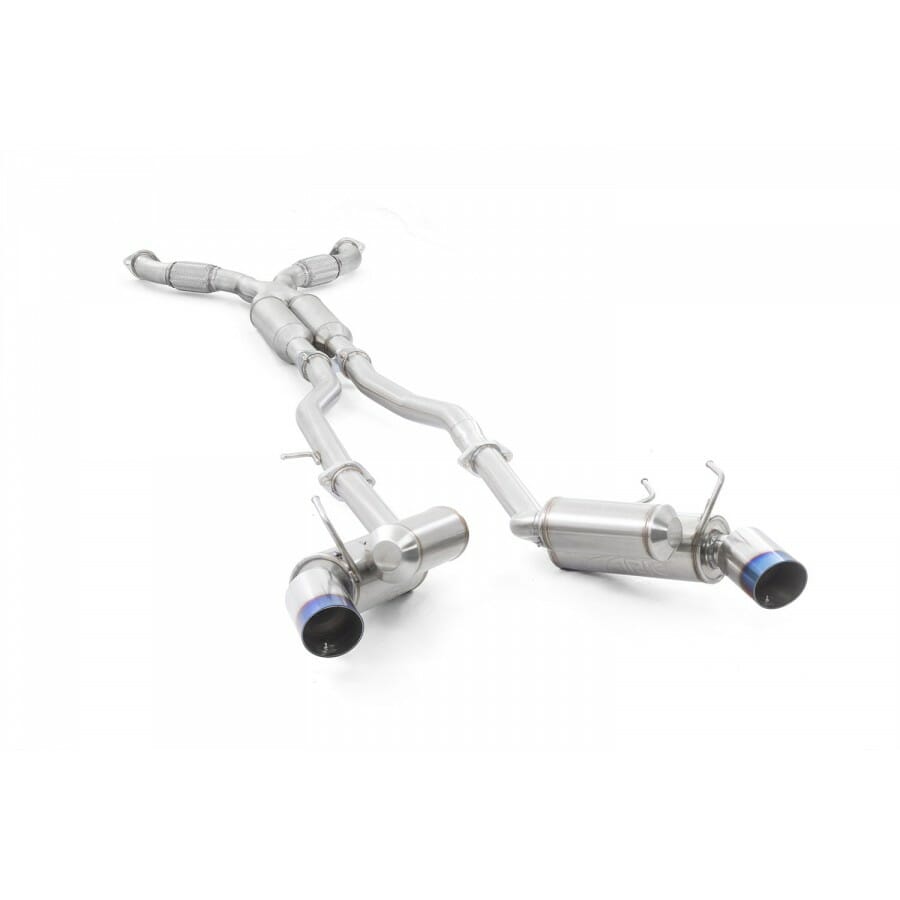 Last but not least, we have ARK GRIP Catback exhaust. This exhaust system is engineered to produce maximum mid to top end gains in horsepower and torque. From ARK's in house testing, this results in up to a nine rear wheel horsepower gain and a gain of up to eight ft-lbs of torque. ARK exhausts also feature their Helmholtz technology that enables a substantial reduction in cabin drone without sacrificing performance. This system produces an intense deep sound with a mean rumble at idle, and when it gets up into the high RPMs, it's sure to turn heads. This system is handcrafted from high-quality T304 stainless steel with thicker diameter piping than the competitors providing longevity for your exhaust system with little weight gain.
In conclusion, the ARK GRIP Catback exhaust is an excellent choice for your G35. It's manufactured from quality material and has a great sound at idle and into the high RPM'S