Today we're delving into the world of automotive tuning to take a look at what we consider to be the best replacement aftermarket 350Z short-throw shifters and the G35 short shifters.
To understand how a short shifter works and what are the benefits of fitting one are we first need to start by dispelling a popular misconception surrounding short throw shifters. Some people believe a short shifter can be achieved by merely taking a hacksaw to your existing factory fitted shifter and cutting off a couple of inches of its height. Do this, and the only thing you'll end up doing is making your existing shifter not only shorter but also not very safe.
For a short shifter to work effectively, you need to decrease the throw by reducing the angle that the shifter shaft travels through during its stroke between gears. Meaning it minimizes the distance that your hand needs to move between gear changes allowing you to achieve a quicker, more professional shift with less effort and without dramatically changing the overall driving experience. Which could not only provide you with the edge you need in a high-speed situation; it also means less energy and driver stress in an intense braking situation where you need to keep both hands firmly on the steering wheel.
Typically engineered to be a little shorter than the existing factory fitted shifter to create a sportier look and feel. The short shifter is, in our opinion, not only an excellent way to elevate your driving experience. It's probably the most affordable aftermarket modification you can make to enhance the fun-factor on a manual transmission car.
The 350Z short-throw shifters and G35 short shifter options we considered all come from highly respected tuning companies. Each shifter has been explicitly designed and engineered for the more aggressive tuner, who demands the most extreme shifter in terms of quality, looks, and performance.
These include the TS-SS-022 Short Shifter for both the Nissan 350/370Z and the Infiniti G35 /37 from Torque Solutions. The 370Z Short Shifter from Stillen and the B&M 45163 Precision Short Shifter, which is ideally suited for both the 350 and G35
While a 350z short shifter doesn't add any horsepower to your car if you are looking to add some extra power to your car check our our 350Z horsepower guide here
Torque Solution TS-SS-022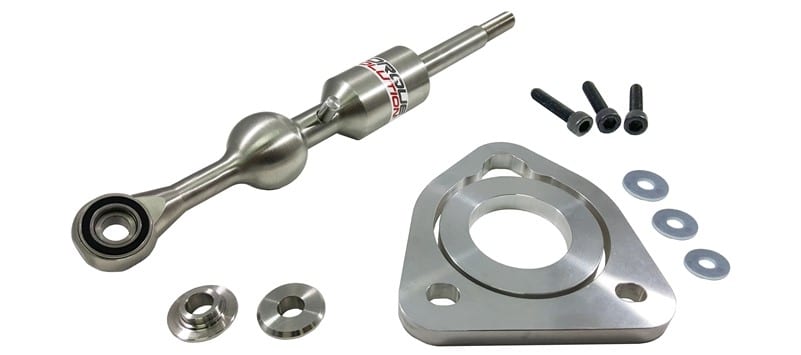 Developed in the US from CNC'd stainless steel for added strength and TIG welded in a precise jig. Torque Solution spared no expense in the design and production when they made this reliable one-piece short shifter. There is no real reduction in height, making this shifter virtually a direct bolt-in replacement for your existing factory fitted long-throw shift unit.
Installation is around one hour and is relatively easy, as you don't need any special tools. However, there is a need to work under the car, so if you don't have access to a lift, make sure you use two axel stands, have the parking brake on, and the wheels chocked.
Also, a quick fitting tip – make a note of which bolts came from where because although they are all the same size and look the same, you will see there are different thread lengths, which might become an issue when you come to reassemble the unit.
And although it uses your current shifter cup and not a machined version like some of the other manufacturers, we still found the fit to be exact. The Ball Bearing pivot, as opposed to the usual nylon bushes, gives you a smooth shift. Which provides you with the feeling that the gears are just right there, and there's a lot more solid feeling during the quicker gear changes.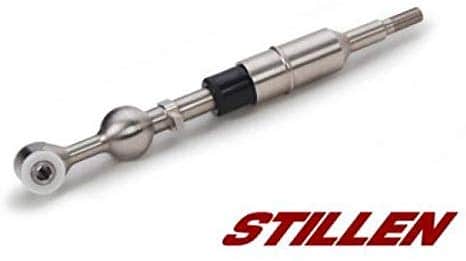 Unlike the Torque Solutions short shifter, the Stillen Short Shifter is a two-piece construction produced for the 350z and G35 RWD & AWD models. The Stillen short shifter is made from Stainless Steel with durable polyurethane bushings that offer long-lasting performance and is just 1/4″ in height reduction from the stock shifter.
Stillen claims this particular short shifter gives you a massive 60% shift reduction, so you're able to achieve quicker, more confident gear selections. Fitting time is around the one-hour mark, and because this is a direct bolt-on shifter, there is no need for any special tools or modification to your existing trim.
However, again like the Torque Solutions shifter, you do need to purchase a new shifter cup. The reason being when you try to remove the existing shifter cup, it will more than likely break because it's pretty rigid plastic, so it's wise to spend out for a new cup before you start the fitting. It would help if you also had bearing grease on hand. Again remember to work safely under the car as we mentioned previously.
Overall, the Stillen is an excellent product that is highly recommended for anyone looking to fit either 350Z short throw shifter or G35 short shifter.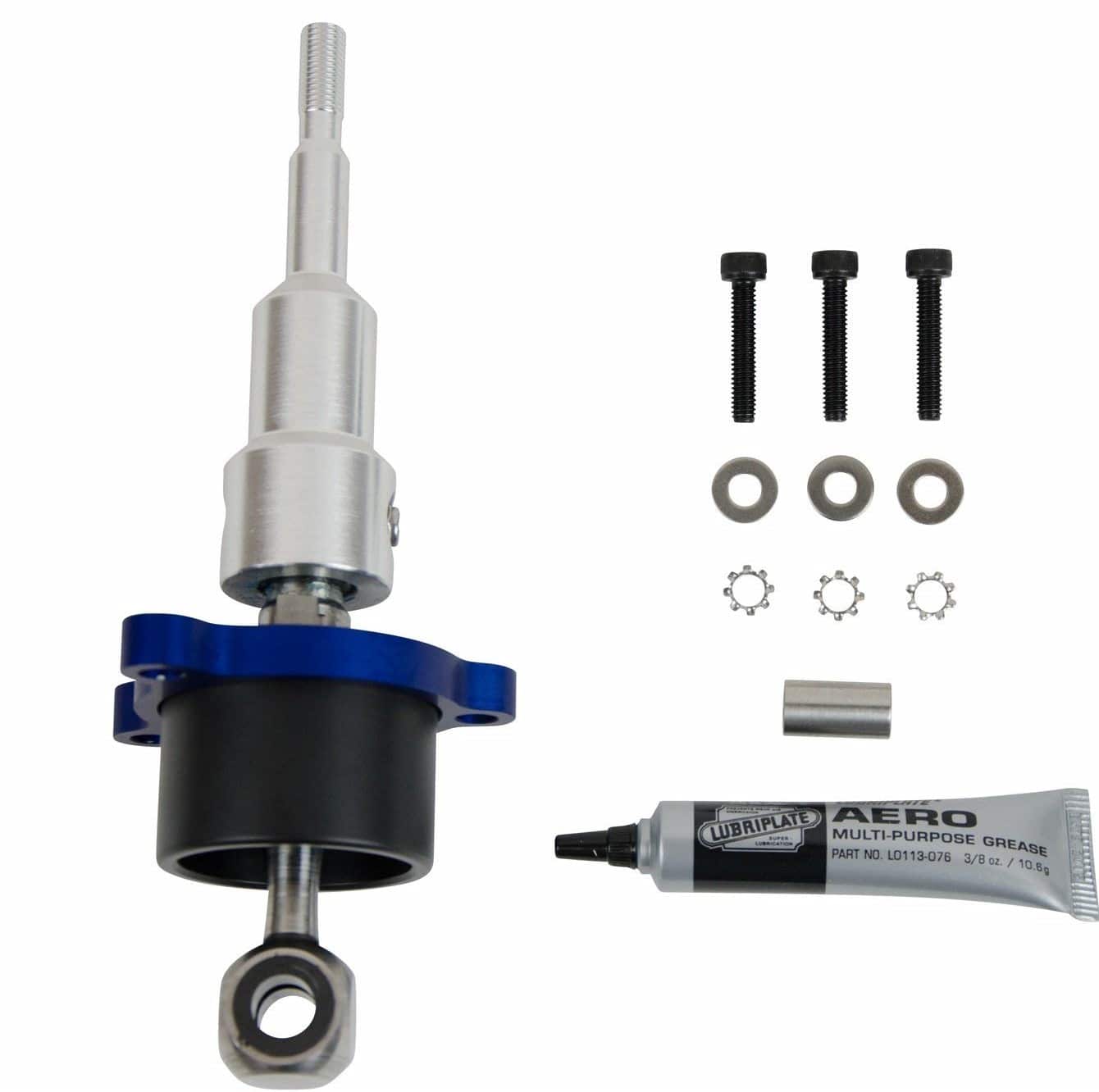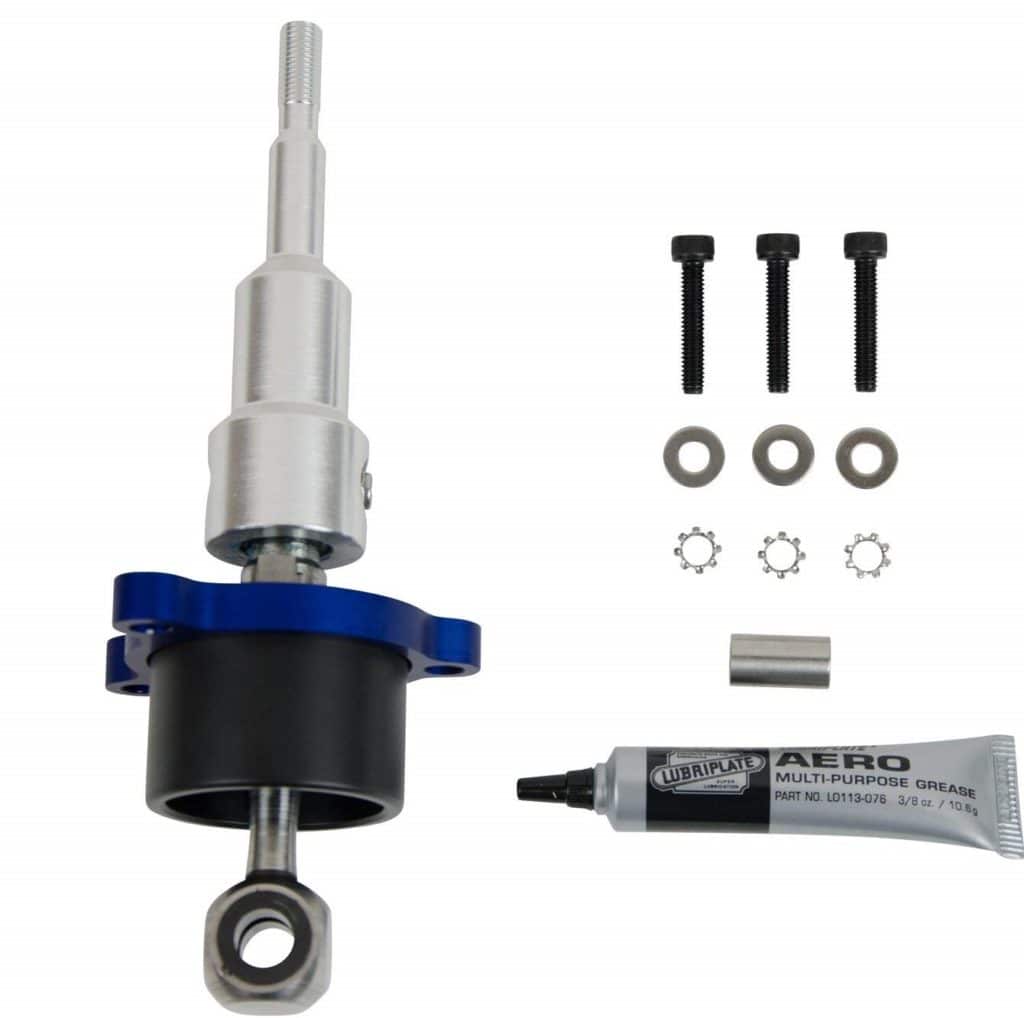 Now we come to the B&M's Precision Sport shifter, one of the most highly praised shifters currently available. Perfect for all 2003-2019 Nissan Z350/Z370 and 2003-2013 Infiniti G35/37 Coupes with the 6-speed manual transmission.
The design and styling of this shifter are reflected in the price: it's not cheap. With a respectable 33% shift, the B&M's shifter doesn't reduce the shift throw by as much as some other short shifters. But it more than makes up for this by offering a dramatic improvement on the factory tolerances in the shifting performance providing you with a short positive firm feel when changing gears,
CAD-designed and engineered as a direct bolt-in replacement – requiring no modifications or specialist fitting tools. It features a fully isolated stainless steel design with a CNC machined aluminum base, a nylon pivot ball, and can be fitted with the existing stock gear knob.
Installing the B&M Precision Sports shifter should take around an hour, it comes with all the required hardware along with a tube of multi-purpose grease. Please remember to work safely during the under car fitting.