There are two types of people who love nitrous speed freaks and people looking to party. Nitrous oxide, also referred to as NOS (nitrous oxide systems) or nitrous, is a gas that is shot into a vehicle's motor to increase horsepower drastically for a short period. Just like methanol injection, the Germans, and this time, the British used nitrous oxide to improve high altitude performance on world war two aircraft. Nowadays, nitrous oxide is either used as a recreational drug or to increase horsepower.
Nitrous oxide is not very complicated. Simply put, nitrous allows the car to burn more fuel by increasing oxygen levels in the engine. More oxygen means more fuel. But why not just shoot straight oxygen into the engine? Barney Navarro attempted this in the 1950s. What he discovered was when 100% oxygen was injected into the motor, it would explode wherever it was hot enough in the engine guaranteeing detonation. Where nitrous oxide solves this issue is it doesn't release the oxygen until it has mixed with the gas ensuring safe operation. When considering a nitrous system for your ride, there are a variety of factors you must take into account. Running a 250 shot of NOS on your stock Mazda 3 or 1990 Toyota corolla is going to be an enjoyable experience untill your pistons decide they no longer want to be in your motor. There is a common phrase used to describe nitrous "nitrous doesn't blow up motors, idiots with nitrous blow up motors." If you have a build that is suitable to run nitrous its is one of the cheapest was to make easy horsepower on the market.
Wet vs dry shot is a hot topic in the nitrous community. Put simply wet and dry shots are the way extra fuel is delivered when the nitrous is injected. A dry shot is a patented technology by nitrous oxide systems. The advantage of a dry kit is you don't have to run any fuel lines. Your injectors supply all of the fuel needed. With a wet shot, additional fuel is added with a pump. For horsepower applications under 100, a dry system is perfectly adequate. If you are looking to go beyond the 100 horsepower mark, a wet kit would be your best option because you have much more control over the fuel delivery.
How hard is it to install
To get the system installed is not a very hard task. If you do all of your car maintenance yourself, you shouldn't have an issue. The hardest part of the system is drilling holes to mount the sprayer. Unless you know what you're doing, this should be done by a professional. If you install the system yourself, having it checked over by a professional is recommended.
How much nitrous can I safely run
It's hard to give an exact number as there are a lot of factors, such as what nitrous oxide system you have. Your best bet is to read the forums to see what other drivers who have similar builds are running. When you first install your system, start with the smallest jet available, and slowly work your way up until you find the sweet spot.
Do I need to upgrade my fuel system
If you are only going to be using a small shot such as 50, then more than likely, your stock system should suffice. Once you start going above this, an upgraded fuel pump is a must. If you are running a dry shot, you will also want to look at upgrading your injectors. This is not necessary with a wet shot.
What are the advantages of nitrous
The most significant advantage of nitrous is the price to performance. Nitrous is the best bang for your buck horsepower option out there. And compare to turbochargers, there is no delay. It is instant horsepower at the push of a button. Even a small shot of nitrous can shave a decent amount of time off of your quarter-mile.
What are the disadvantages of nitrous
The biggest drawback of nitrous is running out of nitrous. You will find that the price of refilling nitrous bottles are going to add up fast. You also need to ensure the bottle pressure is optimum. If you leave the bottle in direct sunlight or in a hot environment, the cylinder could explode. Thankfully most bottles come with a relief valve that will empty the contents before this happens. Although rare, google what it looks like when a nitrous bottle explodes in a car.
Since nitrous can be dangerous if not treated properly, some precautions may need to be taken depending on your circumstances. The first precaution you can make is purchasing a bottle heater. Because nitrous is a compressed gas when it expands, it gets colder. A bottle warmer keeps the gas inside the container at an optimum temperature. Next, a wide-open throttle switch is a very smart option for your nitrous oxide system. A wide-open throttle switch prevents the nitrous from activating if the car is not running at 100%. For example, if you are doing a pull but loose traction and let off, the nitrous oxide will not activate. You could also use an RPM window switch. It is the same idea as the wide-open throttle switch but engages on different terms. The RPM window switch will only allow the nitrous to activate if your vehicle is at a specific RPM. You could set it to open at 4000RPM and close at 6000RPM. Finally, running a high octane fuel will significantly reduce the chance of detonation.
How long does a bottle of nitrous last?
Once again, it hard to give an exact number for this, but here's a reasonable estimate. It's around one pond of nitrous for ten seconds running a 100 shot. So, in theory, a ten-pound bottle would last you 100 seconds.
Will nitrous affect engine reliability
As long as you use a quality nitrous kit and have the system properly installed and tuned, you should see no extra wear on your engine. However, if you fail to install the nitrous oxide systems properly or run a large shot that your motor is not capable of handling, you can expect to see damage to the engine.
What is a "shot" of nitrous
A shot of nitrous is a slang term for the horsepower setting you are at. For example, a 150 shot of nitrous means they are using a 150 horsepower shot of nitrous.
What type of fuel is recommended for a nitrous equipped vehicle
You want to be using the highest octane fuel possible to reduce the change of detonation. A minimum octane of 91 is strongly recommended. The type of fuel you run also depends on how large of a shot you are planning on using. If you are keeping it under a 75 shot on a V6 and 125 on a V8, you should be fine on pump fuel. Check the forums to see what other drivers are running.
How long can I spray the nitrous system for
In theory, you can spray the nitrous for as long as you would like. However, typically most drivers spray between ten to twenty seconds.
What is the optimum bottle pressure
Most drivers have their bottles between 900 – 950 PSI, with some going upwards of 1000PSI. You want to avoid the bottle pressure going below 750 – 800PSI when engaging the system because the nitrous will turn into a gas.
Do I have to change my spark plugs after installing the nitrous system
Yes, a spark plug upgrade is required. Because you are adding a lot of extra horsepowers, more heat is being generated in the motor. It would be best if you upgraded to a spark plug that has at least a two-step colder heat range.
What is the minimum rpm I need before activating engaging nitrous
There isn't a magic number, but it is strongly not recommended to engage a nitrous system below 3000RPM. Once again, this all depends on your build. The reason for not wanting to engage nitrous at low RPM'S is because you could have excess cylinder pressure that could possibly cause damage to the motor.
Best all-around fuel-injected nitrous system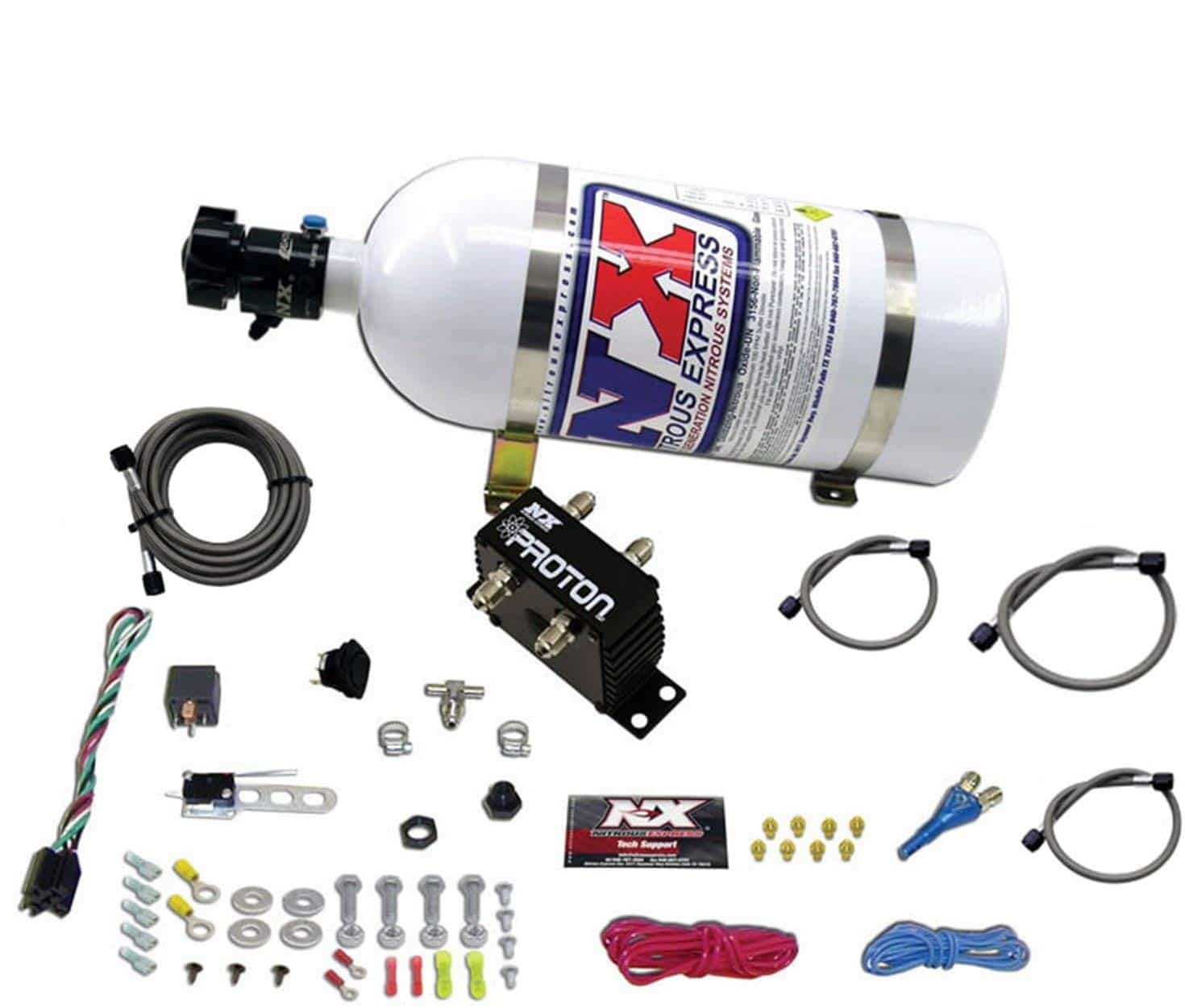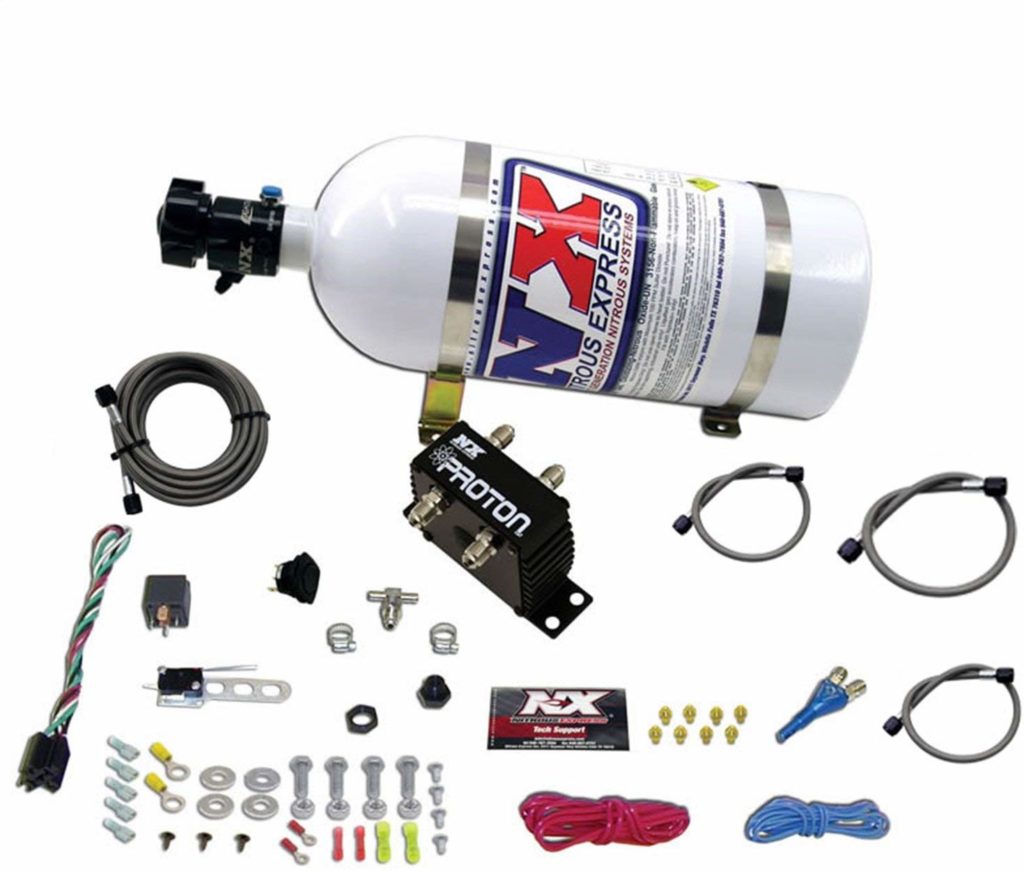 If you got a decent budget for your nitrous setup, your best bet for a fuel-injected car is the Nitrous Express 20421. This is a wet injection system capable of producing up to a 150 shot. In the box, you get six jets 35, 50, 75, 100, 125, and 150 shot. You also get a 10-pound bottle, various fittings and adapters, stainless braided nozzle lines, wide-open throttle switch, master arming switch, stainless fuel line, all of the nuts and bolts to complete the installation, and high-quality solenoids. Unfortunately, the package also does not come with a purge kit. This will need to be purchased separately. This is a universal fit kit and is compatible with all fuel injected vehicles Nitrous Express has really knocked it out of the park with the 20421-10 Proton Plus. It's a high-quality system capable of producing high horsepower numbers, all while ensuring the utmost safety.
Best budget fuel injected system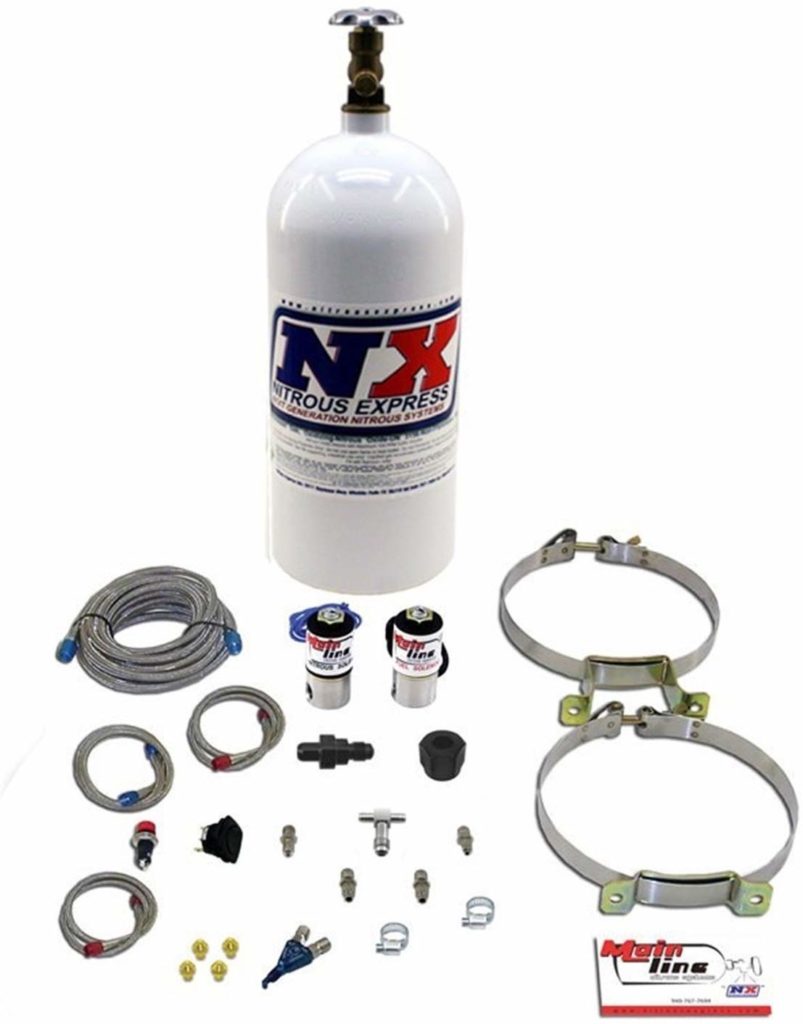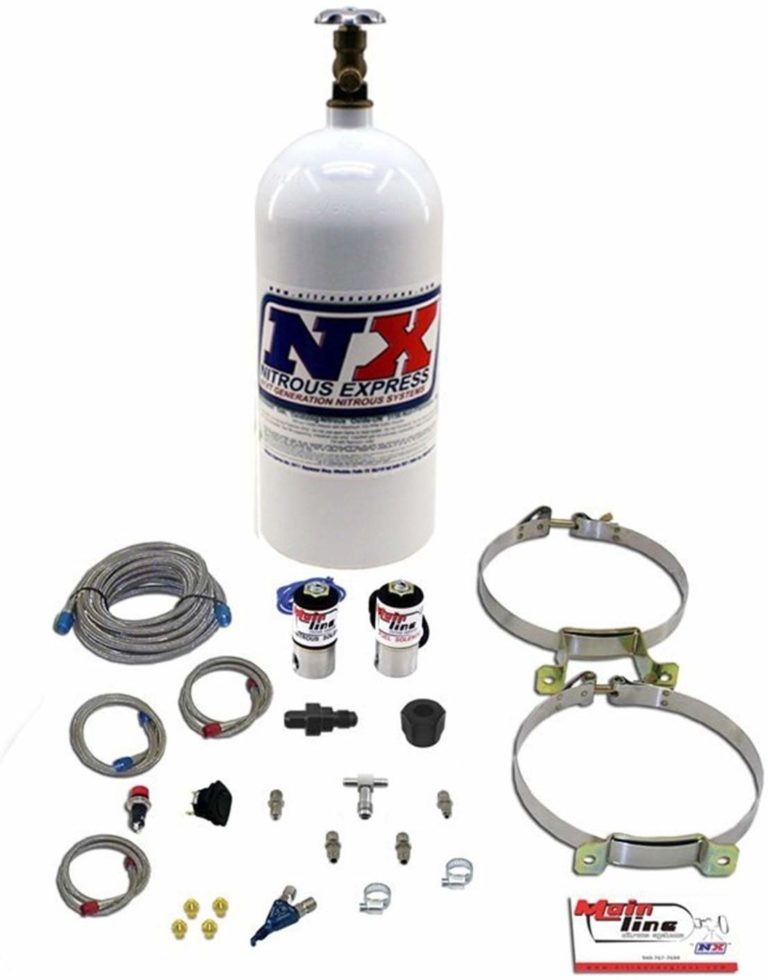 If you're looking to try out nitrous or are on a tight budget, the Nitrous Express ML2000 is the best budget option for a fuel-injected vehicle. In the box, you get a bottle, mounting brackets, piranha nozzle, braided hoses, feed line, and fittings. It's a no-frills system that gets the job done. It does not include any of the fancy bells and whistles as the other kits, but if all you need is reliable horsepower, this kit will has you covered.
Best Nitrous kit for a carbureted engine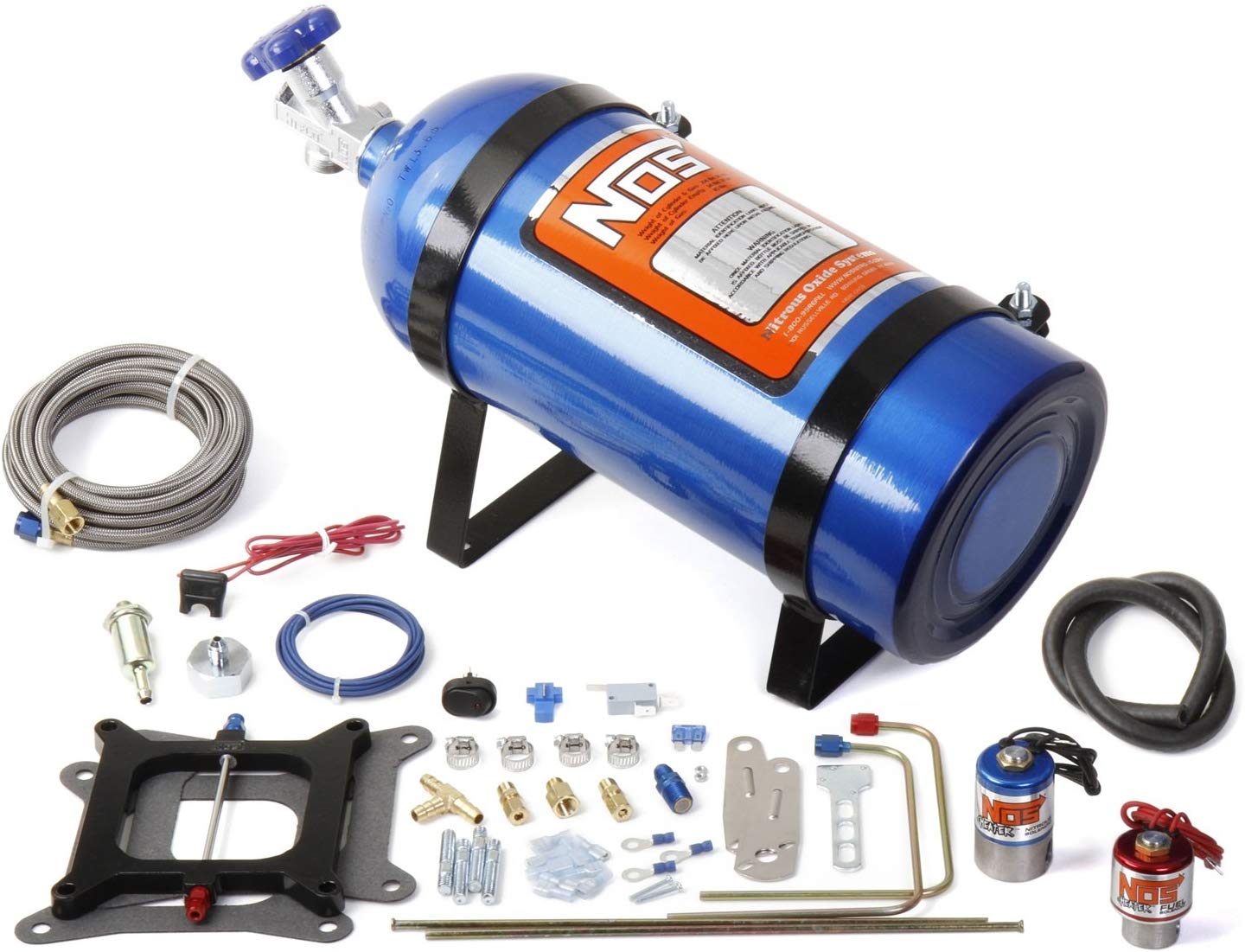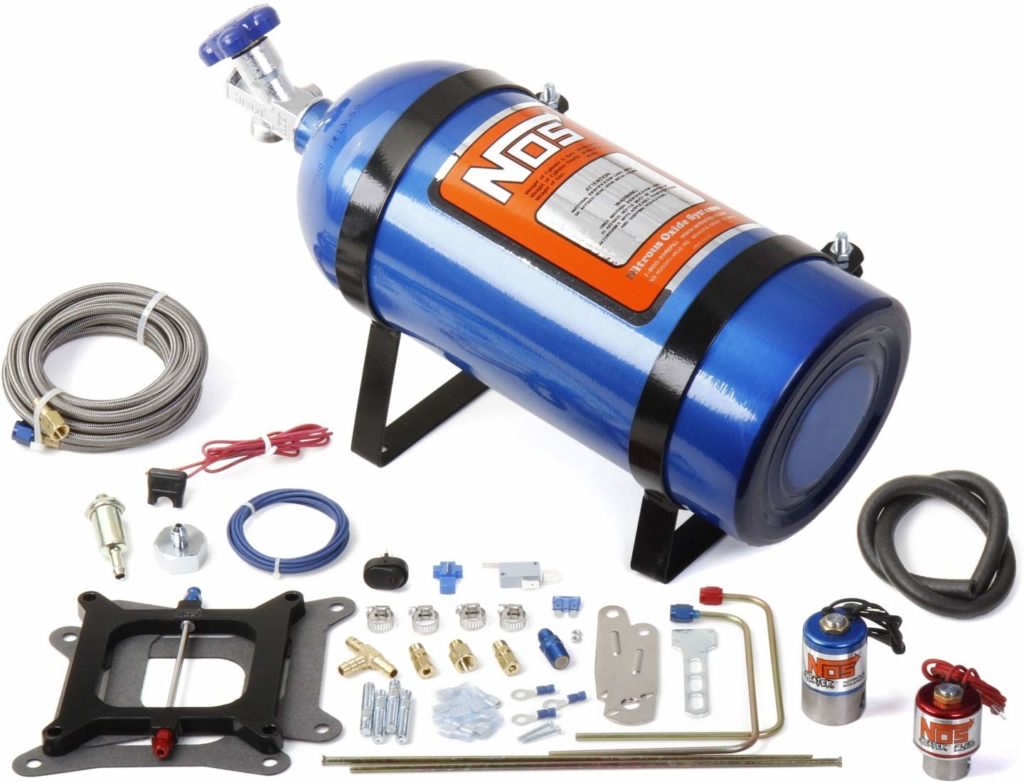 Do you have a carbureted engine under the hood of your build? Well, don't worry, we have a nitrous system for you! The NOS 02001 cheater nitrous system.
This is a wet injection system that is compatible with all V8 carburated systems 350 CID or larger. NOS has designed this kit to handle up to a 250 shot. If you plan on running this system note that NOS states it is mandatory to have an upgraded fuel pump and they strongly recommends having forged pistons in your motor. Each kit comes with nitrous and fuel solenoids, empty nitrous bottle, injector plate, filters and fittings, four jets, switches, and various stainless steel braided hoses.
This kit is no joke. It's targeted towards racers who need every drop of performance out of their carbureted engine. If speed is your game look no further than the NOS 02001 Cheater Nitrous System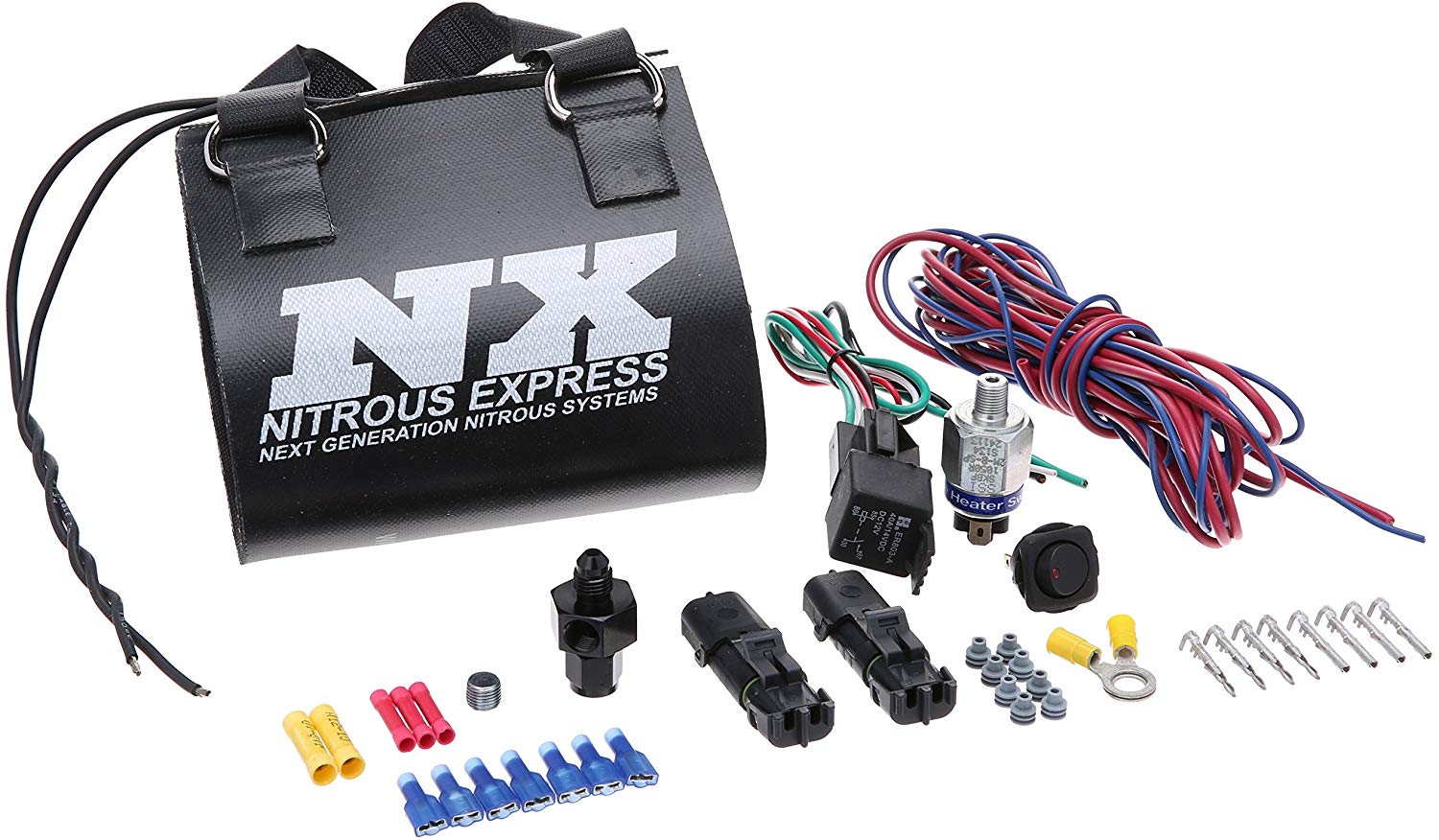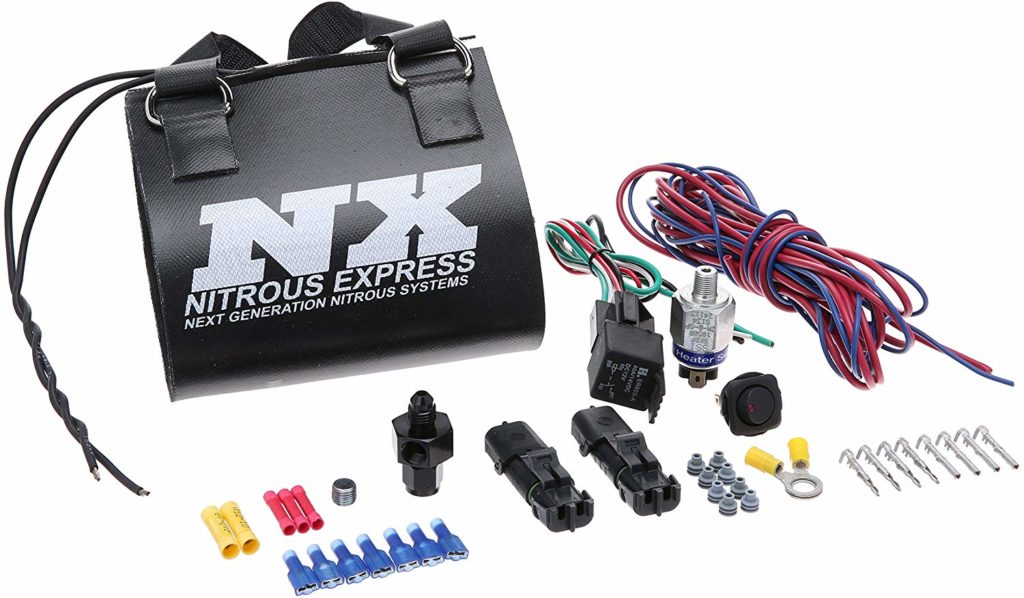 Keeping your bottle at optimal temperatures is a must with a nitrous system. If your climate doesn't allow for this, a bottle heater is a way to go. The Nitrous Express 15940 is one of the best on the market. It's able to fit ten and fifteen-pound bottles and has an adjustment range of 900PSI to 1200PSI. The heater is capable of producing temperatures up to 300 degrees, taking your ice-cold bottle to optimum operating temperature in minutes. Because the temperature can be adjusted, this heater is compatible with all nitrous kits. In the box, you get the heater element, relay and wiring, pressure transducer, various connectors, and the swivel manifold. The Nitrous Express 15940 is an excellent choice for your nitrous system.