Are you finding your car is lacking in horsepower, and you want to have the edge over the competition on the street or the track? A great way to achieve a significant gain in horsepower is by adding a turbocharger to your car. A turbocharger works by using your exhaust gases to spin a turbine that is inside of the turbo. This turbine can spin at speeds between 80,000 – 250,000 RPM. Once the turbo has hit the desired amount of boost, a second fan will shoot all of the air into the engine's cylinders forcing more air into the motor. But what is boost? Boost is a term used to describe the amount of air pressure that will be released into the motor from the turbo. Essentially the more boost your turbocharger is producing, the more air being forced into the engine, the faster you will go.
But how do you control the amount of boost your car is producing? The best way to go about controlling the amount of boost is with the best electronic boost controller of course! When you purchase a vehicle with a turbo on it, or you add a turbo to your naturally aspirated motor, the turbo will self regulate the amount of boost it can produce with something called a wastegate. The wastegate opens and closes to release pressure based on the amount of boost that has been set. Usually, from the factory, it is a much lower level than what the engine and turbo can handle. To increase the amount of boost is where a boost controller comes into play. The electronic boost controller overrides the stock turbo boost signal allowing the turbo to produce higher boost levels creating more horsepower.
Is it safe to increase boost levels?
This depends on your current build/car. Some cars from the factory come with lots of playroom to increase boost where others have little. Check forums related to your vehicle such as the NicoClub for Nissan and Infiniti performance and ls1tech for ls enthusiasts to see what boost levels other owners are running with their cars and to get recommendations
Will increasing boost level void warranty?
In most cases, yes. This also depends on the warranty provided by the manufacturer. Automakers commonly overbuild their cars and then tone them down for production. They do this to decrease the likelihood of things breaking so they can get through the warranty period error-free.
How can I increase boost without blowing up my motor?
One of the most common ways to increase boost safely is with an intercooler. When the exhaust gases are sucked into the turbo, the air is very hot. An intercooler takes the air and runs it through a series of cooling fins dropping the temperature of the air before it enters the turbo. When air gets colder, the density increase allowing more air to be safely pushed into the motor, significantly reducing the risk of detonation. Another way to increase boost is with a Methanol injection system. Methanol injection, also known as meth injection, uses a mix of water and methanol that is kept in a reservoir in your car. Then depending on how you have the system adjust a pump with shoot the mixture into the intake manifold drastically cooling the air temperature of the air. For the mixture, you can either use winter windshield washer fluid or specifically designed fluid. Unfortunately, windshield washer fluid contains a lower concentration of methanol not allowing for the ideal 50 water to 50 meth mixture but is much more commonly found and a lot cheaper.
Electronic boost controllers vs manual boost controllers:
When searching for a boost controller, manual boost controller can be a very enticing offer. Manual controllers are priced significantly lower when compared to an electronic one. The major downsides to a manual controller are convenience and accuracy. An electric boost controller allows you to quickly change boost levels from inside the car with precision accuracy. Where with a manual controller, you will have to pop the hood to adjust boost levels. You will also have to keep an eye on it to ensure the adjustment is still correct as some manual controllers adjustments can slip over time.
What is boost scramble?
Boost scramble is a feature that allows you to increase boost levels for a short period of time. This is used for when you need that extra punch from your car. For example, you are passing someone, and you usually run 10 PSI of boost. Before you go to overtake them, you can enable boost scramble to bump up your current boost level to a predefined setting. This will increase your boost to, for example, 15PSI for 1 minute. This allows you to keep your boost levels safe until you want to push your vehicle to its limits.
What is Gear-based Mapping?
Gear based mapping is a great feature to have if you want to be able to tune your car to perfection. What gear based mapping allows you to do is set a different boost level for every gear of your vehicle. It does require some extra parts to instal but is well worth it.
AEM Electronics Tru-BoostX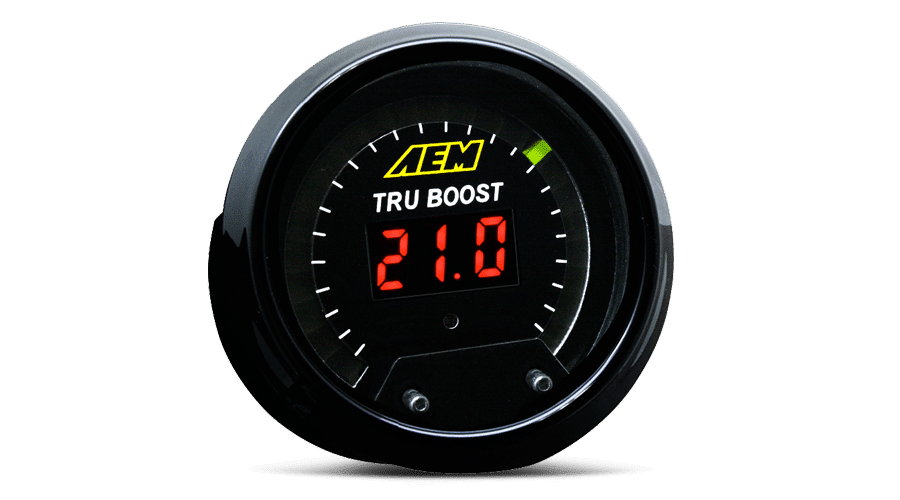 First up on our list is the AEM Tru-BoostX. AEM has been manufacturing car electronics for over 30 years and was the worlds first company to create a stand-alone programmable engine management system, that uses a factory wiring harness. Since AEM is no stranger to car electronics, their Tru-BoostX is their premier boost controller. The Tru-BoostX is packed with features such as having two programmable buttons on the gauge, allowing the driver to change between two boost levels on the fly when extra horsepower is needed. Another great feature is the controller has a built-in fail-safe to alert you if the boost control solenoid is shorted or disconnected, so you always know your controller is functioning correctly. It will also shut the controller off if it detects over boost and not reactive until you manually allow it. You also have the ability to datalog with the Tru-BoostX to pull information such as boost pressure, peak boost, boost target, boost scramble duty and much more.
Overall the AEM Tru-BoostX is a great boost controller for the money. Packed full of features, and with its rounded design allows to be installed in a gauge pod its an excellent choice for your turbo car.
Greddy Electronic Boost Controller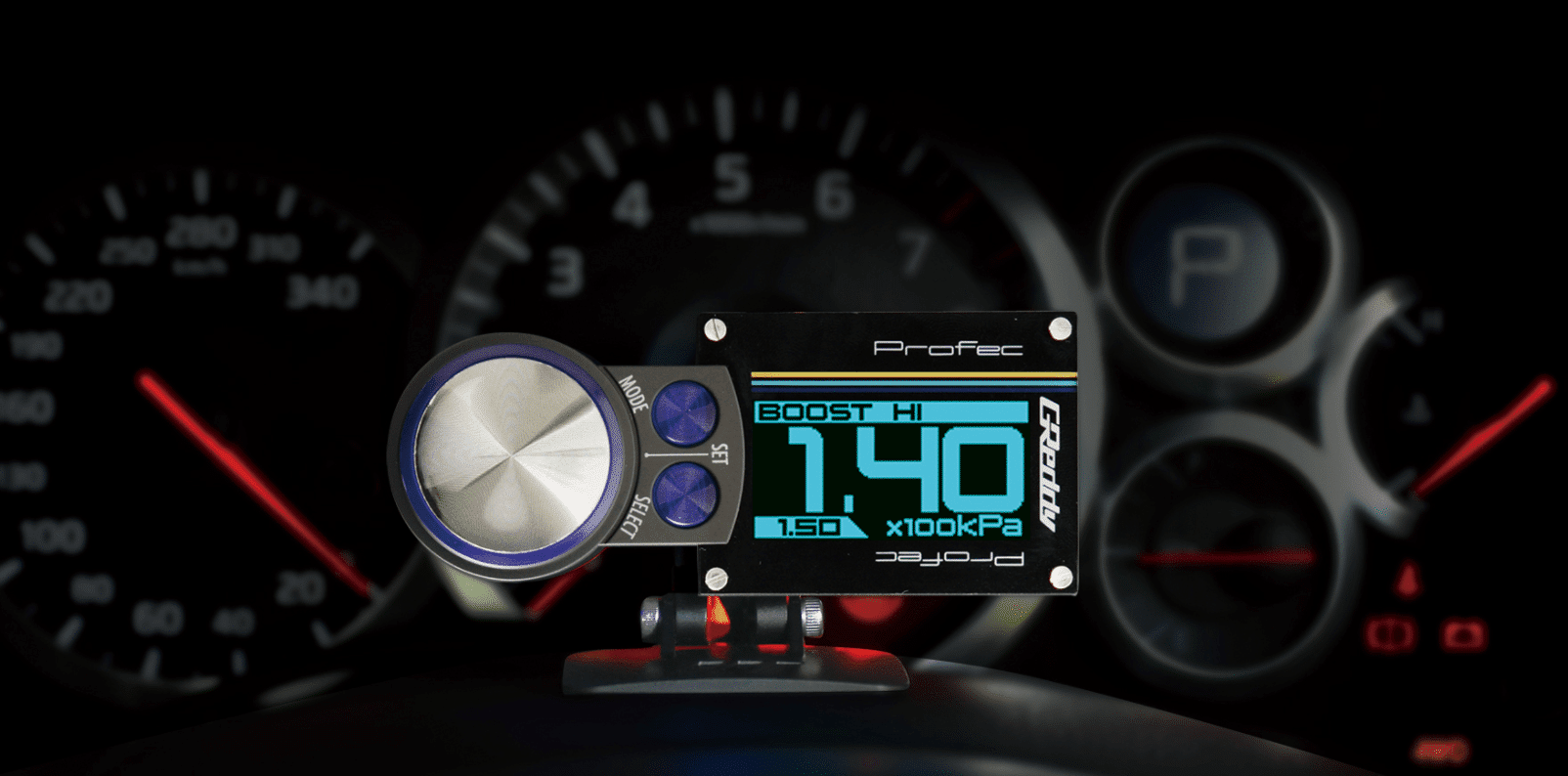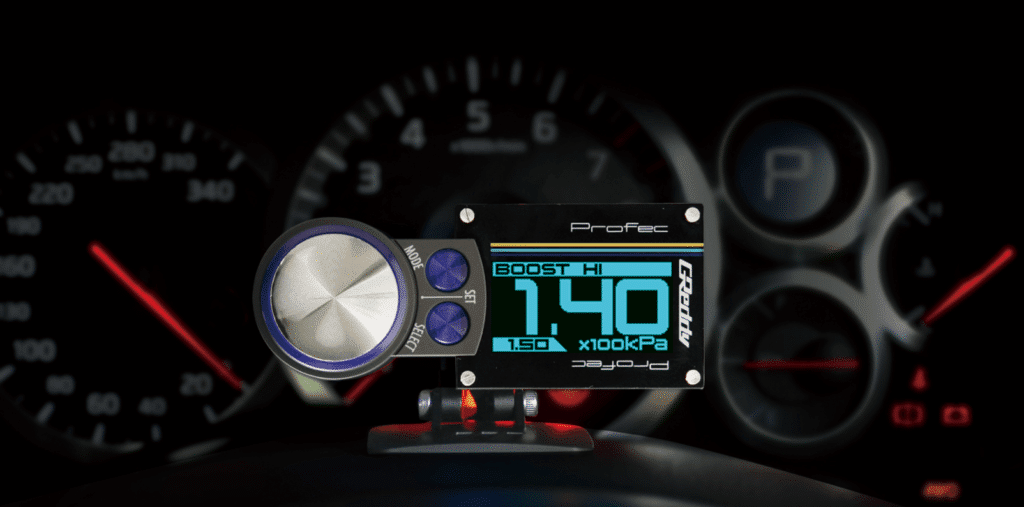 If you are looking for an electronic boost controller with a high degree of customizability, look no further than the Greddy Profec. What allows the Profec to step ahead of other boost controllers on the market is with its OLED Display. Because of the Profec display, it will enable the driver to adjust a plethora of settings with ease such as scramble boost presets, last-boost display, peak-hold recall, warning alert, safety limiter and much more. The unit is also compact, allowing for a variety of possible installation spots. Greddy has also designed the controller to be very easy to install only requiring one small wiring harness to be routed through the firewall. The Prodec newly designed three-port solenoid is much more compact than previous iterations and is controlled by a much faster processor resulting in quicker boost response, and more accurate boost control all while being hidden away in the engine bay. The kit comes with everything you need to get up and running included is the boost controller, Vacuum hose, pressure sensor, boost solenoid, adjustable mounting base and all the hardware you need for the install.
To conclude, the Greddy Profec is one of the best boost controllers in its price range, allowing the novice to operate while the experienced can tune and tinker to their desires.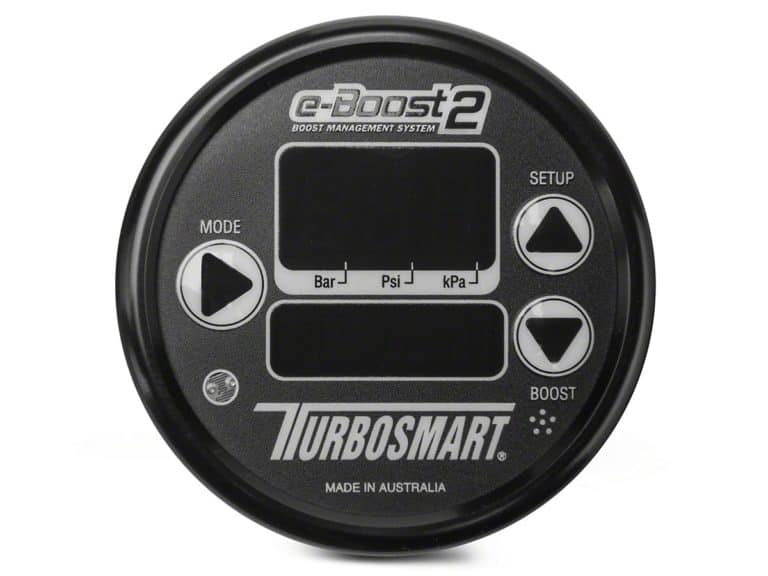 Last but not least, we have the Turbosmart e-Boost2. Although the e-Boost 2 is the most expensive electronic boost controller on our list, it is for good reasons with Turbosmart winning the global press award at SEMA for the e-Boost 2. Established in 1997, Turbosmarts quickly grew from a small garage in Australia to a massive global manufacturer of a variety of turbo accessories. Turbosmart has packed a variety of features into the e-Boost 2 such as the ability to pre-program up to six boost levels, Aux output allowing you to connect to a nitrous or methanol injection system for fine-tuning with support up to 60PSI. In the box, you get everything you need to get your boost controller installed, Wiring Loom, Solenoid, Hoses and Fitting Kit. Most users reported being able to install the controller in one-two hours. With the new and improved seconded generation of the boost series, the controller has a completely redesigned software allowing the average user to adjust settings easily while the experienced can tune to perfection. A significant feature is Turbosmarts exclusive adjustable gate pressure. This improves turbo response up to 1000 RPM'S earlier meaning you can increase engine response without raising boost levels
The e-Boost 2 by Turbosmart is a great electronic boost controller that covers the needs of the novice to the pros. It's packed full of features and is available it two pod diameters to ensure fitment in all vehicles.