If you own a Hyundai Genesis Coupe, you know you have a special car. This is the car that put Hyundai on the map for true car enthusiasts. This front-engine, rear-wheel-drive sports coupe is an authentic driver's car that generates an impressive 348 horsepower with its 3.8 liter V6. With taut, aggressive styling, and excellent performance value, it has a lot to offer. And it has the potential to offer even more.
With that kind of potent standard performance on tap, you may want to consider harnessing more of it with the right performance upgrades. Tuners—the mechanical experts that take vehicle performance to the next level—know that a key area of any performance upgrade is with suspension. And in terms of suspension, the best place to start is with a set of the best Genesis Coupe coilovers for your budget.
If you are new to coilovers or are looking to go more in depth check out our coilover guide here
Why everybody wants coilovers
Coilovers are more than just springs and shocks. Distinct from regular suspension design, coilovers are coil springs mounted directly over the shock absorber. They function as a single unit instead of two separate mechanisms. Coilover systems tend to be priced higher than ordinary suspension components, but the cost is more than offset by the performance gains.
Coilover systems allow you to tune your car the way you want it to perform, and make it look the way you want it to look. Among other things, coilovers allow you to adjust your car's ride height, change the wheel camber angle, and modify the damping compression rate. Lowering ride height makes the Genesis Coupe look exceptionally attractive and sporty while significantly improving its overall performance and handling.
A set of Genesis Coupe coilovers gives you the ability to adjust Ride height. Dependant on the set of coilovers ride height is adjustable by up to four inches lower than factory settings without the added complexity or cost of extra electronics or hydraulics. You can easily make manual adjustments with a simple wrench.
Coilovers can be set for increased firmness to improve cornering performance or relaxed for comfort for long drives with friends. Adjustable camber plates let you set the wheel angle to your desired alignment specifications. Different heights can be dialed in at each individual wheel, which is especially beneficial to racing performance.
Lowering the ride height enhances vehicle performance by lowering the center of gravity. Coilovers help provide more even weight distribution, which improves cornering, braking, and acceleration. Optimized loading gives the tires better traction.
Dialing in more stiffness reduces body roll and improves suspension geometry. The reduced wheel travel can help the vehicle more quickly regain control and grip, and smooth out the ride over rough roads.
Choosing the right coilovers
Coilovers need exceptional strength and rigidity to withstand long-term heavy-duty use. Cheaper products are more prone to bending pistons or bottoming out with jolts or bounces ("jounces") over sharp bumps. You should choose coilover kits that are designed for ease of installation and use.
Consider how you plan to use your car
The intended use of your car will help you to decide on the optimum type of top mount for your needs. The top mount is the component of the coilover that bolts to the top of the wheel well. There are two main types of top mounts: rubber mounts and pillow ball mounts.
Rubber mounts are commonly used because they provide a more compliant ride, but if you want to maximize your car's handling responsiveness and racing performance, pillow ball mounts are the way to go.
ISC Suspension N1 Coilovers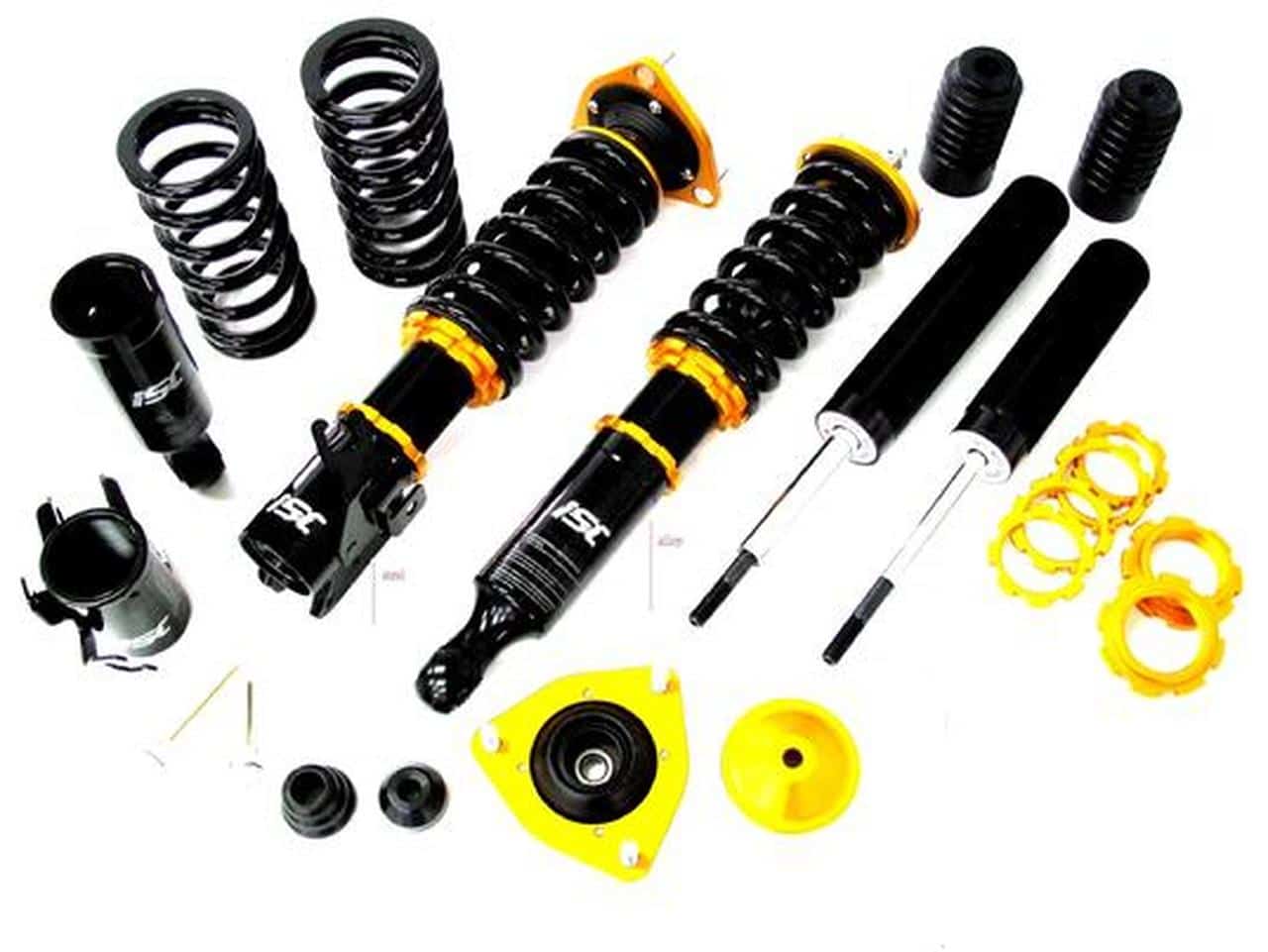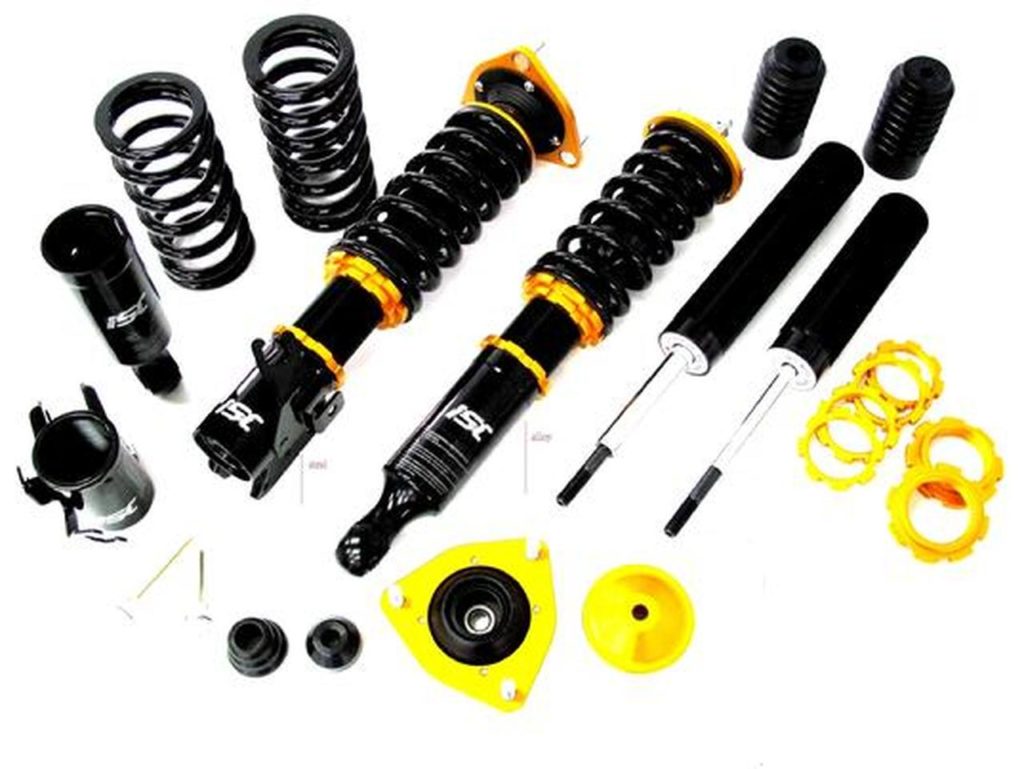 ISC has been providing North Americans with premium grade suspension systems for over a decade, and even longer in Asia and Australia. The company defines itself through top grade quality control, and their coilover systems continue to be a solid choice for car enthusiasts.
The N1 is their premier genesis coupe coilovers. Optimized for enhanced performance on both street and track, these coilovers are perfect for those looking for performance, adjustability, and excellent build quality. Best of all, these kits are among the most affordable on the market.
As well as having an adjustable camber plate, N1 coilovers use pillow ball and thrust bearing technology, and are made with high quality T6061 aluminum alloy to reduce weight without compromising strength.
ISC coilovers feature monotube cylinder design, springs made from high quality SAE9254 steel, and 32-way piston damping. Ride height is adjustable up to three inches. Spring preload is separate from ride height, meaning the ride quality stays the same no matter how low you go.
Pillow ball mounts maximize steering responsiveness while thrust bearings help eliminate "spring bind", a pinging sound common to other coilovers that is caused by restricted movement of the spring while the car turns under load. An adjustable camber plate allows you to set your desired alignment for street or track, or clear your fenders to run different dimensions of wheels and tires.
The ISC N1 is one of the best Genesis Coupe coilovers options for drivers on a budget as it provides great value for your money.
ARK DT-P / ST-P Coilover System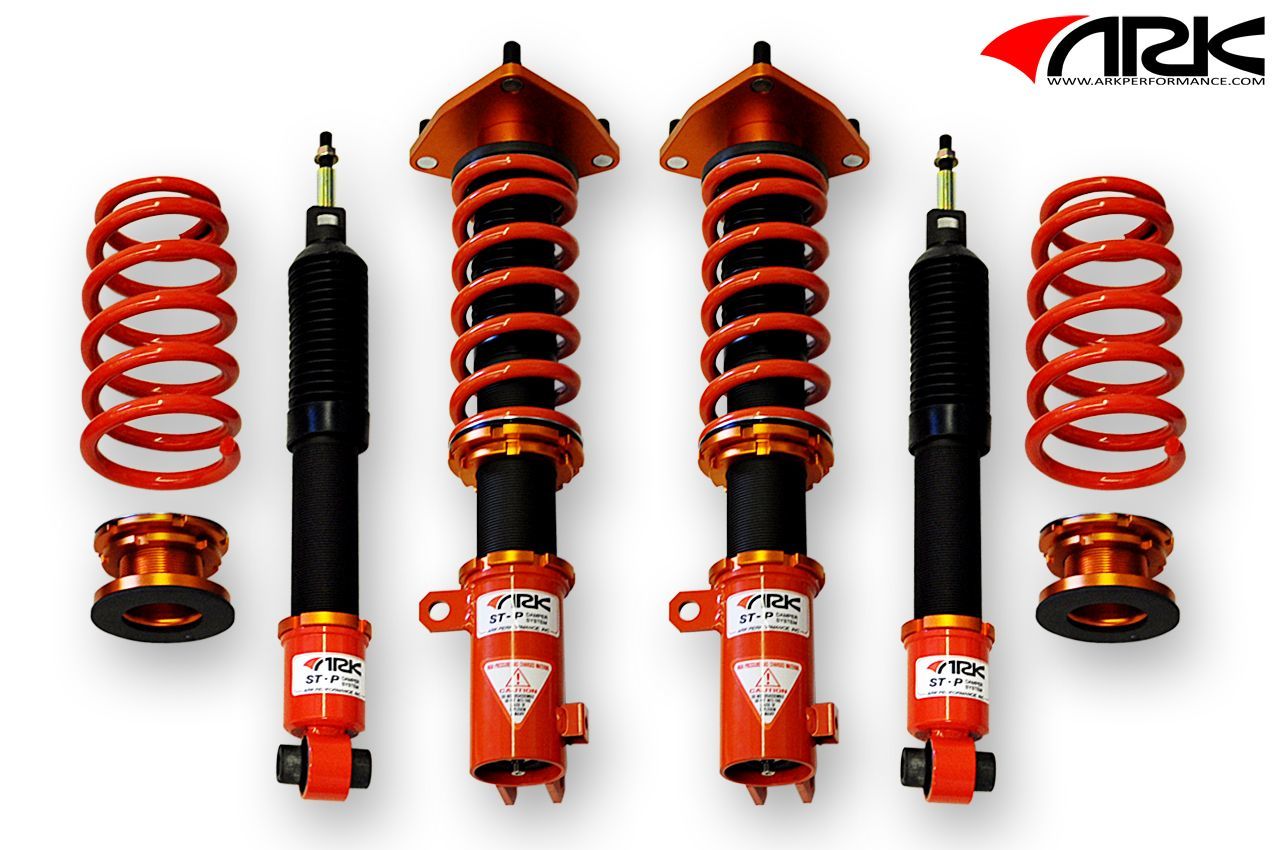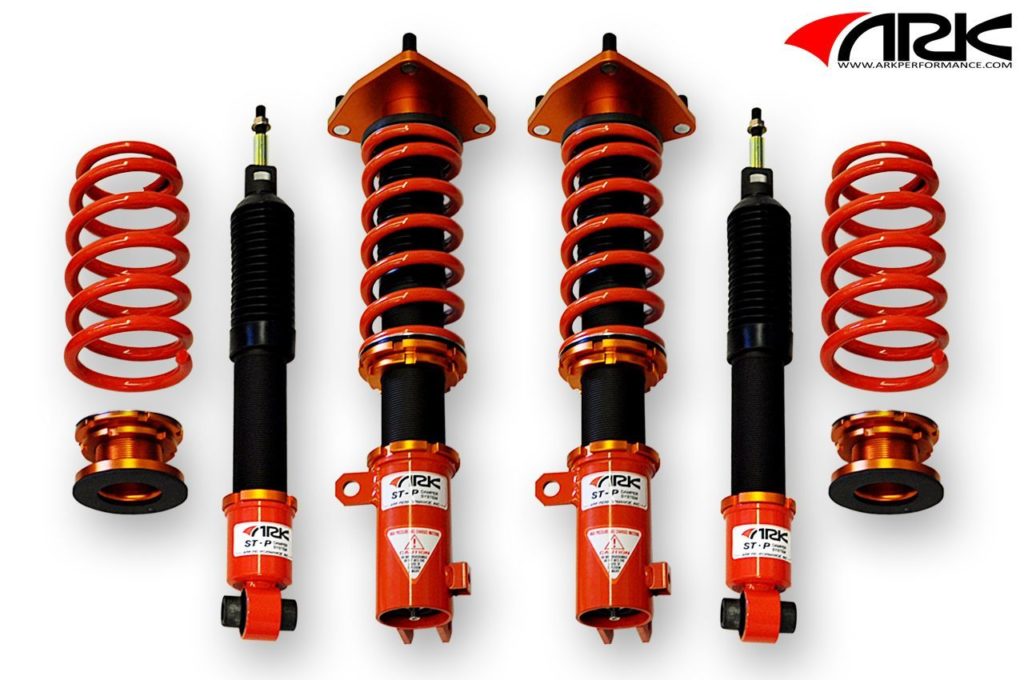 ARK Performance Inc., headquartered in the U.S., has been making high-end quality coilovers since 2004. Manufactured in South Korea, the products they sell are exceptionally reliable and proven for all types of professional motorsports. Buyers and installers of ARK performance Coilovers consistently rave about the company's superior customer experience.
The ARK DT-P and ST-P genesis coupe coilovers are mid-range in price and offer an optimum balance of value and performance. ARK suspension systems are engineered based on years of development in their ARK Racing motorsports division and Formula Drift experience.
ARK coilover systems use an advanced monotube design that allows for finer damping, better heat dissipation, and reduced cylinder aeration and cavitation compared with conventional twin-tube designs. Components are made from 6061 billet aluminum, making the systems lightweight, durable, and rust resistant. The zinc-electroplated shock body is highly resistant to corrosion.
Both ARK DT and ST coilover systems use an all bolt-on design, have 16 levels of damping adjustment and can be set for street comfort or performance stiffness. Both models also use responsive and quiet monotube shocks, are fully height adjustable, and have beefy spring rates of 12kg front and 10kg rear.
The ARK DT-P model is designed with a focus on professional racing performance. The DT-P offers extremely high performance and value. This system features a pillow ball top mount—a spherical bearing that sharply improves steering responsiveness.
Pillow ball mounts will transmit more vibration and noise into the cabin and produce a harsher ride on the street. Unlike conventional rubber bushings, solid pillow ball mounts will not compress to absorb cornering forces, translating to a far more precise feel from the suspension and steering. This is a major performance advantage for track driving, but less desirable for daily driving on the street.
The ST-P model is designed to find the optimum balance between performance and comfort. Engineered more toward street driving, these coilover systems use durable rubber mounts to soak up vibration and noise. This results in a quieter cabin without sacrificing steering quality.
While still stiffer than the stock setup, rubber mounts deliver a more comfortable and compliant ride than pillow ball mounts. The increased deflection will have an effect on handling precision, but this is rarely a problem for normal street driving. However, if you plan to use your car heavily for recreational driving, the more rigid pillow ball coilover type may be preferred.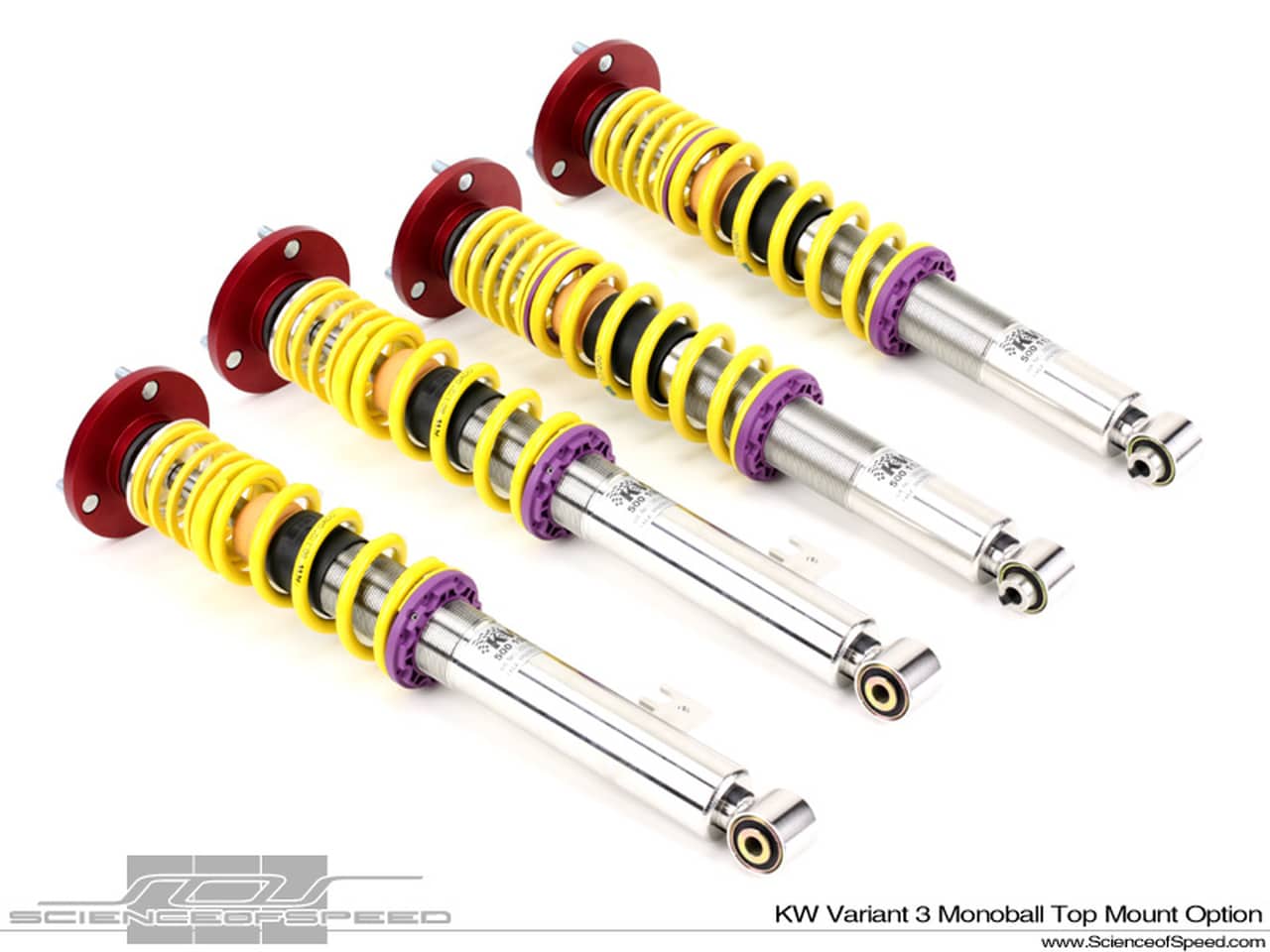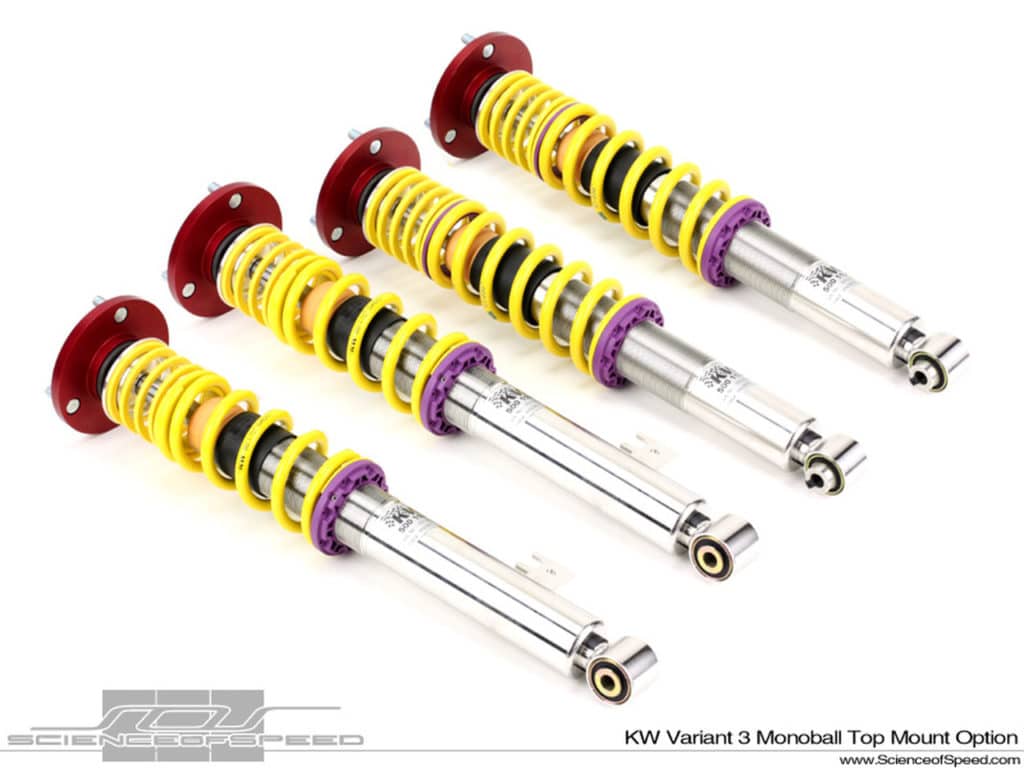 The KW Variant 3 is highly valued by performance tuning drivers who insist on the best equipment for their vehicles. Steering precision, directional stability, traction, and handling are maximized so that you can safely drive your car to the max. Their trademarked yellow and purple product color scheme makes them instantly recognizable to knowledgeable car enthusiasts.
KW's Patented two-stage valve system technology allows you to adjust the compression damping independently of the rebound damping, giving you a notable advantage over other coilover systems. TVR-A rebound stage and TVC-A compression stage damping technology provides a big improvement in terms of ride comfort without diminishing high-speed stability. With 16 levels of adjustability, you can customize the handling between body control and comfort.
To ensure longevity KW uses its exclusive corrosion resistance technology "INOX" anti-oxidation that makes its coilovers highly resistant to corrosion. Key components of KW coilovers are made of a polyamide composite material. This material inhibits the formation of rust in places prone to corrosion on other coilover systems.
Considered to be the best genesis coupe coilovers on the market if you need a no compromise set of coilovers look no further than the KW variant 3