Car enthusiasts all have their own taste. Some of them want raw power delivered through a muscle car built to tear up the drag strips while others want precision handling so they can fly through the hilly back roads as if it were the set of The Italian Job. If you are or aspire to be the latter and own a Nissan 350z or an Infiniti G35, read on!
There are lots of factors influencing the handling capabilities of your car. The first thing you want to do is to make sure that you are using the right platform to build a precision handling sports car. One of the best is the Nissan 350z and its larger cousin, the Infiniti G35. Both have a very balanced chassis which is a great starting point for a project car built for the track or the streets. Many parts are interchangeable on the two giving you added flexibility. The availability of aftermarket parts is a crucial factor and the twins mentioned above outshine most other cars of their category in this aspect.
So, once you have the 350z or G35 ready to be worked on, there are multiple ways to achieve an excellent handling profile. Factors affecting the handling are weight balance, wheels and tires setup, suspension geometry, center of gravity and many more. However, the most relevant part that determines most of how your car handles would be your struts and springs. The two combined hold most of the weight of the car, determine its ride height and also affect the firmness of the suspension, all of which eventually affect the handling of the car. This is why, if you are looking to enhance the handling capabilities of your car the best upgrade to start with is set of 350z / G35 coilovers.
So, why coilovers? After all, coilovers are just a single assembly of high-performance struts and springs. It can be argued that you can swap the struts and springs separately and save some of your money while still upgrading the handling. While that is not wrong, this is one of those cases where the combined effect as a unit comes ahead as the sum of two separate pieces put together. Coilovers also come with a lot more flexibility and adjustment options compared to plain upgraded springs and shocks.
High-quality G35 / 350Z coilovers with the correct spring rate and stiffness would result in a massive improvement to your car's handling. The ride height would decrease causing the center of gravity being lowered and hence improving your handling. Coilovers also give you the flexibility to change your ride height to your liking without swapping any equipment. Stiffer suspension helps maintain the chassis composure by reducing body roll on those tight turns and gives you the confidence behind the wheel you never had before.
So now that you have decided that coilovers are the mod for you, what kind and what brands should you get? A quick internet search yields hundreds of different brands and models with all claiming the best performance after you spend big money on them. To help you out, we have taken our time and gone through many different kinds and narrowed down the ones offering the best value for money based on your budget.
If by the end of this you are still hungry for more 350Z / G35 performance check out our article here to learn how to squeeze every drop of power out of your car
ISR Performance PRO Coilovers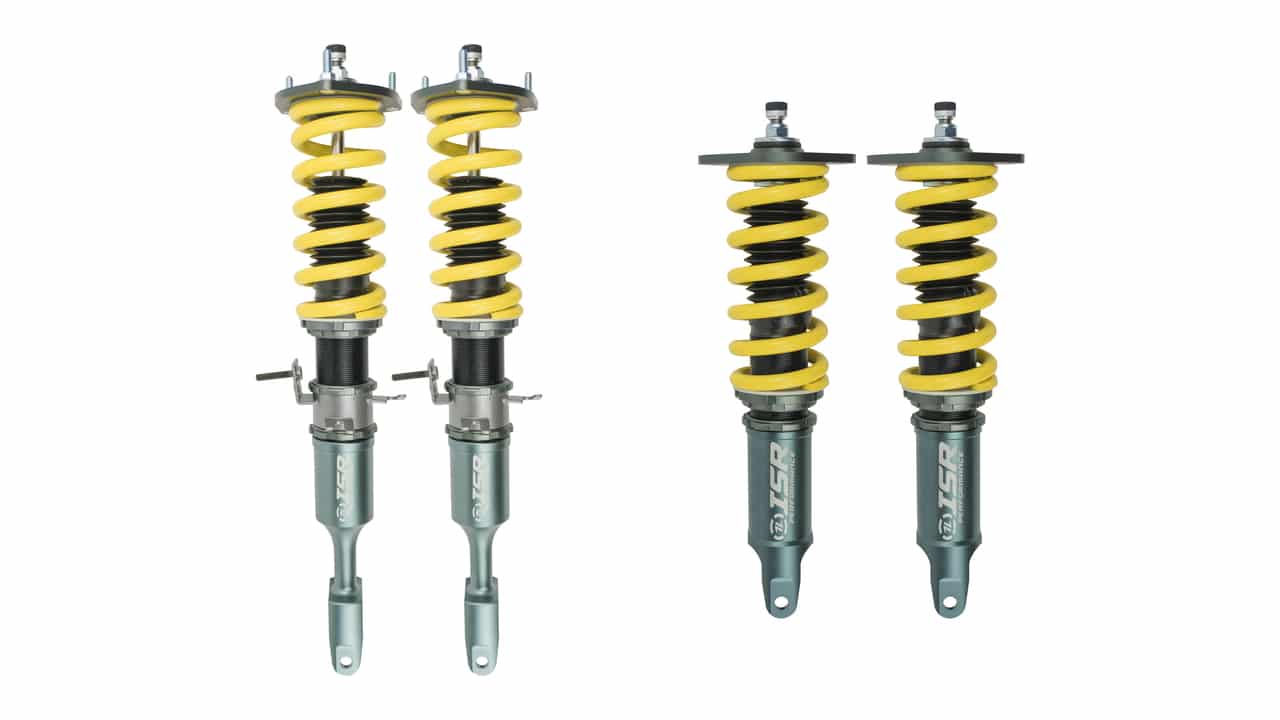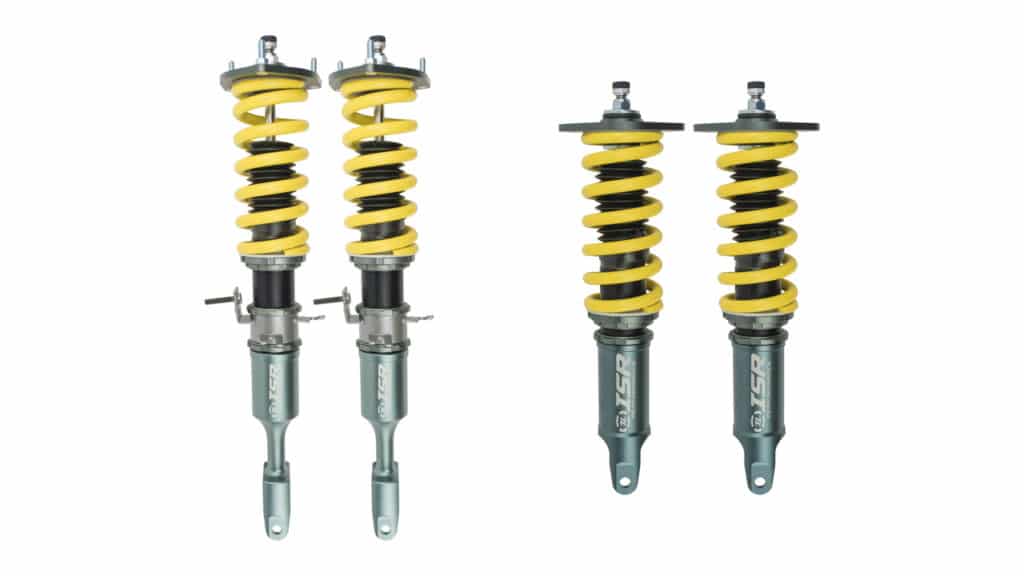 If this is your first time upgrading your suspension or if your budget is south of a thousand dollars, this ISR performance Pro Coilover kit is the perfect start for you.
After years of research and development, ISR performance has come up with the PRO series coilovers which are a step ahead of their basic coilover kit offered previously.
Able to fit both the 350Z and G35 alike, these monotube designed coilovers provide 32-way adjustability giving you a wide variety of adjustments allowing you to set up your car exactly how you want it. Whether it be for track racing, drifting, low riding show car or just spirited street driving. Since these are not meant for hard core racing, they even retain a good amount of comfort which is great if the car is your daily driver.
The spring rate of 12K means these are the perfect G35 coilovers as they can carry relatively heavier cars with ease. The coilovers utilize a high-quality Japanese bearing ensuring perfect performance and long life. The precision-built front pillow ball upper camber mounts ensure a perfect fit and even distribution of forces.
The package includes two front and two rear coilovers, a spanner wrench set and ten top hat lock nuts. If you know your way around it could be a medium difficulty DIY project to be done on a Sunday morning to get the set installed in your car.
While these coilovers do great on a track day or street use, be advised that heavy-duty track usage is not what these are built to take so if that's what you are looking for, check out the next entries.
Fortune Auto 500 Series Coilovers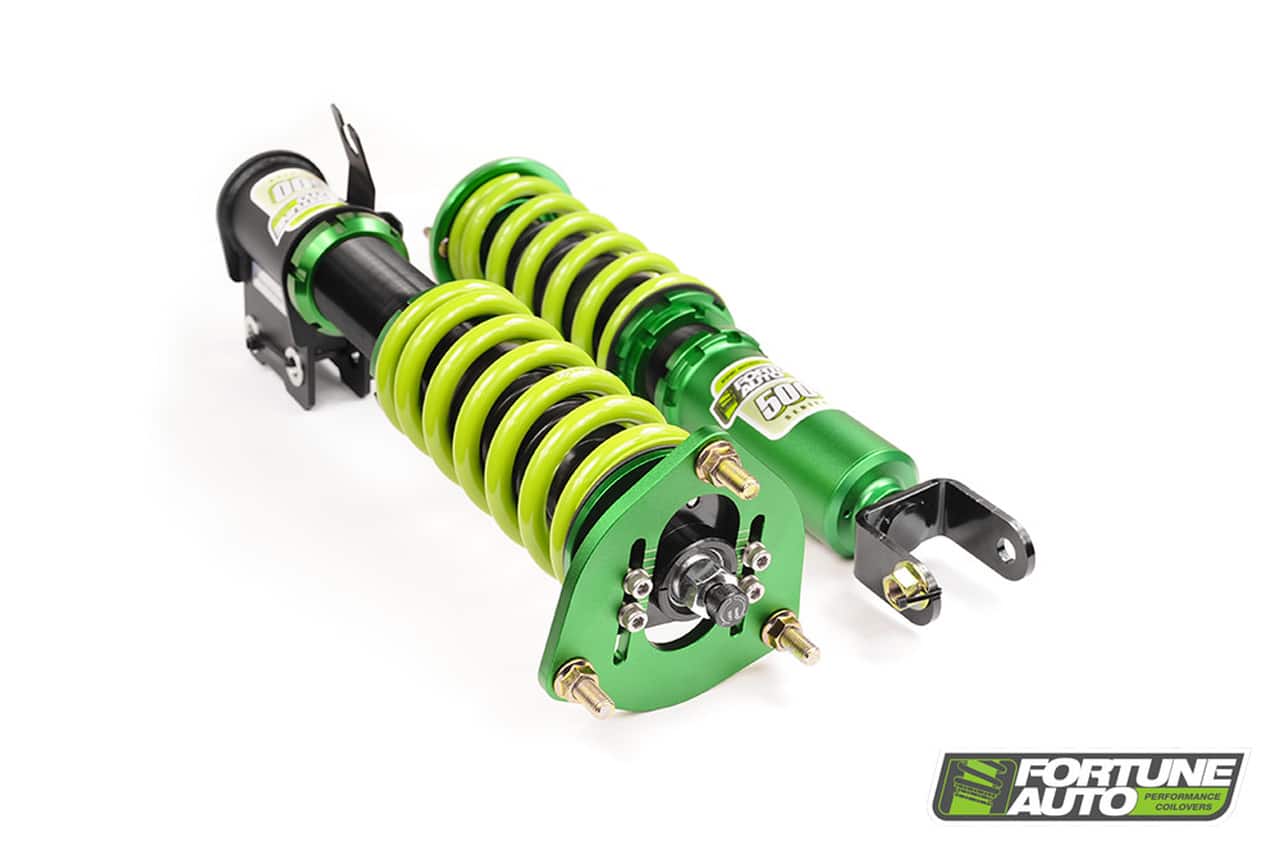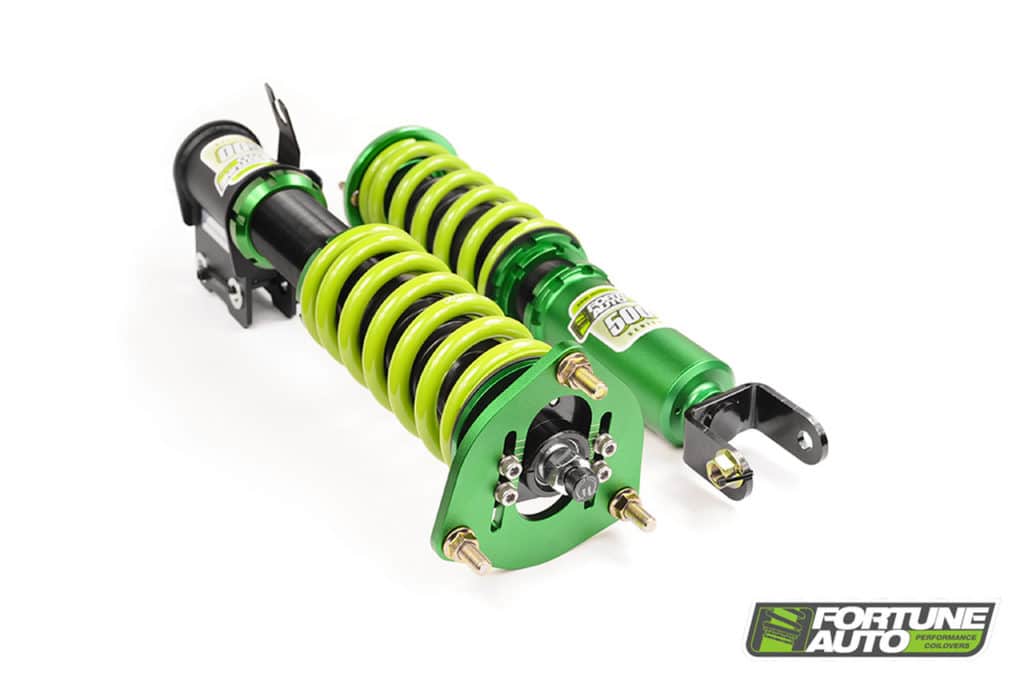 For the petrol heads who are willing to splurge a little bit more for a higher quality 350Z coilover, the Fortune Auto 500 series coilovers are the best pick. This kit is hand-built to order and can be customized as per your liking or requirement as 2-way or 3-way modularity.
It uses FA synthetic shock oil with flow digressive piston technology ensuring a perfect response from the struts. What that means is that under low-speed operations, the rebound is quick and the suspension feels stiff so that you can enjoy the input from every roll, dive, and squat on those quick sharp turns. However, at fast stroke speeds like bumps on highways, the rebound is a bit slower, making the ride supple and hence easier to control. This can be especially useful if you drag race or drive at highway speeds for longer periods.
The dampers are 24-way adjustable giving you full freedom to fine-tune to your liking. The mounts and camber plates are made of high strength T6 6061 aluminum which means you don't have to worry about rust. One of the best things about the 500 series coilovers is that these are rebuildable and revalveable at Fortune Auto's facility. This could come in handy if you want to upgrade or refurbish your coilovers at any time without spending a hefty amount especially after the warranty is out.
The whole assembly is dyno tested under heavy loads and a 5 years limited manufacturer's warranty is offered. However, two things to keep in mind before buying decision is made. Since these 350Z/ G35 coilovers are built to order, it takes 3 to 4 weeks to get them delivered so you need to order well in advance. Secondly, these are meant for frequent track day runs but not full-on heavy-duty racing. However, the next two bad boys can handle that all too well!
BC Racing Coilovers ER Series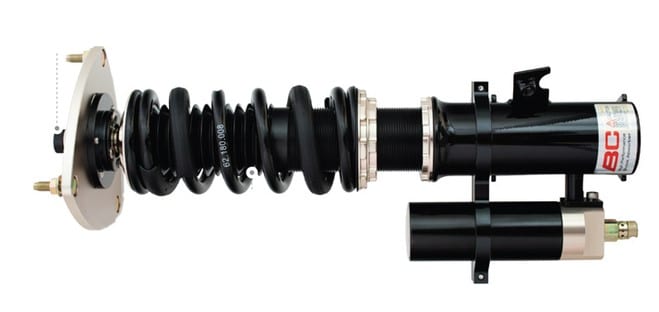 Looking for the next level 350Z or G35 coilovers? BC racing's most advanced coilover yet, the ER series is what you need! These coilovers have a lot to offer. For a start, these have an external oil reservoir which increases the total quantity of oil by a significant amount. More oil means you can push your car a lot harder all while getting peak performance on these coilovers before the oil overheats and reduces the rebound and compression capacity. The oil in itself is a very high-quality one ensuring long life.
The external reservoir also houses a secondary piston which allows you to separately adjust the rebound and compression characteristic up to 30-ways using a dial. Why do you need that? Well, while coming into a corner with hard braking, you want the compression on the front coilovers to be quick so that the weight of the car is transferred to the front as that is where the most grip is during braking. However, when you accelerate out, you don't want the rebound at the front to be so quick as you might lose traction at the front wheels and understeer if the weight shifts back so quickly. This is where separate adjustment of rebound and compression gives you the ability to fine-tune your output as per your dampening needs. No wonder these coilovers are a perfect choice for prolonged track usage.
The lower spring platform of the ER series is also adjustable, giving you the freedom to adjust corner weighting and use both wheels on each axle to take an equal load and use maximum available grip to enhance your lap time and driving experience. Optional assister springs can be ordered to allow wheel droop to be dialed into the unit to suit specific needs.
Ride height is adjustable through winding up or down the coilover bottom mount. This means that the tension in your spring or strut is left untouched so that all of their capacity can be utilized in performance while driving rather than determining ride height. This is a big advantage of the ER series!
An optional extra that you should invest in if you intend to frequently change the required output from the coilovers is damper adjusting extenders. This will save you a lot of time as you will not have to go through the trouble of removing the whole parcel shelf. You can also order your coilovers with a pillow ball top mount instead of hardened BC racing rubber. This would remove the little flex that a rubber top mount has and will give an even hardcore track racing performance. Go for this if you don't intend to use that car on the streets a lot.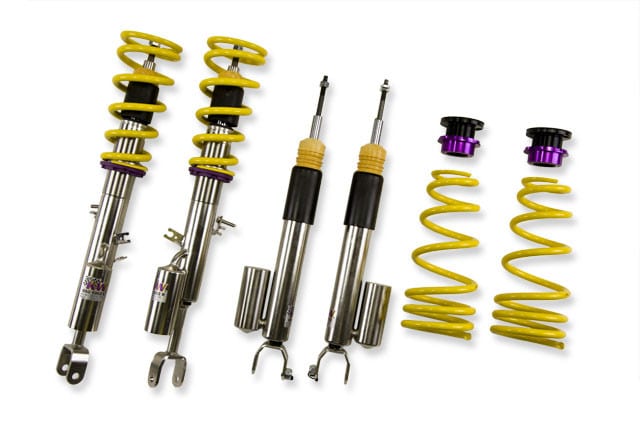 Finally, meet the unicorn of the 350z coilovers world. Only that it exists. If you were asking yourself what are the best coilovers for 350z, the KW Variant 3 is the highest quality coilovers money can buy. Where do we begin explaining why? Well for a start, It's got a crazy amount of adjustments available. You can choose the ride height of the car by dropping it steplessly anywhere between 10mm to 85mm. That is thanks to friction-optimized and dirt insensitive trapezoidal thread giving you a wide range of options in terms of looks and functionality. The design of the thread makes it capable of taking on immense loads but is still easy to adjust when you want to alter the ride height.
A 16-way adjustable rebound characteristic gives you the flexibility you need by reducing sudden weight transfers during heavy acceleration or exiting of a corner. 12-way adjustable compression travel helps you fine-tune the output you need under heavy braking or while turning into a corner. This deep level of tuning helps you shave off a lot from your lap time especially if you are on a slow speed track with lots of turns. But you don't have to be on a track to fully appreciate these beauties. They can be equally as much fun on your average back road driving.
The KW Variant 3 350z coilovers also boast not one but two external reservoirs! One for additional oil that adds cooling capacity and the other for low-pressure gas that helps move the oil more effectively. Couple that with an aluminum top uniball mount and you get the sharpest response possible from the dampers, adding to your driving experience.
The structure of the Variant 3 is as strong as it can get. Inox-line stainless steel is used to manufacture the variant 3 and wear-resistant polyamide composite with stainless steel insert is used to make the spring seat, ensuring rustproofing for years and hence offering long term durability.
The coilovers also go through extensive testing not only in the famous in-house laboratories of KW but also in real-life situations up to the level of F1 racing standards so you can rest assured you are getting the best possible experience out of them.
In short, the KW series should be commissioned if you plan to do heavy-duty racing, frequent track days or if you participate in high-stress autocross races in your 350z or G35. The freedom of tuning offered by these coilovers reaches almost every single moving part of the coilovers which is why you will not regret this top-end purchase decision.