Nissan launched the 370Z back in 2009 as a direct replacement for the 350Z. Originally designed to be a comfortable grand tourer, the 370Z is a few modifications away from being a true sportscar. The 3.7-liter V6 has more than enough power for decent straight-line speed, but the 370Z is let down by its relatively soft suspension. While there's nothing wrong with soft and comfortable suspension for the road, you quickly notice a good amount of body roll and nervousness in the chassis if you decide to push the 370Z near its limits such as in high-speed cornering.
Luckily, Coilovers are the best suspension upgrade you can do to any car. Although over a dozen different companies are producing 370z coilovers as well as G37 coilovers and hundreds of different products, today we'll go over the three most popular options to suit everyone's budget. If you are unfamiliar with coilovers check out our beginner's guide here. 
BC Racing BR Series Coilovers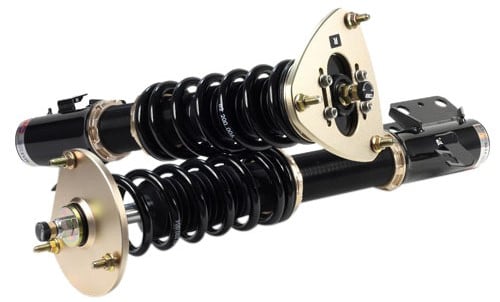 If you're looking for budget coilovers that don't sacrifice quality and performance in the process, look no further. These affordable 370z coilovers / G37 coilovers which are built by the guys over at BC Racing, the very same company which works with some of the best drifters in the industry, including Chelsea DeNofa and three-time Formula Drift champion, as well as 370Z pilot, Chris Forsberg.
The BR Series is perfectly suited to street driving and the occasional track day. They've got adjustment knobs for both compression and rebound, so you can adjust your setup until you've found the right setting. Naturally, they're height-adjustable as well, so you can go as low as you want (or as low as the track/street allows you to run without scraping your bumpers).
The coilovers use a mono-tube design, so they're both light and durable. BC also offers front and rear camber plates, so getting the alignment perfect is a walk in the park. The coilovers come with a one year warranty, and they're fully rebuildable if you ever want to make them feel as good as new a few years down the line.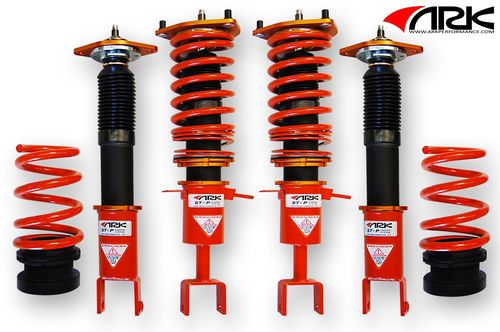 Ark is a big name in the AEM coilover game, and for good reason. They're one of the very best, and their mid-level coilovers are probably their most popular products. Coming in at roughly $1500, they're definitely a costly investment, but they're more than worth it if you're serious about upgrading your suspension.
Although they're fundamentally built for the track, you can use these coilovers for street driving since they're compliant and plush. They're obviously going to be harsher than an OEM setup, but for something with so much performance, you can genuinely use these on your daily driver and not worry about having a jarring ride.
That being said, ARK offers two coilovers options which are extremely similar apart from one reason, which we'll get to in a bit. Called the ST-P and the DT-P respectively, both of these coilovers offer 16-level dampening adjustment, a mono-tube shock design to reduce weight and increase stiffness, and spring rates of 12k/11k.
The difference between the two is in the mounts. The ST-P uses rubber top mounts which are better suited for street driving since they absorb more of the incoming vibrations and shocks from the road. The DT-P uses pillow ball top mounts which offer better camber adjustment at the cost of a slightly harsher ride. The ST-P is roughly $100 cheaper than the DT-P, but it honestly comes down to what you want out of your 370z coilovers / G37 coilovers setup. In most cases, you won't even notice a difference, but if you're tracking the car often we would recommend the DT-P as they're marginally better.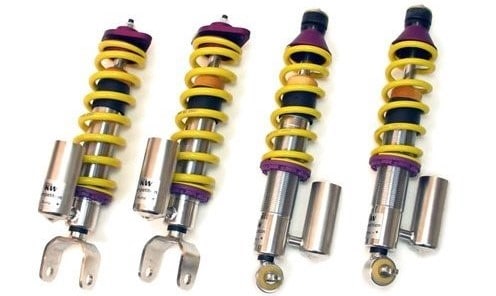 And finally, we arrive at the most expensive coilover option on this list, but also the most impressive one. KW has been building suspension components for longer than anyone else, so it's fair to say they know a thing or two when it comes to coilovers. The V3 will set you back a hefty ~$2100, but they're worth every penny. As soon as you get out on the track or a decent stretch of tarmac, you realize why these coilovers are as costly as they are.
KW has spent an enormous amount of time researching and developing the V3, and it shows as soon as you push the car even remotely hard. The V3 comes with individually adjustable rebound and compression. This allows for individual setups based on preference and use case scenarios.
KW has a patented two-stage valve system that allows for rebound damping adjustment and compression adjustment in the low-speed range. You can fine-tune how the coilovers behave internally under slower movements when you're just cruising along and not eating up all of the travel quickly. The high-speed range is fixed since it controls driving safety.
Other features include virtually bulletproof reliability and comprehensive documentation, making them both easy to install and use. Since KW is a German brand, the V3 is approved by the German Technical Control Board (TUV). Anyone familiar with German laws and regulations knows how strict they are when it comes to AEM components. The fact that the V3 complies with every regulation in the book should tell you everything you need to know.
KW spared no expense in designing and building the V3. They're the ultimate 370Z coilovers and G37 coilovers. For anyone looking for the best setup on the market, you have found it. Short of bespoke Ohlins coilovers, you won't find anything better and more popular than the V3.