In this post, we went over the merits of fitting a leveling kit to your truck, and today we're going to take another look, but instead of looking at kits per se, we're going to focus on understanding the pros and cons of fitting three particular kits from two well-respected manufacturers MotoFab and Rough Country who manufacture some of the best F150 leveling kits available. All with regards to one specific model the 2004 – 2019 Ford F150 – the best selling pick up truck in the US.
However, before we take a closer look at these two manufacturers' kits, let's take a moment to remind ourselves about what a leveling kit is and why you might fit one on to your F150. So in terms of what it looks like, the best way of describing it is if you can imagine bolting an alloy 'Doughnut' shaped extension spacer onto the front stock struts of your truck. And by adding a leveling kit to your truck, you will raise the ride height between 1-3," giving the truck a much more aggressive look as it stands a little taller all without altering the original suspension geometry or compromising on the crucial ride comfort.
MotoFab 2 " Front Leveling Kit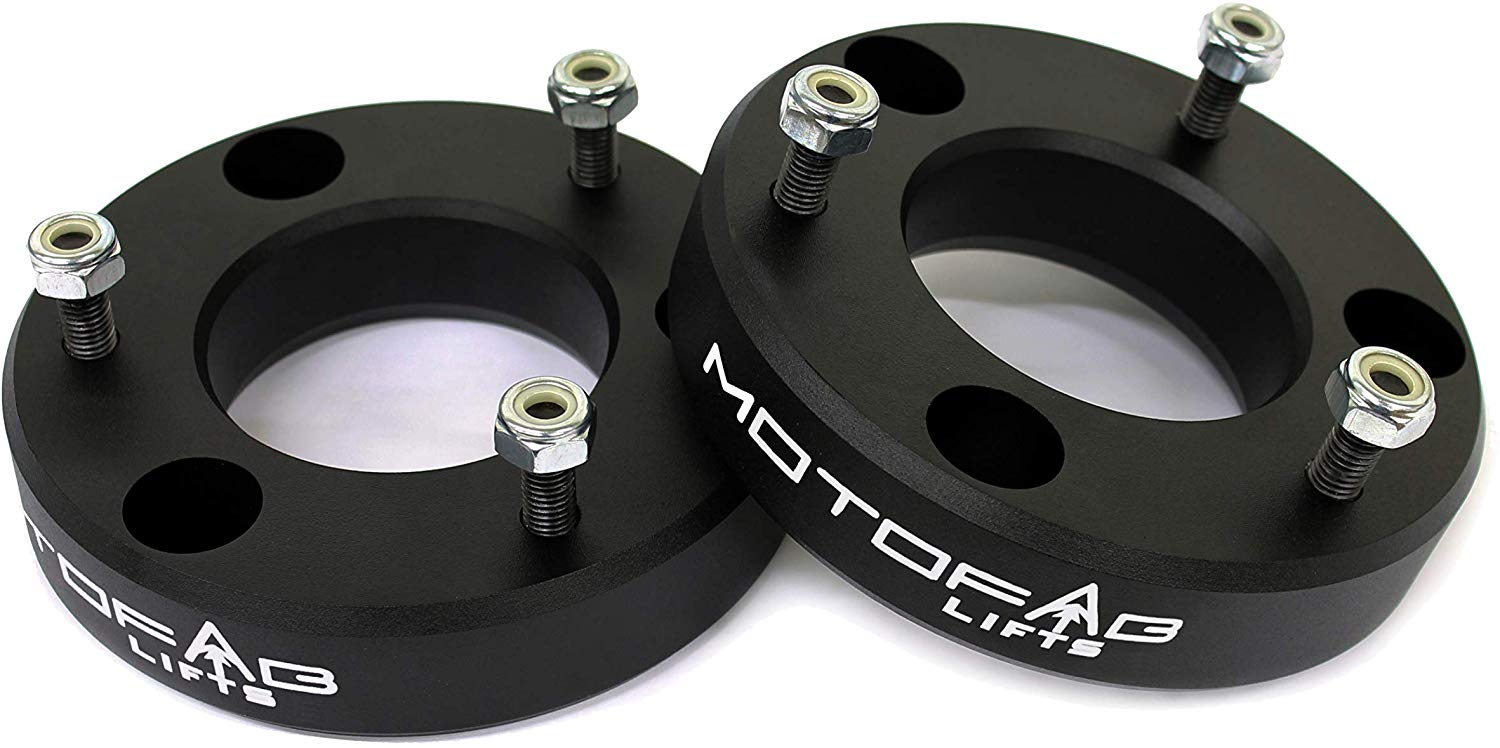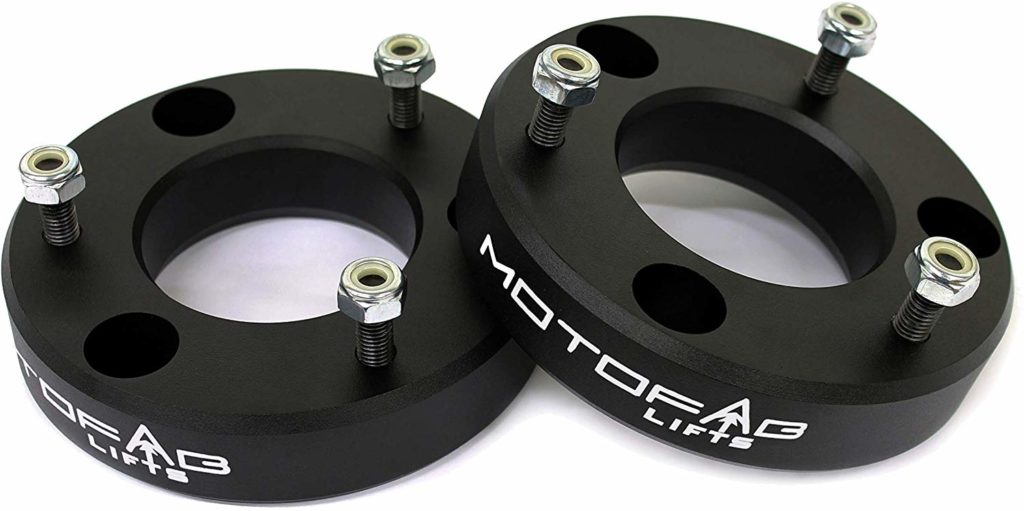 Said to be one of the more affordable F150 leveling kits kits currently available and claimed to be the strongest on the market, the MotoFab 2″ spacers come with a 100% satisfaction guarantee and a lifetime warranty. They are CNC machined from high-grade billet aluminum for outstanding strength and durability with a powder-coated black finish to match your factory suspension.
The kit comes with all the necessary fitting hardware and takes around one and a half to two hours to install. The kit also doesn't require any drilling or cutting. Plus, there is no need for the strut/coil to be disassembled – as with some other kits, and you don't require any special fitting tools.
With the kit installed, you'll have 38.5″ clearance from the front wheel well to the ground and on the back 39″ of ground clearance from the middle of the wheel well to the ground. Once fitted, the MotoFab Front Leveling kit gives you an almost perfectly level stance, which was precisely the look we were hoping to achieve.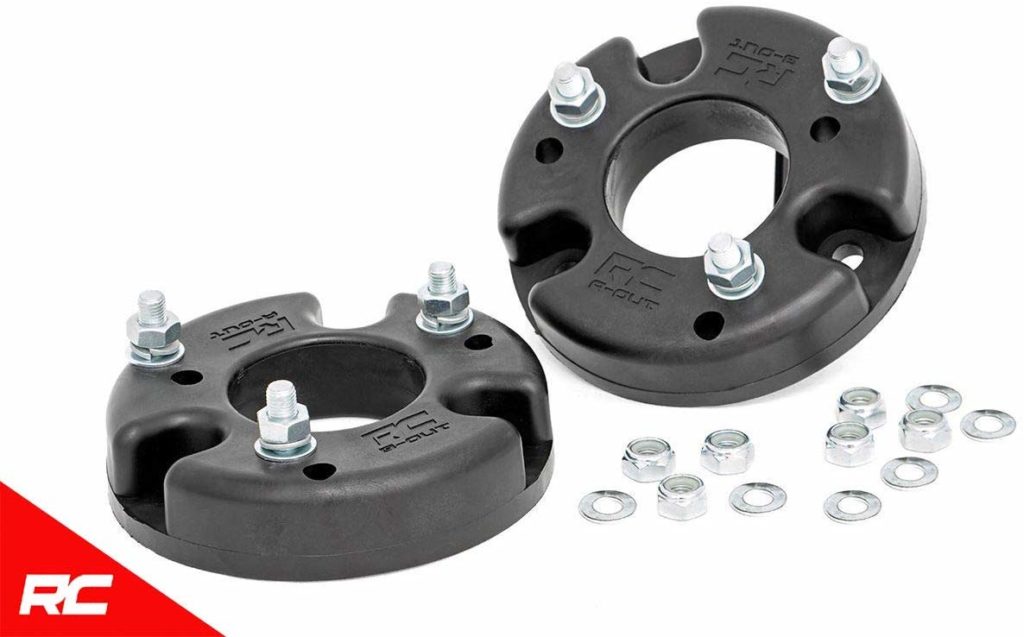 Made from a heavy-duty proprietary composite construction that the manufacturers claim will never rust or succumb to the elements. The Rough Country's spacer design makes fitting much more straightforward than some other kits. They have eliminated all the guesswork with their specially designed driver and passenger side pattern that allows for clearance between the upper control arm and the strut.
With a 100% bolt-on process, the installation of this leveling kit should be accessible using standard tools in a home garage. It comes with all the fitting hardware, and Rough Country says there is no need to disassemble the factory strut. When completed, you can fit a 33″ tire – all good so far.
However, we're not completely happy with Rough Country kit; the suggestion was that the lift would be two inches when, in fact, it's more like only one and a half inches.
And although the spacers appeared to be made from metal on closer inspection, it seemed it was more like plastic, and all felt a little cheap.
We also found the fitting instructions to be a bit confusing, which meant fitting took longer than we anticipated. Lastly, and this does seem to be the same whenever a leveling kit is fitted, the ride does become a little rougher. Check out other user reviews here
MotoFab Lifts Front and Rear Leveling lift kit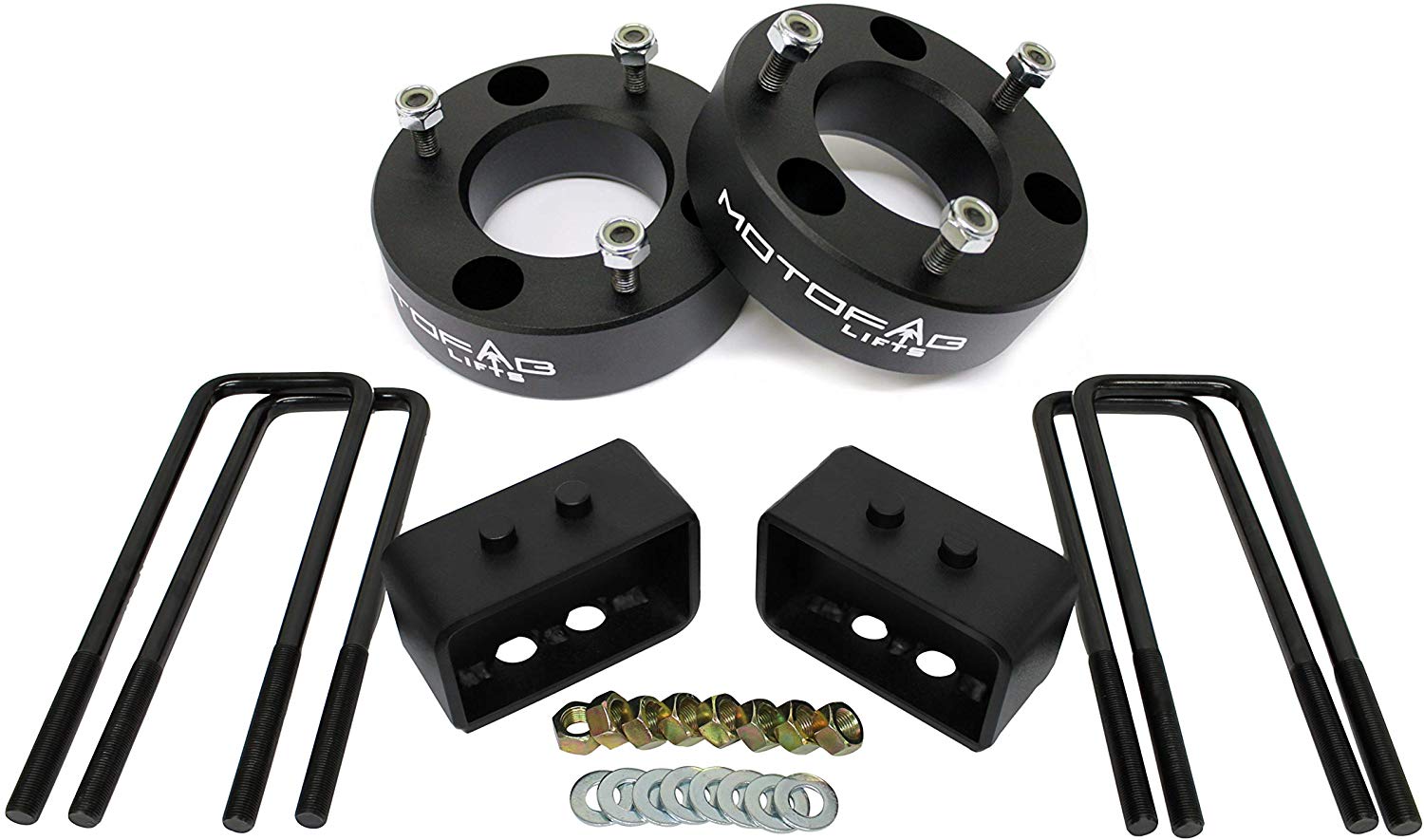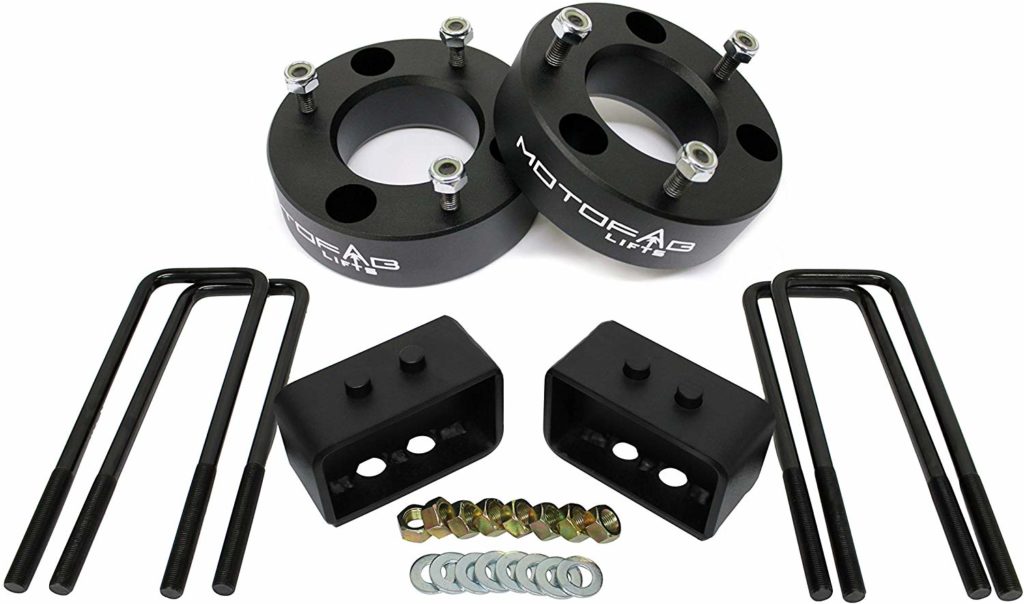 The MotoFab Lifts Front and Rear Ford F150 Leveling lift kit is a slightly different style of leveling kit from MotoFab, and that's one that includes both front and rear lifts.
Ideally, this lift kit will raise your F150 by approximately 3″ in the front and 2″ in the rear – which should completely balance the factory rake, giving you a perfectly level stance.
Installation for this two-part kit should take about 2-3 hours and does not require strut/coil disassembly like other kits.
Like all MotoFab leveling kits, the front spacers are CNC machined out of billet aluminum and then powder coated black to match the factory suspension. Tapered to the correct Pinion angle, the fabricated rear lift blocks should outlast cast iron and solid aluminum rear lift blocks. The rear lift blocks and longer U bolts are like the front spacers, also both powder coated for a long-lasting finish.
Again MotoFab suggests the kit is the strongest on the market and comes with a 100% satisfaction guarantee, a lifetime warranty, and maintains the factory ride. The kit also comes complete with all the required hardware and fitting instructions – let's get fitting.
Overall we thought this kit did deliver the most bang for the buck, seems to ride well, so overall a great product, but that's not to say it doesn't have issues.
Firstly it does take a little longer to fit than MotoFab suggests, and there is a feeling that possibly a 3″ spacer on the front might be a little too much. As it might cause some rubbing and additional wear and tear, also on the rear, you can only really get the 2″ rise on a 2WD for the 4WD it's about 1″.
We also found that due to some changes in how the shock mounts to the lower control arm on a 2014 F150, it makes it virtually impossible to install as per the instructions, something to take into consideration before trying to fit this kit.